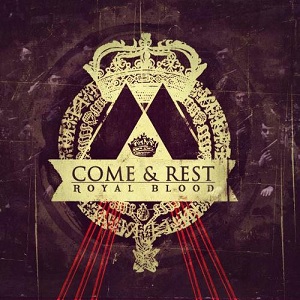 Artist: Come & Rest
Album: Royal Blood
Label:  Independent
Release Date:  02/18/13
Reviewer: Lee Brown
Tracklisting: 
Royal Blood
Defiance
Brick and Mortar
Vultures
There's something of an irony to be found in the fact that a band named Come & Rest brings a barrage of "face melting-ly" aggressive sound. Yet, that is exactly what C&R bring to the table. Fitting somewhere between metalcore and post hardcore, Come & Rest are the sort of heavy that would sit well with Norman Jean and Oh, Sleeper fans. In fact, as I pondered over the "RIYL" nods, I found myself switching between the three bands and seeing some noticible harmony in styles, though each with their distinct flavor.
Like Norma Jean, Come & Rest are not afraid to tackle sacred disparity. While it is hard to get an overall theme or build a long-form message in just four songs, Royal Blood dives into this disparity on each track. Singer Noel Torres briefly touched on this in a recent interview as he pinned down the theme of "Brick and Mortar." "It talks about my view of the state of the church and how people tend to believe all the pretty lights rather than seeking the answers yourself."
As such, Royal Blood comes across as a deeply introspective and questioning album with equally introspective and deep soundscapes. Again, in this respect, the resemblance to Norma Jean is apparent. Having been a worship pastor, Noel certainly speaks from an in-group perspective. The album is careful not to tread into gloom, however. Though there is not a moment of levity on the EP, you get the feeling that were the band to have expanded the album into a full length production, something truly… sacred would follow. I could easily see the flow of a few more tracks landing back with open heart before a holy God in a post hardcore worship song.
Royal Blood begins with the title track. Immediately, the band builds an ambiance that sets a perfect tone for what is to come. Rather than start aggressive and brutal, the band builds from soft tones into the fullness of brutality one piece at a time. "Royal Blood" seems to deal with the concept of who sits on the throne of our hearts. The opening line, "my silhouette has ruled over the throne, taken my crown, and wants to take my soul," sets the imagery in motion. You can almost see a room with a shadowy figure seated in the darkness as Noel screams out, "forgetful shadow, you forget I'm not alone. I won't fight fair… I will watch you be dethroned."
"Defiance" continues the heavy barrage. Through impassioned screams a message of… hope… seems to form. The track opens by talking about the words of others that are "the shells I walk on." In this regard, the defiance is against the "words which create worlds" in us. That is, those (negative) words that begin to shape our reality and self perception become the object of defiance.
"Defiance" is a rather solid song, musically. This points to the fact that, for an independent release, the production, artwork, and overall musicianship is really superb. It makes you wonder what could happen if Facedown or even Razor and Tie were to pick the band up. The greatest overall example of this is the track "Brick and Mortar." Noel has stated on more than one outlet that this track is his favorite and is what he is most excited for the world to hear. It's easy to see why.
"Brick and Mortar" tackles the issue of what the Church is supposed to be when compared with what the church (capitalization in both cases done on purpose) has sometimes become. The opening line, "at this moment I feel, what was once sacred is now far from what's real," hits straight to the heart of the matter. As with "Royal Blood," the band does a great job of juxtaposing a somber opening instrumental that crescendos into brutality. If there is just one track you sample to get a flavor for this band, be sure it is this one. The clincher of the message is that "what's written in red is what we have been looking for all along…" but "the church isn't where it's supposed to be. So let's tear it down and start over."
The message of "Brick and Mortar" bleeds into "Vultures." Where "Brick and Mortar" addresses the failure of the church, "Vultures" hints at what may be one of its problems. "Vultures," as the imagery of the bird itself portrays, speaks of those antagonists that circle around us and wait for us to die. As brutal as the message of the song itself is, "Vultures" is heavy and aggressive from start to finish.
Overall: Come & Rest debut with an impressive foray into a brutal post hardcore world that has just a hint of Norma Jean's style . As an EP, the experience in over a little too quickly. Were this expanded into a full length album that brought a conclusion to the cadence and rhythm of what is started here, something even more epic would come to light. The messages found on Royal Blood are honest and questioning, yet seem to be anchored in a deep and abiding faith. Come & Rest have hit the ground running with a solid introduction to the band that piques interest in what's to come.
RIYL: Norma Jean, Oh, Sleeper, The Overseer