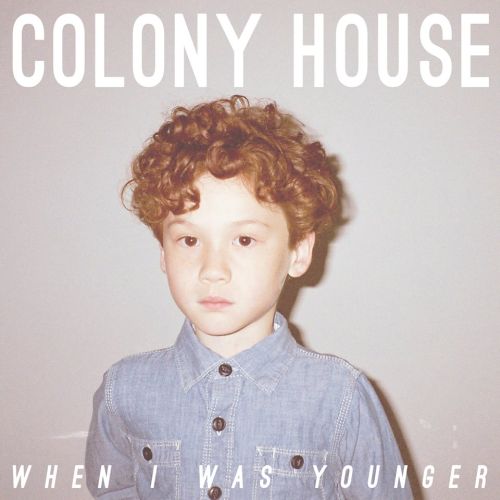 Artist: Colony House
Album: When I Was Younger
Label: Descendant Records
Release Date: 07/22/2014
Reviewer: Sara Walz
Track Listing:
Silhouettes
Second Guessing Games
When I Was Younger
Caught Me By Surprise
Roll With The Punches
Keep On Keeping On
Waiting For My Time To Come
2:20
Learning How To Love
Won't Give Up
Moving Forward
Glorious
I Had To Grow Up
Lose Control
Catchy hooks and wisdom-beyond-their-years lyrics make up the impressive debut, full-length offering from Nashville-based band, Colony House. Two of the band members are the sons of CCM royalty, Steven Curtis Chapman, and while they may be following in their dad's footsteps vocationally they are paving their own way in the industry with a release that is nothing short of musical ear candy.
Complicated drum parts, bright guitars, tight harmonies, and killer falsetto bring these songs of When I Was Younger to life. Each track has it's own personality and vibe; they can all stand alone but fit together beautifully as a whole. 2:20 is decidedly rock while Waiting For My Time To Come is pure pop and Lose Control sounds like the anthem from an indie movie, and everyone loves the soundtrack to an indie movie. Nothing better than an album that is diversibly (it's a word now) cohesive. Each track is set perfectly in order, taking the listener on a ride from the top to a quieter, more introspective place to the end where you "ride the wind like a feather toward home."
From a lyrical perspective the track listing of When I Was Younger is no accident either. In an article from AV Club frontman Caleb Chapman said, ""Silhouettes is quite an interesting song and serves a very specific purpose on this record. For an album that has a fair amount of emotional twists and turns, this track is meant to be a constant. Silhouettes is a steady reminder for the soul not to allow the dark moments in life to overshadow all the beautiful ones we live every day." Emotional twists and turns is exactly right, in the span of 45 minutes Colony House wrestles with themes of hope and love and doubt and faith in a poetic way. Lyrics like "dreams that bear the mark of love are dreams that never die" and "i feared that love wouldn't take me, i feared that grace was a maybe…you took my heart and said love me with who you are not who you were," and "fight for the things i love, let go of the things i don't but let's stop playing second guessing games," are all the things we want to say but can't seem to put into words. Chapman and Co. have created an album that every time you listen you peel back another layer and in the process you expose another layer of your heart.
Overall: Another release of 2014 that I struggle to find something, anything, that I don't like. With insanely well-rounded songs When I Was Younger will definitely be on my top 10 list of albums that came out this year. Give it a listen and then tell me that you disagree.