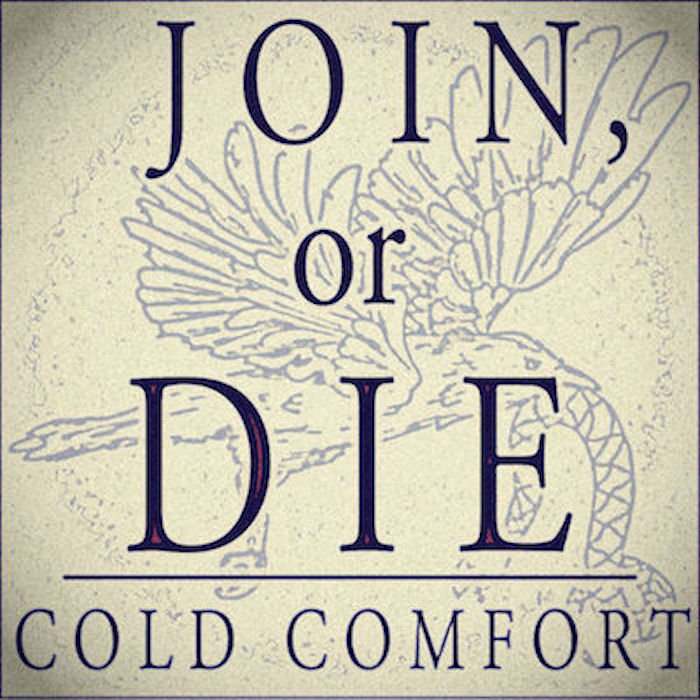 I don't consider myself a person very susceptible to most advertising outlets. I've spent the past two years of my life in marketing and, in most cases, I don't get why ads influence people the way they do.
Of course, I do have exceptions. Sometimes I get Facebook ads from bands and the truth of the matter is you can get pretty accurate targeting because you can go straight after people who like bands similar to yours. So, I have surprisingly found a handful of bands this way.
Cold Comfort is one such band. I can only assume I was served their ad because I follow Attalus (both bands are from Raleigh, NC). At that time, they they had only released their first single, but I liked what I heard and kept up with the trio.
Join or Die is essentially the third, and shortest, piece in the group's collection, following 2014's Autumn Ends [And Orphaned Friends] and Cold Comfort.
The EP is just shy of ten minutes in length, spanning a paltry two tracks. Nonetheless, it's a mature effort and a reminder that the group isn't dead (despite the the title of the second track).
So, what can listeners expect on this release? Killswitch Engage meets Rage Against the Machine meets Alice in Chains meets punk gang vocals. It's definitely a mix of grunge, rap, and alternative rock, with engaging lyrics and Tom Morello-esque guitar lines. In some sense, it feels like something we've heard before, though not necessarily in any negative sense. The sound is, again, mature.
However, the brevity is the EP is ultimately its weak point. Autumn's End showed a diversity of styles that simply don't fit into two tracks. So, it's hard to tell where Cold Comfort is heading stylistically based on two tracks which, though different to some degree, do tend to encourage us to simply label them grunge.
It's not a bad EP but any means, but it certainly is limited by sheer length. I do recommend listening to their previous efforts to get a better idea of the extent of what these guys can do.
For fans of: Killswitch Engage, Rage Against the Machine, Alice in Chains