Album Review :
Clear Convictions - A Past That Attempts to Define Me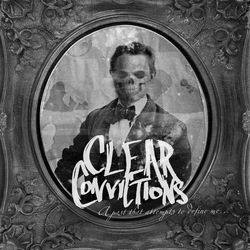 Band: Clear Convictions
Album: A Past That Attempts to Define Me
Label: Unsigned
Release: 10.30.13
Reviewer: Brody B
Tracklisting:
Fighting The Battle From Victory

Lack of Compassion
Enemies of God
Restoration
Counter Culture
Come Lord, Come
A Past That Attempts to Define Me
"In 1999 we felt in common to spread the word of God using our talents as tools, using the music and art that we love with power and great purpose to express our believes. Clear Convictions started and still keeps the same aggressive sound that defined us and that didn't limit God's plans with us but re-enforced our strength and believes. During all the time that Clear Convictions has toured the underground scene, we preach with our experiences, testimonies, love and dedication to our listeners by planting a seed of faith in Jesus Christ. Leading people to Him has helped us to maintain the vision strong, More than a decade have passed and in hopes for more. We are still standing strong and progressing every day with our music.
In 2003 we released our first self titled demo distributed by Facedown Records worldwide. In 2004 our first tour out of Puerto Rico, in Costa Rica that led to a deal with Strike First Records followed by an all US Tour and then finalizing our length album "Warning". In 2008 the East Coast tour took place and landed a deal with On The Attack Records for the full-length album "Mystery Of Iniquity" distributed by Blood & Ink Records. Cornerstone Festival followed in 2011 and and a relocation to Orlando, Florida in 2012. "
Above is an excerpt taken from Clear Conviction's Facebook page. They have quite a detailed and eventful history; so much so that I could not believe I had not stumbled upon this band until about a month ago. Before reading any of the bio and streaming the album, I instantly thought to myself that the band sounded reminiscent to a seasoned band that would find a good home with Facedown or Blood & Ink. So if you find enjoyment out of bands coming from these labels, this band should be right up your alley.
Fighting This Battle From Victory is a great opener. From the first notes of the song I could imagine a massive pit splitting open at a live show as the band chants, "Fight!". The sound recording is gritty and the screams are harsh and dirty, but for this brand of hardcore the sound is magnificent. The energy in the song continues throughout reaching a climax at the end as group vocals chant, "Go back where you belong / You don't belong / You are defeated!".
Lack of Compassion brings a bit of a punk edge to the table with an abundance of bass and punk inspired drum beats. The vocals come fast and furious, asking listeners, "Where is our compassion?". The track never lets up musically or lyrically and stays heavy and energetic throughout.
Enemies of God stands out as my favorite track on "A Past That Attempts to Define Me". This is mostly due to the song's ability to remain blisteringly heavy with numerous breakdowns and interesting riffs, yet still throw in a catchy chorus that doesn't sound out of place or misused.
Lyrically the track poses interesting questions as it asks if we would be able to do as Jesus did, "Would you lay your life down for all your enemies? / Would you lay your life down for all of humanity? / Would you lay your life down for those who hate you? / For those who curse you, persecute you, and want to see you dead?"
The title track of the album begins as a slower closer as it heavily lumbers like a behemoth towards the halfway mark of the track. At the midpoint however, after an interesting spoken word section, the band breaks out into the more familiar up tempo music that's on display for the rest of the album. Subtle guitar leads give the grittiness a bit of something to contrast with as well.
Really my only complaints with the album are the a few of the songs towards the back end of the album struggled to find their own personality or distinguishing features. This certainly does not take away from the band's ability to create heavy hitting hardcore, but from a reviewer's perspective the lack of contrast can take something away from the experience.
Overall: Gritty and fast paced hardcore with an old school vibe abounds on "A Past that Attempts to Define Me". Whether you're experienced with Clear Convictions or are a new fan like myself, if you love what Facedown and Blood & Ink are all about, this band should have something that appeals to you.
RIYL: Saving Grace | Leaders | Ark of the Covenant