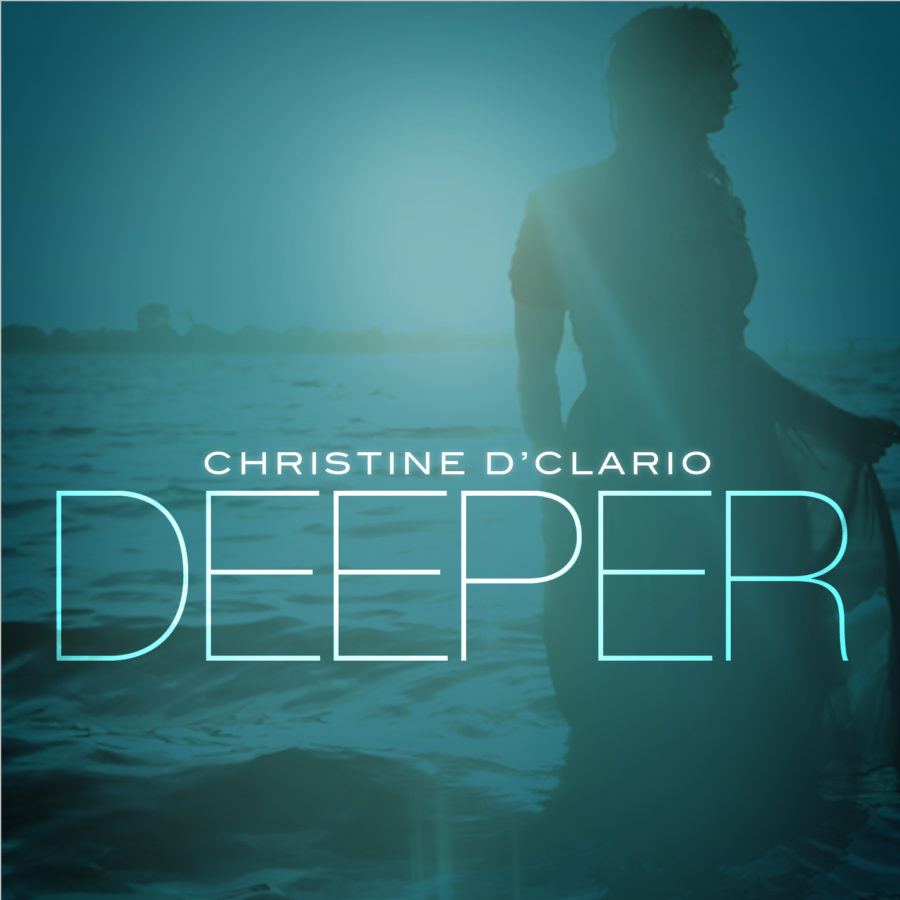 Artist: Christine D'Clario
Title: Deeper
Label: Integrity Music
Release Date: 2/19/13
Reviewer: Jonathan Andre
Tracklisting:
Reign
Magnified
Pursuit
Anchor (On This Journey)
Faithfulness
Holy (It's Your Name)
Arise
Who is Like the Father
Father of Mine
Your Presence is Heaven
Worship leader Christine D'Clario is a beloved Latin American artist listened to by many people around the globe, hearing her as she worships in Spanish and touching many lives in the process. Receiving a Dove Award nomination for nominated Spanish album De Vuelta Al Jardin (Back To The Garden) (as well as her Spanish cover of 'How He Loves' receiving more than 3 million views on Youtube); Christine is now readying to release her first English release, Deeper this coming Tuesday (19th February), alongside the Spanish counterpart of the same songs (titled Mas Profundo). Featuring covers of 'Your Presence is Heaven' (Israel Houghton), 'Magnified' (Desperation Band) as well as two covers from Daniel Bashta ('Pursuit' and 'Arise'); Christine's 10 track album is one of my favourites in February 2013, with a great passion and enthusiastic vocal presence shown through each song as listeners are given a great journey of exaltation and praise as we individually and collectively journey deeper into the Lord's presence and continually understand and fully grasp His unending love for us. As Christine gives us some insight to the project- '…my greatest desire with Deeper is that the Church, collectively and individually, can come to know sides of God's love and personality that they never have before. I long to see it inspire them to plunge into the depths of God's love in such a way that nothing else matters more…' we are met with some of the most enjoyable worship songs since Meredith Andrews' Worth it All, as well as some of the most underrated worship songs since those on Hearts of Saints For All of Us. From the heartfelt 'Magnified' that declares God's worth and shows us and Him that He is '…Son of God be magnified…' to the poignant melody 'Your Presence is Heaven' (one of my favourite worship songs of 2012, having the potential to be nominated for Praise/Worship Song of the Year at the 2013 Dove Awards); this is an album that is perfect for anyone who loves great worship music with a Latin American flavour (in a similar vein to other artists like Julissa or Jaci Velasquez), or if you are looking for some new arrangements to fan-favourite songs that are certain to be classic worship melodies in years to come.
'Magnified' is the first single on the album, and while I have first heard the song on Desperation Band's Center of it All, it is on Deeper where I have enjoyed the song the most. Starting off the song with a simple guitar riff, we are met with a song full of intense passion and rejuvenating energy as we hear Christine declare the words '…we stand in awe of Your unfailing love that has covered us, we stand amazed of Your unending grace we cannot repay…' With the gospel of grace and sacrifice presented right in the middle of these lyric lines, we are able to understand through this melody that it is because of who God is, and what He has done that we can be called His children. Once we understand that we are the sons and daughters of the One who made the stars, but also fashioned our innermost being, all we can do is just exalt His name, show the world that He is magnified above all other names. Magnify by definition is to increase, to make bigger. This is exactly what God deserves, and Christine's cover of a Desperation Band highlight from their 2012 album is one that will also be a well-deserved highlight from Deeper as well. Christine D'Clario also covers Israel Houghton's 'Your Presence is Heaven', as well as the Daniel Bashta penned and recorded 'Pursuit', also sung by worship movement Jesus Culture on their double-disc November 2012 live album collaborated with Martin Smith. While in both scenarios, I have enjoyed Israel's version and Jesus Culture's version respectively, Christine's efforts into presentation an almost identical representation of these hit songs is nothing but poignant, powerful, emotional and exciting as I listen and hear her declare God's presence to come and brood over His children as He continuously pursues and longs for us to come back to Him. With both these songs presented through light instrumentation (electric and acoustic guitars, looping percussion and a great backing vocal through the bridges and the crescendos); Christine covers these two melodies very well, and if listeners have not heard the original versions of the songs before, they may have thought that Christine wrote them- that's how enthusiastic and passionate she is when it comes to the vocal delivery on the cover songs on Deeper. Well done Christine for these three melodies that also anchor the album in its appeal to listeners around the globe interested in worship music with a Latin American flavour.
'Reign' is the first track on the album, and starting out with an explosive anthem full of electric guitars and big drum beats, Christine sets out to proclaim that Christ reigns above every circumstance that we may come face to face with along our physical and spiritual journey. As we gain a picture of us '…on the shore dancin' in Your freedom, here to bathe in the light of Your love…', we are reminded that as we continue to delve into our love for Christ and His unending love for us, we cannot help but dance in the river of grace as we acknowledge His supremacy, power, might, love and promises poured out to everyone living on Earth. While only consisting of four guitar chords, the musical arrangement of them have transformed a simple song into a worthy album opener that gives us great clarity as we know that '…oh God You are always with us, whisper us to the broken soul, make our hearts Your favoured dwelling, we are Yours…' A simple song that declares God in His rightful place of glory and splendour, we are presented with other similar themed songs in 'Arise' and 'Holy (It's the Name)'.
Written by Daniel Bashta and John Larson, 'Arise' is a simple melody with just one verse and chorus, yet in its simplicity, we are met with one of the most enthusiastically performed songs on the album full of vigour, life, enthusiastic poignancy and a message of encouragement and hope as listeners Christine declare and shout God's glory, reminding herself as well as us that '…the time has come to sing of all He's done for us…' Full of electric guitars and musically similar to Christine's first song 'Reign'; 'Arise' in contrasted with 'Holy (It's Your Name)', an even simpler song lyrically as we are met with a moving, emotional and encouraging anthem declaring God's holiness and that '…it's the name that sets us free, it's the name of victory, it's the name we glorify, with a shout we lift You high…' While many listeners may hear this song and instantly attack its initial lack of ingenuity and lyrical sophistication, this song is one of my favourite worship songs this year, and while the song may not have much stanzas or lyrics, what the song does have is honest heart. Christine pours all she has into this song of asserting God's qualities above our own, recognising His place in the never-ending story of Christ as well as realising and understanding our own place too in the light of God's love for His children. Full of power in simple lyrics, 'Holy (It's Your Name)' stands tall as one of my favourite worship tracks this year, alongside 'Strong God' by Meredith Andrews, 'Awake My Soul' by Chris Tomlin and 'Open Up Our Eyes' by Elevation Worship. Well done Christine for these empowering songs full of rejuvenation and restoration!
'Who is Like the Father' was written by singer-songwriter Richie Fike in 2009, which gives us a great portrayal of God's qualities against the musical backdrop of light percussion and acoustics and Christine reminding listeners that '…He restores His children, handing out redemption…He delights in mercy, healing all the hurting…' Simply profound in vocal delivery (at times reminding myself of other prominent female worship artists like Christy Nockels and Kim Walker-Smith), Christine has given this song a unique portrayal as she delivers a song that listeners can just soak to as we allow the truth of God's holiness to be engraved into ourselves as we delve deeper into His presence. Written with Don Poythress and Anthony Skinner, 'Faithfulness' is a modern twist of the old hymn 'Great is Thy Faithfulness', written with the same message in mind as Christine declares that '…it's the way He looks at me, not a thing He doesn't see, yet covers all of my regrets just to prove His faithfulness…' Recorded through the lens of acoustics and light percussion, this poignant duet is a constant reminder of God's never-ending faithfulness, remembering the times in which God has showed up and delivered us from various situations and circumstances. Yet it is 'Anchor (On This Journey)' that is one of my favourite songs on the album, and as Christine does a great imitation of both Christy Nockels and Amy Grant; we are given another acoustic arrangement with a crescendo of percussion and cymbals towards the end of the song as Christine asks God, that '…when I lose control, be my center, when I'm in the storm, be my shelter…' Something that may need to be heard by listeners that could be struggling with trust in the middle of difficult circumstances, a remedy is given in Christ, the anchor of our souls and protector of our lives. The longest song on the album, this 6:30 minute song is one of the most hauntingly eerie and refreshing melodies that give us resolve, determination and surety that Christ is our centre and the rock on which we stand. Well done Christine for this poetic song about foundations of our faith in action!
Overall: Christine D'Clario's debut English album is one hopefully of many in the future. With such a powerful voice and a enthusiastic charisma similar to both Kim Walker-Smith and Christy Nockels; we are given some of the most noticed (as well as unnoticed and undervalued) songs over the last year or so, as well as some original material that could be sung in various churches in the upcoming months and years. From the heartfelt 'Anchor (On This Journey)' to the energetic and fast-paced 'Reign'; we are given a variety of musical tempos and paces that will entice listeners who enjoy great worship music, or anyone who likes to relax and let the Spirit minister to mind, body, soul and spirit as we travel deeper into the Lord's presence and His will for our lives. One of the standout albums this year on Integrity Music so far, this latest project from Provident Distribution is one that is one of my personal highlights of February 2013, as well as one of my favourite worship albums of the year, alongside Worth It All (Meredith Andrews) and For All Of Us (Hearts of Saints). Well done Christine for such an enjoyable and worshipful experience!
RIYL: Kim Walker-Smith, Christy Nockels, Jared Anderson, Desperation Band
Buy the Album: iTunes/Amazon mp3