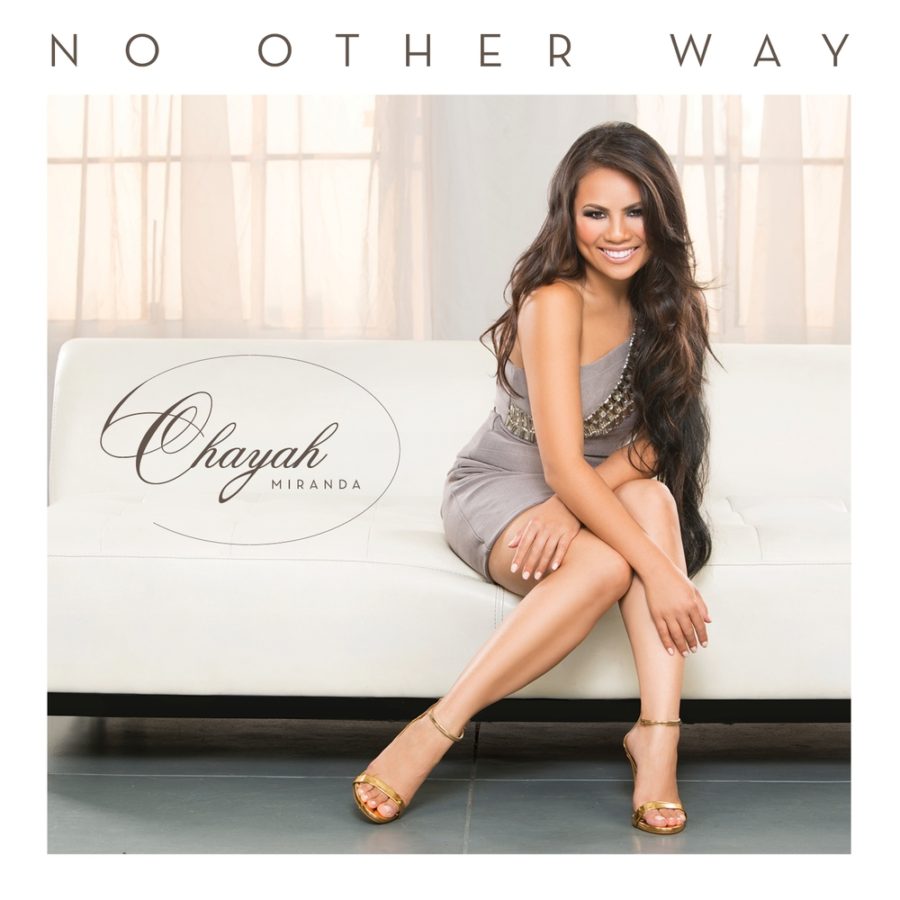 Artist: Chayah Miranda
Title: No Other Way
Label: independent
Release Date: 4/15/14
Reviewer: Jonathan Andre
Tracklisting:
Higher
No Other Way
Look to the Sky
Under Construction
He Loves Me
Let Go
Thankful
Listen
Beautiful Mystery
Found In You
'…I want everyone to know that there is a God in heaven who loves them so much that there is hope no matter what you are going through. All we have to do is open up and give Him a chance to help us, to strengthen us. And when we ask God for His help and guidance, that's when miracles will happen; that's when you'll see your life change for the better…' Vocally sounding similar to artists like Jaci Velazquez, Britt Nicole, Rebecca St. James and Rachael Lampa; new artist Chayah Miranda has been singing and performing for quite some time. Releasing her debut album No Other Way on April 15th, Chayah's longing to deliver songs for corporate and individual reflection and worship is shown fervently and emotively on her debut album release, and certain to be enjoyed, loved and purchased if you enjoy these aforementioned artists. Based in San Francisco, Chayah's (pronounced 'kai-yah') heart for songs to motivate, edify and build up whoever listens is evident throughout the album as a whole, as we witness some of the most enjoyable reflective ballads and inspirational songs from 2014 so far. From the first single 'Higher', a pop contemporary radio friendly song that encourages us to lift God higher in praise, to the emotive 'Let Go', a keyboard and acoustic guitar prominent melody that reminds us to let go of the things that hold us down from relying fully on God for our daily needs; listeners are able to continue appreciating new artists (especially new indie artists) and their musical craft. No Other Way is one of my favourite albums by an independent artist in 2014 so far, with Chayah herself being one of my favourite indie artists of this year too, alongside artists like Ellie Holcomb, Hilary McBride and Lex Anderson!
'Higher', the first single from the album that released in December 2013, is one of my favourite songs from No Other Way, as Chayah invites us all to lift up God's name higher in everything that we do. Presenting a story-like verse akin and similar to Jaci Velasquez's 'Give Them Jesus'; the acoustic guitars and keyboards unveil the scenario of how she sees '…a mother at the bus stop makin' her way to work, I see a young girl looking at a purse, dreaming bout self-worth, but everything will fade so let's call a spade a spade, this is temporary, temporary…' Blunt as can be, we are called to remember that this life we live is as temporary as they come- we are born, we live and we die in the end. Because of this revelation, what happens beyond our earthly deaths is of more significance to us, and as we delve deeper into the person of Jesus, all we can do is lift Him higher because of what He has done so that this life is not the end. While at times reminding me vocally like Jaci and musically like Jaci's acoustic/pop/latin American infused music; Chayah's enthusiasm is beyond infectious, as 'Higher' delivers an emotive performance to start off an album full of musical styles, from ballads and upbeat melodies, to acoustic, CCM and pop at its finest. Despite not on a label, Chayah's album is nevertheless as enjoyable as other label-backed and produced albums. With such an infectious enthusiasm, 'Higher' is a great start to No Other Way, as our focus remains on God who longs for us to lift Him up in thankfulness and glory.
'Let Go', 'Thankful' and 'He Loves Me' are three other promotional singles Chayah has released on her bandcamp page prior to the album release next week, and each of these melodies showcase a unique aspect of her music as each of the songs remind us of God's love for us and His longing for us to let go of the troubles that weigh us down and be thankful for the things in our lives, however good or bad (on the surface) they may be. With a piano and a looping percussion introduction, 'Let Go' is possibly the most CCM-like melody as Chayah powerful declares out the truths of letting go and trusting that God will have our worries and fears under control in His hands. With simple instrumentation and an easy-to-learn chorus and melodic beat; 'Let Go' is one of my favourites, and great for anyone who struggles with letting go of things, as we hear from Chayah to '…just let go and let God do what He needs to do, if you give Him control, He will walk you through…' 'He Loves Me', one of the ballads on the album, brings the tempo of the album down to accommodate for the emotive and poignant moments of Chayah as she sings the high notes and proves that her vocal delivery is just as emotive and passionate as others like Natalie Grant, Avalon, Rachael Lampa, or even Jaci herself. With the song highlighting the theme of God's love for us, Chayah sings out a song, that while directed at women in how the chorus is portrayed ('…I'm gonna be the woman in me no matter what anybody says, Jesus loves me, Jesus loves me, on the outside we can change, on the inside we're all the same…'); is nevertheless applicable for both sexes as we all realise that because of Jesus's love for us, we can be who we are in Christ.
With 'He Loves Me' arguably being one of the most unveiling and vulnerable songs by Chayah on the album; this heartfelt melody carries on into 'Thankful', the last promotional single from No Other Way. A tad under 3 minutes, 'Thankful' encourages us to indeed be thankful for what we have as we hear this groovy melody complete with acoustics and light drums and percussion, presented in a way where we can't help but sway and dance along as we hear it. While some of the lyrics can be a little cheesy in how we '…gotta be thankful cause He's givin us everything, His love has covered me ooh ooh ooh ooh…'; the song nevertheless is as catchy as many of the upbeat CCM-style melodies on the radio a la Jaci Velasquez or Francesca Battistelli. While not necessarily as strong (both lyrically and musically) as compared to Chayah's previous three singles (in my opinion), the song still does a decent job in giving us a theme of being thankful for the things we have instead of what we don't. Well done Chayah, for these three songs (and 'Higher'), with each of them together anchoring the album thematically, and also some of my personal standouts on No Other Way.
Throughout the rest of the album, Chayah gives us an array of musical tempos and styles to further show us her musical and lyrical prowess as one of the most underrated CCM/pop artists of 2014 so far. With a piano introduction, the title track 'No Other Way' encourages us in a way that is fitting for one of the most heartfelt anthems to be ever recorded in the calendar year which is 2014. As Chayah reminds us that there is no other way besides Christ, we are given a heartfelt chorus amidst the light keyboards, understanding that there is '…no other way, yeah it's a new day, just like the sun rise, no greater love, You surround me just like the ocean, You gave me more than I dreamed, where you will lead, I will follow…' A moment where we realise that God's love envelops us and that there is nothing we can say or do that will take the unending love from our grasp and reach, Chayah's melody becomes even more emotive, relevant and encouraging, as the title track wraps up the thematic element of the album as a whole- that our love for Christ and His love for us is not bound by our choices and actions, but rather, of how much His love stretches (to the point of Christ dying for each of us!). 'Look Into the Sky', a happy-go-lucky 2 minutes 58 seconds melody that encourages us to look 'into the sky' (a relative term for looking to Jesus) for any issue or problem that comes our way, is possibly one of the most enthusiastic and energetic songs on the album, and while delivering a fun-like atmosphere at face value, the heartfelt meaning of us communing with God is much more poignant. With light percussion and Chayah's voice reminding me of Jaci Velasquez's (in fact, my I assert that Chayah Miranda could be the new Jaci Velasquez for this new generation in years to come?); we are reminded that when we '…gotta look into the sky, you might find what you're looking for, realise you were made for so much more, and like a perfect harmony, He'll give you what you need…', and how every good gift and every beautiful thing made from something tragic comes from God our Father, Lord and Friend.
Chayah delves into rock anthems with 'Under Construction', a gutsy guitar driven power ballad that gives us a great reminder of how we are always a continual work, and how God is always working in us to shape us more like Him. With great vocal work that places Chayah in the realms of Natalie Grant, Nichole Nordeman, Mandisa and Britt Nicole vocally (just by hearing this song alone); Chayah delivers a strong vocal performance as we hear of how '…like gold in a fire, You're making me new and I'm never gonna be the same I'm under construction…', a theme running through not only this song, but others like Tenth Avenue North's 'Don't Stop the Madness' and 'You Do All Things Well', and 'Something Beautiful' by Steven Curtis Chapman. With Chayah also showcasing themes of us listening to God in the quietness in the piano led 'Listen', and a great reminder of us being found in Christ in the personable and piano only last song 'Found in You', it is the 9th track, 'Beautiful Mystery', that is one of my favourite songs and a personable highlight (maybe even my 3rd favourite track after 'Let Go' and 'Higher'). Sandwiched between two piano prominent melodies, even though this song is equally as poignant and emotive, the nice difference in instrumentation is a great change for the pace of the album, as well as the theme portrayed, about how this song is praise and worship at its finest (it can easily fit along a worship set list with artists like Matt Redman, Hillsong or Chris Tomlin). With strings, crashing drums, big sounding guitars and a vocal that's reminiscent of Christy Nockels (for this song especially), 'Beautiful Mystery' is a moment of realisation, that it is a mystery and will be until we ask Him in heaven, about why He indeed made a way for us to be reconciled with Him. Full of moments that are just perfect for corporate worship, this is certain to be a live favourite (I can even picture the crowd singing along to this one), and a favourite for me as well. Well done Chayah for such an emotional song, and one that I reckon ought to be a single at some point in the future!
Overall: My favourite independent artist of 2014 so far, Chayah Miranda's first album is one to listen to, enjoy and purchase if you are a fan of CCM/pop (if you are a fan of 1990s/2000s ballad music from artists like Rachael Lampa, Avalon and Jaci Velasquez, this album is also for you as well!). From pop to CCM to soaring ballads and upbeat melodies, this is a perfect gift for anyone who longs to have an album that can equally be used for reflective moments of tranquillity, as well as being led in corporate and individual worship as well. While released independently, Chayah's album, produced by Josh Robinson (who worked with artists like Natalie Grant, Brandon Heath and Britt Nicole), sounds just as good as it maybe would've been if it was produced and funded through a label. While not necessarily the most popular (or even known) new artist around, Chayah's passion and heart to worship is definitely shown through each of the 10 songs. One of the most ingenious and encouraging CCM/worship albums of the year, Chayah ought to be commended on such a stellar effort, one that'll all but certain will land this album in my top 20 list of 2014 albums that I compile at years end!
RIYL: Avalon, Christy Nockels, Jaci Velasquez, Rachael Lampa
Buy the Album: iTunes/Amazon mp3