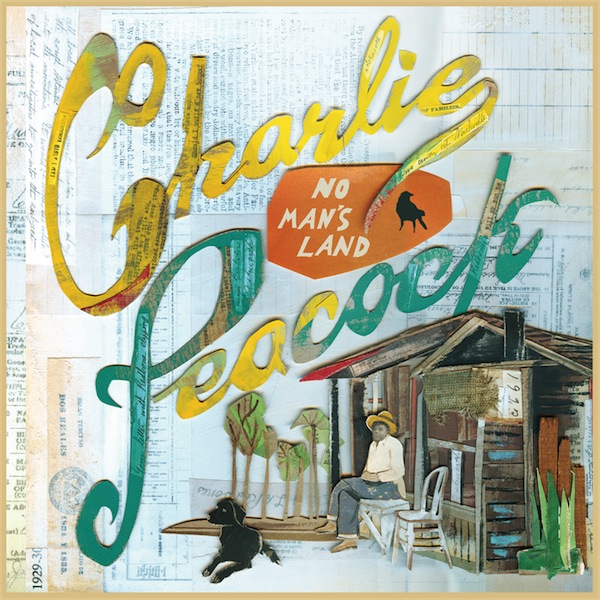 Artist: Charlie Peacock
Title: No Man's Land
Label: Twenty Ten Music
Release Date: 10/02/12
Reviewer: Josh Hamm
Tracklisting:
Death Trap
Mystic
Voice Of The Lord
Kite In A Tree
Deep Inside a Word
Let The Dog Back In The House
Beauty Left The Room
Till My Body Comes Undone
Thinkin' Till The Crack of Dawn
Ghost Of The Kitty Cat
Only You Can
Satellites
Not many people I've talked to know the name Charlie Peacock. You may know him as the producer of The Civil Wars' Barton Hallow, or the guy who discovered Switchfoot, produced Jon Foreman's Season EPs, or from countless other behind the scenes work with artists, or maybe even from his jazz improvisations with Ravi Coltrane and Marc Ribot. Whether you had him pegged from his previous work, or you're just hearing about him now, from now on you will know him as the man behind No Man's Land.
Its vintage Americana like you've never heard it before: folk, country, jazz, R&B, big band, it's all there. He says that he was "trying to capture something of the sound of [his] grandparent's America – especially Louisiana and Oklahoma – Cajun two-steps, ruckus, and dust, lots of dust."Peacock blends genres, instruments and stories together like an alchemist, and the fusion is pure gold.
From the first riff on the country flavoured "Death Trap," you know that you've stumbled onto something amazing.  By the time you reach the bridge, with Peacock singing out "I Know better but I don't know better, I know better but I don't do better," you wonder how the album could possibly get better. It does. Not only is Peacock himself in fine form, but his ensemble is impeccable, with his friends on the guitars, accordion, banjo, fiddle, mandolin, saxophone, trombone, trumpet, and fantastic background singers.
No Man's Land captures the essence of what makes folk music great: storytelling. There's a personable, very real spirit at the heart of each song. Nothing feels manufactured or fake, as he sings out on the soothing, beautiful "Mystic," "this is my story/my story is my glory/my shame/my comfort/my hurt/ it's all that I've got/ all that I've never had." It's not an album full of answers and it's not full of questions, it's the story of a "God-haunted" man waiting on the voice of the Lord.  Speaking of which, the eclectic "Voice of the Lord" is a perfect indication of the album full of folk and jazz influences which jump all over the place but creates one of the most interesting and compelling tracks. "Kite in a Tree" slows down the album, featuring incredibly introspective lyrics you're be mulling over hours later:
"The aching feeds the fantasy/And the stage is set for God only knows/The ear is hearing whistles made of wood and reed /Telephones are ringing/A girl in blue is singing/And all I can hear is the sound of failure/This is not the promise of the glory of kings/It's all brushstroke, no heart, no give and take delight /There's that pain in my chest/That always comes on, right before a big fight/If belief is only a construct, my own little thumb suck / Then I'm a kite in a tree, a kite in a tree"
The incredibly stirring "Deep Inside A Word" follows up with a story of a "Texas troubadour, a California sage," who is "caught up in the majesty/of everything he's heard/in one lifetime he got more than he deserved/he's deep inside a rhythm, deep inside a word." The song builds perfectly with brilliant guitars and percussion, but climaxes in a spine tingling display of wailing electric guitar and sharp horns.
"Ghost of the Kitty Cat" is one of my favourites, on an album full of mostly serious, introspective lyrics and music; this is a throwback, rapid fire lyrics with a Cajun sound and a big band jazz element with a stand out brass section. It'll put a smile on your face guaranteed:
"Go out back little one/ to the tool shed where you found that kitty cat stone cold dead/ guard your mind from the memory/ turn your head if it need be/ bring me a crow bar big enough to pry/ the front door open and don't ask why/ if the ghost of the kitty cat comes for you/ you just run, we got work to do."
There are no filler songs here, no weak songs; each song has its own unique DNA which stops the album from ever having a dull moment.  When the album's over and the dust settles, all you want to do is listen to it all over again. It's without a doubt one of the best releases of 2012.
Overall: This album goes deep into the forest of Americana, revealing the roots of folk and blues in such a versatile way that you're never bored. Charlie Peacock is a true storyteller; a troubadour whose lyrics resonate with honesty, truth, and doubt.  No Man's Land is a milestone in music, a masterpiece that revitalizes the past & infuses current music with fresh life at the same time.
RIYL: Bob Dylan, Johnny Cash, The Lost Dogs, The Choir, Reign of Kindo