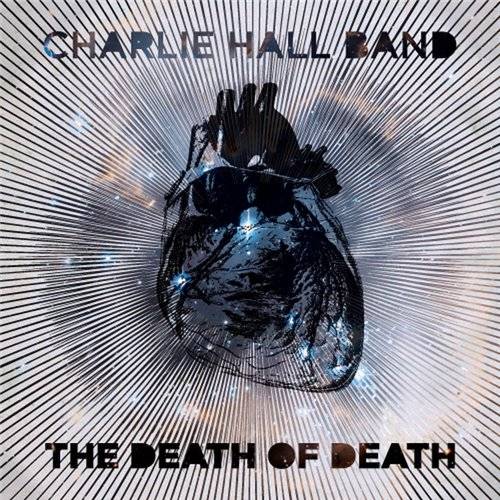 Artist: Charlie Hall
Title: The Death of Death
Label: independent
Release Date: 1/29/13
Reviewer: Jonathan Andre
Tracklisting:
Rock of Ages
Crowned
Three (Instrumental)
Death of Death
Give us Clean Hands
Kingdom
Seven (Instrumental)
Jesus, My All in All
The Solid Rock
All Things (Great is the Lord)
Eleven (Instrumental)
Build Your House
2 Timothy 1:7
Revive Us Again
Light Has Come (A Christmas Blessing)
Many may not have heard much of the music of Charlie Hall's before, given that much of the annual Passion events have been promoted as primarily launching pads of new music from Chris Tomlin, Matt Redman and the David Crowder Band. In almost every annual Passion album release, almost half the album has been taken up by Chris Tomlin songs, another 2 or 3 by Crowder and a few by Christy Nockels or Matt Redman, leaving Charlie on average 1 or 2 songs per 12 song album. Nevertheless, the songs he brings to the Passion concerts (as well as his studio albums) is nothing but great passion, powerful enthusiasm and hopeful encouragements in songs like 'Center', 'All We Need', 'Marvellous Light', 'All The Earth' and more recently 'Mystery', one of my favourite live recordings from Passion 2012: White Flag. Releasing his latest 2013 album titled The Death of Death, not on sixsteps records, but independently as he acquired his funds through kickstarter; Charlie's smartly titled album is not a hard rock or heavy metal album, but one that presents the theme of the conqueror and Saviour Christ defeating death and giving us the option of entering in fellowship and communion with Him. One of the most ingenious album covers of 2013, showing a black and bleeding heart and thereby reminding us that God has saved us from what may ultimately happen if Jesus didn't come to Earth; The Death of Death is a greatly produced and recorded independent album for anyone who is a fan of Charlie's earlier work, or for anyone who misses his involvement in Passion events and wishes for his album sets and song inclusions on annual albums to be greater in length. From the hymns redone in 'Revive Us Again' and 'The Solid Rock', to his ever popular 'Give us Clean Hands', written with an additional verse and a Christmas song added at the end of the album; this January 2013 release will certainly be a highlight amongst first-time listeners and long-time fans of Charlie Hall alike.
'Light Has Come (A Christmas Blessing)' was the first song to be released online late last year, and is added as a last song on The Death of Death. A fitting end to the album to describe the moment when Christ came down to us to start His journey of redeeming creation back towards Himself, Charlie starts off the song with shakers and an electric guitar riff that sounds strikingly similar to the chorus bars of 'What Child is This'. Written by both Charlie and worship artist Matt Maher, we are reminded of the poignancy and significance of Christmas, and how on that night, history was split in two- BC and AD. The repetitious phrase of '…light has come…' is a crucial technique, giving us a moment of clarity as we acknowledge Christ as being the light and giving us light, hope and restoration; regardless of whether it is through an outward change exhibited through a change in behaviour or appearance, or it's through a working of the heart through issues mediated and prayed upon. Comprised of merely four guitar chords, this musically simple song full of light electric guitar is equally profound, giving us a sense of encouragement as we '…let this story be told to a world broken down, that God sent His Son, cradle, cross, to the crown…' While Christmas season is over, the song seemingly fits on an album destined to draw listeners into the message of Christ coming to bring death to death itself through the cross, grave and resurrection. Well done Charlie for this poignant 'holiday' song.
'Give us Cleans Hands' is perhaps the most famous song Charlie Hall has ever recorded. Written by Charlie during the mid-90s yet never actually recorded on any of his previous studio albums, his song has been made famous by other artists, from Chris Tomlin and Kutless, to Mark Schultz and Charmaine. It is almost absurd to know that this recording of the song on The Death of Death is Charlie's first studio recording of the beloved song. Nevertheless, this heartfelt melody about asking the Lord to '…give us clean hands, give us pure hearts, let us not lift our souls to another…' is full of strong drum beats and a looping percussion, and though the reputation of the song gives Charlie a great platform to launch his rendition, the song ultimately feels a little disjointed compared to the song we all fell in love with during the 1990s. With an added verse (or is it chorus?) where Charlie cries out '…we cannot make it on our own oh God, we need the power of the Saviour's blood…'; the lyrical statement somewhat feels out of place in a musical sense. While the message of the statement is great lyrically, the forcing between the newly written lyrics to somehow match the song that we know and love seems a little too fake to me. Despite this drawback, 'Give Us Clean Hands' is still a good song, and even if this rendition ought to be called 'We Cannot Make it On Our Own'; previous enthusiasts of the song who aren't afraid of change will be able to embrace this recording of it.
'Rock of Ages', originally written by Augustus Toplady as a hymn, is the first song on the album and is given an electric guitar makeover with great gang vocals, together with an added chorus of '…You alone saved me, brokenness is all I bring, You resurrect and You redeem…' Presenting a new hymn in a contemporary light to appeal to rock anthem fans that appreciate hymns redone, this song sets the mood lyrically and musically as it presents to listeners a worship album with a rock edge, rather than soft songs full of reflection (which may not be what Charlie's target listeners are). As we sit back and enjoy a refreshing moment of realisation of the truth of Christ and how '…nothing in my hand I bring, simply to the cross I cling…', we are given a variety of hymns throughout the album redone with added guitars; and an anthemic atmosphere that is given to each one of them is able to raise them up to great appeal and promise as I listen from a perspective of someone who may not have grown up with these hymns before. 'Revive Us Again' as not written by Charlie, yet instead by William McKay in 1863. Still, listening to the drums (reminding me of the same drums in many marching band parades) and the electric guitars give this song a modern twist is nice, and though I've only heard the chorus sung before '…hallelujah, thine the glory, hallelujah, amen…revive us again…', listening to the full song gives a great reminder of how poignant and riveting a song can be, even decades after it was written. Similarly with 'The Solid Rock', Charlie breathes life into this already encouraging song. Recorded by Charlie also on Passion Hymns: Ancient and Modern, this rendition of a medieval classic is shown the acoustic and strings treatment to provide a stripped back and more reflective song as we understand the relevance of the statement '…on Christ the solid rock I stand, all other ground is sinking sand…' With heartfelt lyrics and timeless rhymes and biblical truths, all these hymns on The Death of Death promote this album as one of the most unique of 2013, contrasting, as well as complementing both musical styles of new and old as we approach God with songs from different eras, yet all speaking of the same truth of God's greatness and His mercy. Well done Charlie for such poignant tracks of hope and inspiration.
'Crowned' starts off with a riveting electric guitar before the drums kick off the song in an anthemic fashion as Charlie declares that Christ is crowned above everyone else and that '…once for all, You died, gave Yourself and laid it down…'; whereas the title track 'The Death of Death' also starts off in a very similar musical introduction before Charlie sings one of the most poetic songs on the album. Revealing the honest truth about how '…at the death of death where love and justice kiss, we were born to sin and only You forgive…', we are given a great reminder of not only what we have been but who Christ calls us up to be- sons and daughters of God given a slate wiped clean full of redemption as '…the Word made flesh and love defined…' Charlie also creates a poignant song in 'Kingdom', and in a similar lyrical theme to 'King of Heaven' (on Passion Awakening), Charlie asserts that the '…king is coming, kingdom's coming, coming down…' A real and often confronting message of how Christ's return isn't that far away, our resolve and impetus to keep pressing forward to our goal is ever highlighted through this guitar driven song of praise, as we as shown some words of poignancy and hope as we are confronted with the root of our motivations and that if '…it's right outside out door, what are we living for?…'
'Build Your House' is just as confronting as 'King of Heaven', revealing the statement God is longing for us to declare to Him- asking Him to come in our lives and build, rearrange, tear down, even destroy and build up again things in our lives that He knows needs realignment and refocus. With an emotionally charged electric guitar and percussion musical backdrop, Charlie offers his own selfless prayer of surrender to the Lord, and indeed lets us know that we ought to consider doing the same as we lift up our walls and lay down our preconceptions at the feet of the Cross. Yet it is 'Jesus, My All in All' that is really one of my personal favourites from the album, co-written with worship leader Matt Maher. With great rhyme to lead the listener into the thought that maybe this song was a hymn before, Charlie fills the song with marching-style drums as He asks Christ to replace the things in his own life that have been in place of Him. Written in a similar confronting-yet-comforting and inspiring way, we are met with the task of also looking within ourselves to see if there are things in our own lives that may need to be discarded in place of the Lord our God. Though the song may have simple chord progression (as most worship songs do!), this heartfelt melody of awakening with the knowledge that everything else fades away except for God is enough to place this song as one of the standouts on The Death of Death. Well done Charlie for such inspiring original songs full of enjoyableness, life and joyous enthusiasm.
Overall: The Death of Death, whilst such an ominous album title and an album cover so disheartening to some listeners that they may not necessarily want to take a listen to this independently produced album; Charlie's latest musical effort is just as on par with his other albums, maybe even more so as he presents to us a variety of musical tempos and themes. From slow reflection-type songs to upbeat melodies full of praise and wonder, this album is a perfect fit for anyone who has enjoyed Charlie's earlier work, or if you are looking for some variety in a similar musical and lyrical vein to other artists like Kristian Stanfill, Chris Tomlin or Christy Nockels. Releasing on the same day as both Rend Collective's Campfire and Colton Dixon's A Messenger, Charlie's kickstarter funded album is full of anthems that will certainly mark The Death of Death as one of Charlie's most alternative musically-sounding album in his whole career. Well done Charlie for an enjoyable listen to one of my independent album standouts for the January/February period of 2013!
RIYL: Matt Redman, Chris Tomlin, Kristian Stanfill, Christy Nockels
Buy the Album: iTunes/Amazon mp3