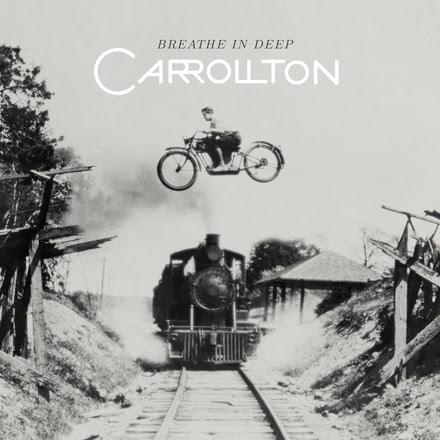 Artist: Carrollton
Title: Breathe In Deep EP
Label: Centricity Music
Release Date: 2/11/14
Reviewer: Jonathan Andre
Tracklisting:
Pass You By
Holding Me
This is Life
You are Faithful
Red
Death Has Lost Its Way
It's hard to keep up with all of the new artists that debut albums every year. And while many new artists that release albums each year seemingly fall by the wayside in favour of artists that are more popular, or release albums that are quickly grabbed up by radio, there have been quite a few artists that have stood out since the turn of the decade- Jamie Grace, Rhett Walker Band, For King and Country, Everfound, Bellarive, Kerrie Roberts, Chris August and Audrey Assad. And as this year of 2014 is still starting up, we see a few more standout artists (new or relatively new), reminding us of the depth and quality there is within Christian music (David Thulin, Jonathan Thulin, Loftland, Ellie Holcomb, Red Roots and City Harbor). Enter in another new artist, this time on the roster of Centricity Music- Carrollton. Formed in 2008, these four men, from Cincinnati, Ohio; give us what it means for pop, rock, country and worship to be infused together, with the band reminding me stylistically and musically of other similar artists that I've heard in the past, like Aaron Shust, Rhett Walker Band and JJ Weeks. Giving us inspirational melodies coupled with music that lovers of CCM, country, pop and rock would be proud of; the band give us a reminder of our role in this life we lead, throughout these 6 songs that have just been released to iTunes (the release date was the beginning of February). With the band writing/co-writing all of the songs on the EP, this powerful project produced by Paul Moak (Third Day, Relient K) is one of the most underrated albums of the year, and maybe even the EP that is released, which is good, but not many people know about.
The first radio single from the album, 'Pass You By', starts with some neat acoustic and electric guitars to bring to the fore some country-themed music as we hear the band deliver some of the most poignant and universal themes we can ever hear- that we ought not to let our lives be filled up with worry, stress and anxiety, to the point where we are not focused on the things that matter before it's too late. The heartfelt lyrics of the first verse really puts things in perspective, as we hear lead singer Justin Mostellar give advice in how we ought not to '…let the things you can't change keep you away from the things that matter most, you can rush from the sunrise till dusk of the night sky and not see the beauty in both…' While the song is very much seeker-friendly and universal in nature and theme, what I can't help but think about when hearing this track is the part of the gospels during Matthew, where Jesus encourages us to come to Him with all the worries, troubles and burdens that we carry, knowing that He will take it from us as we rest and bask in His presence. While this message isn't explicitly said, knowing Carrollton and their faith, I'm sure they could've had this passage in mind when they wrote the song. While frankly, the song seems like another radio hit with lyrics that don't seem to differentiate between this and an inspirational pop song (from artists like Keith Urban, Carrie Underwood, or Delta Goodrem); Carrollton nevertheless provide us with some food for thought as we think about our own lives and whether we have passed moments by that God wants us to revisit, even now. With light acoustics and a distinctive country-style voice, these men, while they have arguably delivered one of the most generic CCM songs ever that I have heard, have also delivered what could be the most impacting song all year, being able to write a melody that has the potential and possibility to reach listeners of music who enjoy both Christian and mainstream styles. And though if I'm being honest, the song won't be my first choice of song to listen to; I can't deny the passion of the band, and know, that this song, no matter how cliché, will be able to reach and influence a wide range of listeners, and hopefully, will be a vessel for God's love, in weeks, months and years to come!
Though the shortest track on the album, 'Holding Me' is possibly the most poignant of the 6 tracks. With a gruff and distinct voice, similar to that of Todd Agnew, Carrollton tell a heartfelt story about a woman who is depressed and has no one to comfort her or help her with her plight; we are met with a moment of comfort and realisation that only comes from knowing Christ and being planted in His Word, holding Him as much as He is holding us. This acoustic ballad, though short, is maybe even better and more enjoyable than their first track, with the band declaring that '…if You're the one who walks on water, if You're the one who calms the sea, if You're the one who made the heavens, then I believe You're holding me…' With stories being a great way for messages, themes and moments of realisation to come across to the listener, 'Holding Me' is a great gem of a song that is certainly going to be one of my favourites of the band in months to come. 'This is Life', driven by acoustics and a powerful electric guitar riff, delivers a heartfelt country-style melody, offering us a moment of realisation of what life is- living it to the full, with no regrets, and being reminded on a daily basis that every circumstance is used by God to the potential of us and the glory of Him. With a bold chorus of how there '…has to be much more to life, than just these hands spinning around, and if our time is spent inside the lines, we'll miss what we could've found…'; we are called to be bold and adventurous, hopefully for Christ in the process. With Carrollton also inviting us into CCM/worship territory in 'You are Faithful', a song that proclaims how great God is and would fit right into a Sunday morning worship set list; as well as an acoustic guitar driven southern gospel melody about us being dipped into Jesus's blood and all the red in our lives being washed away til we are clean before the Father ('Red'); these 6 melodies have been able to cast across a variety of lyrical themes and musical genres, even ending with a subdued song 'Death Has Lost Its Way', complete with a harmonica and the band declaring in the melody from the outset that death has lost and that Christ has won (and will continue to win daily) in the lives that we lead.
Overall: Centricity Music's most recent artist on the roster is something of a mixed bag- with their single 'Pass You By' being what I call the weakest track on the EP. Nevertheless, this is a band that will be treasured and loved by listeners who love rock infused with country, praise, CCM and the southern Gospel genre- the fans of Rhett Walker Band will probably be the kind of people who'd love to listen to this. This is a great album if you want a collection of songs to break the mould of radio hits and CCM, and while it does take some time to get used to the infusion of rock, pop, country, CCM, praise and gospel, what does occur are 6 songs that are certain to challenge, inspire and motivate us in our walk with Christ. Well done guys for such a unique and out of the box album!
RIYL: Rhett Walker Band, Aaron Shust, Todd Agnew, JJ Weeks Band, Needtobreathe
Buy the Album: iTunes/Amazon mp3