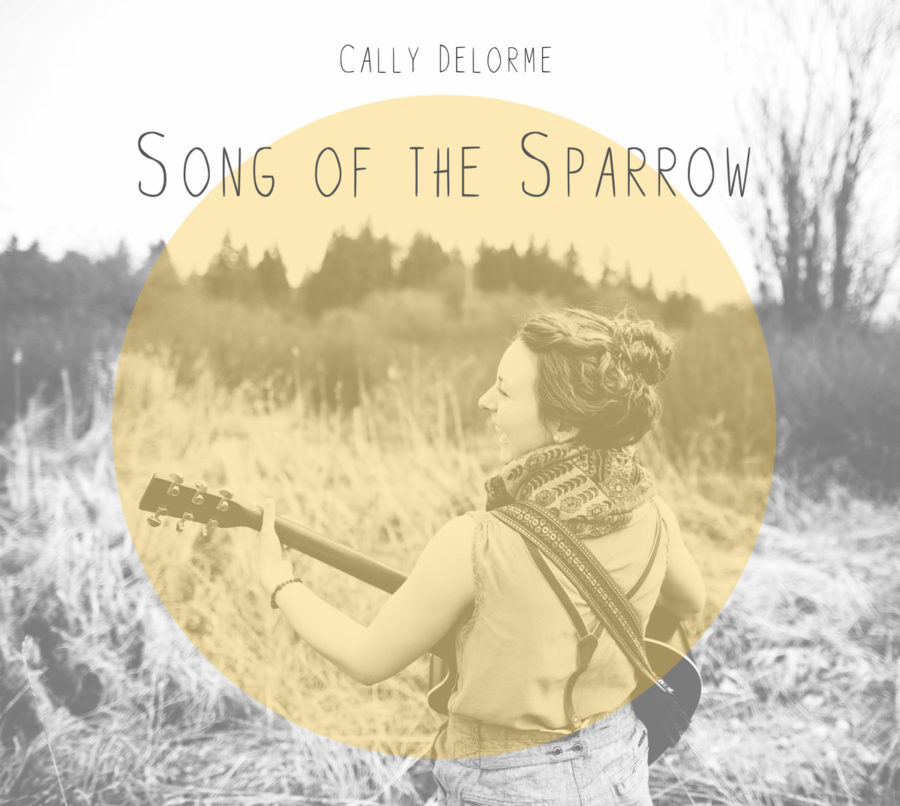 Artist: Cally Delorme
Title: Song of the Sparrow
Label: None
Release Date: 11/23/13
Reviewer: Josh Hamm
Tracklisting:
Come Let Us Go
Highways
Feet Like a Deer
I Won't Sing Alone
Gotta Make It Through
Little Darling
Old Life & The Sea
Here I Gain Freedom
Spring Song
Teacher
Home
All-Season Love
I've listened to and reviewed my share of folk music. I enjoy the genre immensely, even if can produce some boring and uninspired artists. There's suddenly an influx of singer songwriters clamouring to travel on the road paved by acts like Mumford and Sons, Josh Ritter, or the Avett Brothers. Many of these new acts simply aren't worth it.
Luckily for me, and luckily for you, here's one artist who doesn't fall into that category. Cally Delorme, based out of Langley, B.C., and her music is a pleasure to listen to. Song of the Sparrow is a collection of folk songs written over the last six years, and as such it reflects various seasons of life – and some songs are stronger and more mature than others, even as all of them reflect a deep love of God and vibrancy of life. These are songs for the soul, to cozy up to on a cold winter's day.
Simple melodies and compelling choruses are at the heart of this album.  "Come Let Us Go" dives right in with a catchy acoustic hook and lyrics reminiscent of Romantic era themes of the beauty of nature. What truly shines through though is Cally's voice. It has a uniquely earthy tone to it; not husky or gravelly, just a certain aspect which catches the ear and inescapably piques your interest.  It shines on through the high notes on "Highways" and is complemented beautiful by the resonant harmonies on the end of "I Won't Sing Alone" and "Gotta Make It Through."
"Feet Like a Deer" is a great song; a call to realize the joy of God throughout life. Inspired by Psalm 18, it's a song celebrating His faithfulness and unfailing love. Many of her songs carry an overt influence from the Psalms – "Teacher" does it well, pairing a gorgeous wordless melody in the middle of the song, bookended by lyrics of refreshment by still waters and lifting eyes up to the hills for help.
One of my favourites from the album is "Little Darling," it begins as a lullaby, in a soothing, sleepy sing song tone, and it keeps that as the underlying foundations; it's a song about comfort, as the lyrics and music and vocals work in perfect unity so that the theme is fleshed out – you feel comforted as it washes over you. I love it when songs can not only talk about a subject, but embody it. Then the album segues into "Old Life & The Sea" and "Here I Gain Freedom:" both strongly rooted in a rejoicing in new life found in Christ. Hope is a resonant theme as old life passes away, and a new foundation is laid.
Hands down the best track is "Spring Song." Beautifully stunning– one of those songs that makes you immediately check your iPod to make sure you remember exactly who the artist is so you can listen to them again. It has some of the best lyrics on the album, weaving gorgeous imagery throughout like this: "Oh gypsy winds that pipe and sing/ inviting boughs of beach, I know I hear the laugh of spring/in all your silver speech/ Oh little mists/ that hide and curl/ in hollows wild and green." It's vibrant and full of life, and it's also one of the more musically interesting songs, featuring cello, trumpet and harmonica to create a rich, full sound. Regardless of what your favourite season is, after you hear this song it'll be spring.
A nifty hook with the guitar and bass immediately draw you in to "Home." This is a song which is a perfect showcase for Cally's voice, as it drifts along, singing of the joy to be found in home – not a place, but "wherever you are." A great song about the strength of love rising above all other factors. "All-Season Love" is a fitting conclusion to the album as it goes through the seasons, reminding us that as time flits away, there is a love which lasts throughout.
Overall: Song of the Sparrow is ostensibly about the ebb and flow of the seasons – both literally and figuratively; it's a group of songs about the beauty of the natural world, wrapped around the interwoven theme of God's love and care for us. It's an album which rings true in its words, and comforts in its music. It is an embodiment of poet Gerard Manley Hopkins' words: "the whole world is charged with the grandeur of God."
RIYL: Handsome and Gretyl, Sam Pinkerton, Lauren Mann and the Fairly Odd Folk, Laura Marling, Parlours, Max Garcia Conover