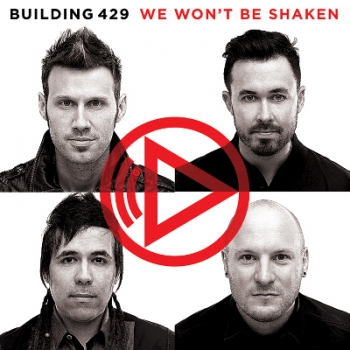 Artist: Building 429
Title: We Won't Be Shaken
Label: Essential Records
Release Date: 6/4/13
Reviewer: Jonathan Andre
Tracklisting:
Get Up
Bonfire
Press On (feat. Blanca Callahan)
We Won't Be Shaken
Set a Fire
Revolution
All I'm Holding
Best and Worst
Blameless
All the Glory
Where I Belong (Live)
With Building 429 giving us hit songs like 'Listen to the Sound', 'You Carried Me', 'Always', 'End of Me', as well as the No. 1 radio hits 'Glory Defined' and most recently 'Where I Belong'; this 4 piece rock band from Fayetteville, North Carolina are now gearing up for their next album release on Essential Records, We Won't Be Shaken. With the band rising the ranks in popularity as they continuously give us great quality CCM music, lead singer Jason Roy continues to deliver powerful vocals and great songs that explore both the worshipful side of music as well as the pop-rock anthemic melodies that uplift our lives and motivate the soul. With their brand new 2013 album releasing in June already to much critical and commercial anticipation due to their successful hit single and title track on the album, Jason's distinct powerful vocals alongside heartfelt lyrics that remind us not to be shaken when we are in Christ are destined to relate well to listeners of all ages, especially the younger generation. From the light acoustic pop nature of 'Press On' (a duet with Group 1 Crew singer Blanca Callahan) to the rousing and hopeful 'Get Up', an encouragement to all to get up and spread the good news of Christ wherever we may be, We Won't Be Shaken has enough great melodies to propel this album to become No. 3 in terms of my favourite albums this year so far (with Josh Wilson's Carry Me and Kerrie Roberts' Time for the Show being No. 1 and 2 respectively). As Jason gives us the hopes he wants the album to portray, and that '…we don't want to spend a lot of time talking about who we were before Christ because the old is gone and new has come…', we are invited to sing along to these anthems that are destined to become part of everyone's music playlist, regardless of whether you love hard rock or inspirational acoustic music. With 'We Won't Be Shaken' hopefully following 'Where I Belong' as another smash hit from the band (personally, I think this album will be their most successful yet), this album is certain to be a standout when it releases in June (along with Skillet's Rise).
'We Won't Be Shaken' is the title track of the album, and also the first radio single from it as well. Releasing on iTunes and across America through radio stations like Air 1, K-Love, The Joy FM and The Fish; we are reminded through this 3:57 length anthem the theme that's ought to be very much prevalent in our lives as Christians- we can't back down from what we believe, and therefore, our foundation needs to be strong and firm so that we won't be shaken from it. As I am reminded of the parable Jesus told about the man who built his home on the rock compared to the other man who built his fortress on sinking sand; we are called to remember as Christians that '…whatever will come my way, through fire or pouring rain, we won't be shaken…whatever tomorrow brings, together we'll rise and sing, that we won't be shaken…' Through powerful vocals from lead singer Jason Roy as well as light hand claps and rousing electric guitar riffs; this anthem has become one of my favourite melodies of 2013 so far, just behind 'Carry Me' by Josh Wilson and 'What are You Afraid Of' by Kerrie Roberts. As the press release of the album depicts that '…the title track is a battle cry for the church in these troubled times…', we are inspired to sing out this anthem with all our hearts as this song becomes the cornerstone in where the theme flowing from this song has a great ability to permeate the entire album, as each of the other 10 songs on We Won't Be Shaken complement the theme of knowing our identity in Christ, and living out our God-given dreams to the fullest potential. Also reminding us that the world we live in is not our home and therefore we shouldn't be shaken when troubles occur (because we know where our heavenly home is), 'We Won't Be Shaken' is certain to start a movement amongst the younger generation, and will hopefully excel more than 'Where I Belong' did throughout 2012. Well done Jason the rest of Building 429 for such an energetic and emotional anthem that's destined to become one of the 2013 song highlights on any CCM fans list.
With a variety of musical styles on their latest album, from acoustic to hard-hitting guitar anthems of praise to even the poignancy of reflective melodies set to light electric guitar sounds and a passionate vocal; We Won't Be Shaken is possibly their most unique and musically diverse album yet. Even though the band has kept the 'sound' logo from their last album Listen to the Sound, all references to their last album in terms of musical style has been altered and reformed again, with the band somewhat reinventing and bringing back the beloved rock sound that was so evident in their earlier albums of their career. 'Get Up' starts off with some tremendously good whistling from Jason as the band brings an explosive electric guitar sound to start off the album in great fashion, as listeners are given great motivation to get up from our seats, and start to share God's love with everyone that we meet. Portraying evangelism not in an intrusive style but in a way that's ought to be motivating; we are given a confronting 'ultimatum' of sorts, as we understand that '…it's time to get up, I'm sick of just sitting around…cause all the people on the mezzanine floor, we can't forget what we were made for, because our hands were made for reaching out…' An explosive start from the band that pays homage to their radio hit 'Listen to the Sound' as well as other enthusiastic rock artists like Peter Furler, Abandon and Kutless; we are invited to experience an album that's not necessarily your average CCM album.
'Bonfire' is possibly the most musically 'heavy' song on the album as the band employs some electronic beats and powerful guitar hooks to bring to life a message about shining brightly for Christ, using Jason's life as an example to bring in listeners and capture and maintain their interest.  The motivating message of us lighting '…it up, if I was born to be a flame, then I'm gonna light a bonfire…' is something we all need to hear, as we understand that if God has given us this love in the form of His Son's sacrifice, we can't just keep it inside, and the least we ought to do is share it for the world to see. A song about standing up for our beliefs in the most enthusiastic and non-ashamed like way, the song paves the way for another bold declaration in 'Revolution'. An anthem that calls everybody to participate in the revolution that lets us stand up united for the beliefs of equality, unconditional love, hope and justice; 'Revolution' reminds us to not take whatever we have for granted as we live our lives boldly for Christ. Full of powerful electric guitars, Jason declares out in the bridge some of the most powerful words of the whole album. Speaking out via megaphone and vocally distorted to create a unique effect, Jason shouts out the words '…calling all the broken ones, wherever you may be, it's time to rise up with your new identity, no longer can we stand idly by and just watch the war, we are the ones who have the hope, that the world is searching for…' A song that encourages us to shine as beacons of light in a world of overshadowing darkness, 'Revolution' encourages us with a bold message veiled in a melody full of rock anthem goodness. Well done Jason and the band for 'Revolution', 'Bonfire' and 'Get Up'; all anthemic and all reminding us to not be ashamed for the gospel that has changed our lives from the inside out!
Throughout the rest of the album, the band is able to bring forth themes of hope, restoration, renewal and trust as we see how each lyric line in each song translates into an echo of motivation and encouragement to those who hear. 'Press On' is an acoustic guitar prominent 2:50 length melody, and a duet with Blanca from Group 1 Crew (who I think has given her best performance yet) about how we need to press on and move forward, past the things of this world and the things that drag us down and onto Christ who sustains our souls. Reminding myself of Hebrews and how the writer explains how we need to keep running towards our goal, we are given a timely reminder that '…life goes on, life goes on, but Your love will prove, all I need…I will find in You…' 'Set a Fire' is a worshipful melody with an electric guitar prominent edge as the theme of the song reminds me so much of the United Pursuit song of the same name- calling all worshippers to declare heartfelt praises to God, asking Him to set a fire in us as He reveals more of His majesty and unconditional love to us through our daily lives. The band also deliver another worship melody in album closer 'All The Glory' (before the live version of 'Where I Belong'), a powerful song with a light acoustic guitar introduction that reminds us that our lives was never about us and our short-lived glory, but rather it was about shining a light and pointing it to the One who has created and loved everything and everyone. Humble and honest, hopeful and encouraging; the song places things in perspective as all the pressure to perform is thrown out the window as we bask in the love God gives us everyday- undeserving yet given freely.
The band also show us themes of redemption and restoration through the heartfelt 'Blameless' (even shifting key mid-way through the song as the chorus of us being declared blameless becomes even more poignant); while 'Best and Worst' feels longer than the 3:17 minutes allocated to it, as I reflected on the notion that God uses the best things, and the worst things, to mould and shape us as we travel along on our journey as ambassadors of the good news of Christ. Yet it is the potential radio single 'All I'm Holding' that has been a personal favourite for me on the album, and next to 'We Won't Be Shaken', my favourite on the album. Speaking about holding onto Christ even when the world seems like it's falling apart, the song is thankfulness in its true and rawest form as Jason powerfully affirms that '…You buried my shame, You carried the weight of all my burdens and all I'm holding now is You…' Full of piano riffs and a percussion undertone reminiscent of the many orchestral instruments that come together to form a symphony of unique and interesting sounds; 'All I'm Holding' gives us confirmation that despite everything, we can hold firmly onto Christ for all guidance and help. This ballad certainly stands out amidst the rock anthems as one of the best ballads done by Building 429 to date, possibly equalling both 'You Carried Me' and 'Always' in terms of lyrical quality. Ending the album with the live version of one of their most famous songs is just a treat in and of itself, with 'Where I Belong' a gem to listen to in a live setting, hearing the crowd cry out along with Jason that '…all I know is I'm not home yet, this is not where I belong…' A great song to end the album with, well done Building 429 for such an honest and poignant melody about showing us where our eternal home really is!
Overall: Since debuting their label album in 2004 (and being a band since 2000), Building 429's presence in the music industry is only going to continue, with the success of their 2011 album and hopefully this one as well. With hopeful lyrics and powerful guitar hooks, We Won't Be Shaken is able to declare timeless truths in a relevant and edgy way destined to draw in young listeners looking for a song with meaning and hope. One of my favourite albums of the year so far, lead singer Jason Roy has a unique ability to give us songs full of encouragement, yet also remind us of the transientness this life can bring unless we continuously focus our eyes on Christ. As they have explored some new rock-inspired sounds that have led this band to newer heights and greater respect, the band's new album release is sure to be a standout in June 2013 (alongside Skillet's Rise). A great purchase for anyone who loves pop rock with a worshipful edge; Jason and the rest of the band ought to be commended for a job well done as I reflect upon some beautifully crafted melodies that all have the potential to being in my Top 25 song end of year list published on IVM. Well done Building 429 for a stellar album full of lyrics destined to be in the hearts and on the lips of many in months and years to come!
RIYL: Kutless, Peter Furler, Newsboys, Stellar Kart
Buy the Album: iTunes/Amazon mp3