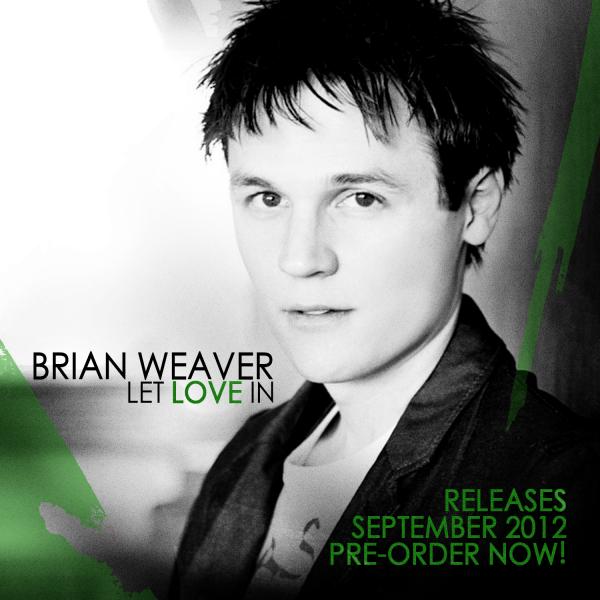 Artist: Brian Weaver
Title: Let Love In
Label: VSR Music Group
Release Date: 9/25/12
Reviewer: Jonathan Andre
Tracklisting:
Let Love In
You Made Me
Rain or Shine
Count all the Joy
I Found Love
How I Hear You
Starting his career in 2006 and performing alongside artists like Jars of Clay, Tenth Avenue North, Jonny Diaz and Audrey Assad; new artist Brian Weaver's contemporary pop sound in his latest collection of songs, Let Love In; is a reminder for all listeners about the God who made us and how He will always be with us '…through rain or shine…' ('Rain or Shine'). Vocally reminding me of Matthew West and Leeland, Brian's ability to create poignant melodies and heartfelt songs has placed his EP as one of my most unanticipated, yet equally one of the most underrated EP's of the year so far. From the pop melody of 'Rain or Shine' reminding us that '…He's there through it all, every day and night…', to the symphonic 'Let Love In'; this 6 song EP is bound to be a fan-favourite for those who love contemporary Christian pop, one of the standouts on its release date of September 25th, along with Matthew West's Into the Light and WOW Hits 2013.
'Rain or Shine' is the first radio single on the album, and starting off with the lines, '…are you waiting for life's storm to pass or are you learning to get in the rain and dance…' and reminding listeners to not necessarily embrace hardship and trouble whenever they do come, but understand and fully be at peace with God using the trouble that comes (not that God never causes hurt and calamity) to further His kingdom and continually shape us into the godly men and women that we are in Christ. Guitar driven with a light percussion, this CCM melody is for any lover of pop with a hard-hitting message of hope in the midst of hurt, and promise in the middle of pain. With a heartfelt lyrical moment, we are met with the truth that '…in your weakness He is strong; the Lord's your strength to carry on…' Well done Brian for this catchy yet also moving melody.
The remainder of the album showcase Brian's poignant song-writing ability as each melody touches on a new theme that is applicable for listeners from all walks of life. 'You Made Me' is a song of assurance as Brian reminds us of how God has made us, and therefore understands and knows everything that can ever be on our hearts. Featuring a strong guitar introduction, we are met with the thought that '…isn't it a masterpiece the sun is shining down on me, the gentle breeze is blowing in my heart's life…' but also the reality that '…I may not where this life is taking me…' With a solemn realisation that our life is unpredictable; this contemporary pop ballad is a reminder that God is in control of every situation, as we place our trust and understanding in Him. 'How I Hear You' starts with a 'woah' intro, as Brian offers this acoustic praise anthem up to Christ, reminding us that it is in creation and through encouraging words of others that we are able to hear Christ, and that when He speaks, we will notice that it is Him. As we as reminded in the bible when the Lord spoke through the burning bush, or through setting the fire ablaze when Elijah challenged the prophets of Baal, Christ is able to communicate to us in any way that He can, with this melody reminding us through the light acoustics that '…You're the whisper to the right when I want to go left, You're the push to go on when I'm right out of breath, when you speak, that's how I hear You…'
'I Found Love' is a piano-led song about Brian's devotion to God, singing that '…I've found love in You…' as we are reminded of God's sufficient grace and love for each one of us. One of the most tuned-down and reflective songs on the EP, this potential album single is a great change from Brian as he shows listeners a versatility in his musical style, with listeners reminded of Brian's adoration to Christ. 'Let Love In' is the first song on the album and is one of my favourites, reminding listeners of scenarios and circumstances that are pursued without Christ and how God's love needs to be in everything that we do so otherwise we will be striving in our own strength. With a light undertone of electric guitar distortion, Brian cries out to God for Him to '…breathe into my heart, give life again, shine a light of grace on my darkest sin, break into the walls I hide behind, I'll give it all this time to let love in…' What a great melody thematically similar to For King and Country's 'Proof of Your Love', confronting listeners with the truth that without Christ's love inside us, we will still be in darkness. Well done Brian for these engaging melodies that remind us of the unending love of God in a world desperate for it!
Overall: Though only 6 songs, this album along with All Sons and Daughters' The Longing EP are some of my favourite EP's of the year. Signed to the same record label as rock/worship band Esterlyn, Let Love In is a contemporary pop album full of a range of musical genres, from reflective and acoustic to rousing, anthemic and guitar driven. Famous for his Hillsong cover 'Came To My Rescue', Brian's new EP is bound to continually promote him in the CCM market, drawing parallels to Chris Tomlin, Matthew West and Leeland. Well done Brian for such a thought-provoking and heartfelt album full of lyrical gems and motivational melodies. Fans of modern worship or pop shouldn't hesitate to purchase Let Love Win!
RIYL: Chris Tomlin, Leeland, Hillsong, Matthew West
Buy the Album: iTunes/Amazon mp3