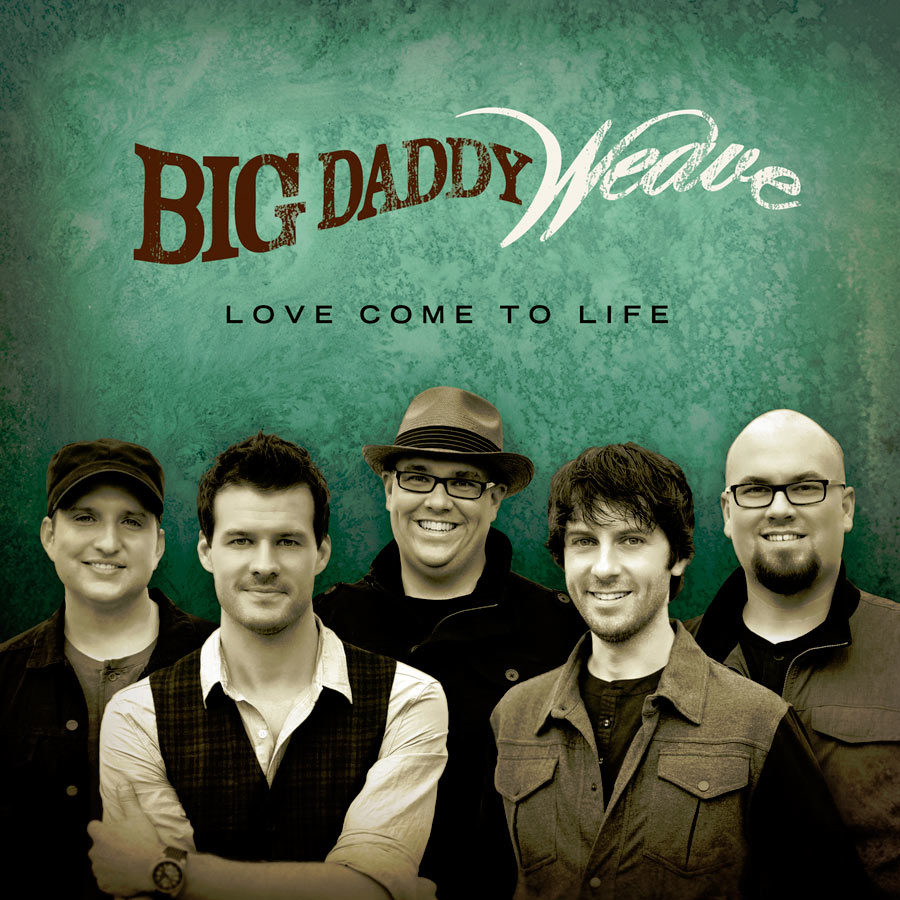 Artist: Big Daddy Weave
Title: Love Come To Life
Label: Fervent Records
Release Date: 4/17/12
Reviewer: Jonathan Andre
Tracklisting:
Jesus Move
Magnificent God
Love Come To Life
Stay
Different Light
If You Died Tonight
Redeemed
The Only Name
Save My Life
Maker of the Wind
Give My Life Away
Overwhelmed
Big Daddy Weave has released several radio hits over their past 10 years in the Christian music industry; including 'Audience of One', 'In Christ', 'Without You' and 'What Life Would Be Like'. As they released their 9th studio album on April 17th via Fervent Records, I was eagerly anticipating their sound. With their lead single and previous hit on their greatest hits record, 'Love Come to Life' being an indication; Love Come to Life would be fresh and invigorating, something new from the band that would stand out among other albums in 2012. Listening to the album a few times, I can say that this is one of the most honest, mature, and lyrically provoking albums from Big Daddy Weave. 'Love Come to Life' has already been making an impact in radio and in people's lives, and as more songs are played on the radio and at their live concerts, this album can certainly reach new heights as people continue to appreciate their continual hunger for the Lord.
'Love Come to Life' is the first radio single. Releasing to radio last September, the song has already been popular amongst listeners and critics alike, rising through the Christian radio charts since its introduction to radio. As Mike Weaver explains it, '…the reason that Jesus poured out His love on us was so the world would know who we are by the way we love one another–not just the way we talk about it…' Through the careful use of the piano and guitars, together with the rising strings and percussion, 'Love Comes to Life' turns from a song into an anthem, for the comfortable Christian to become shattered and broken before the Lord, and as we sing '…love come to life, bring love to life inside of me…', God responds and presents areas in our life that He wants us to work on. As we transform from the inside out, our love for God and for humanity will continue to draw many people towards Him. An excellent first single, this is a fresh sound from Big Daddy Weave that translates throughout the whole album.
'Jesus Move', 'Magnificent God' and 'Redeemed' are all potential radio singles, and are all my favourites from an album that continues to travel along the same path as its title track. 'Jesus Move' has an extra long piano introduction that is mesmerising. Together with Mike's vocals crying out '…let the power of God fall down on us, let Your power fall down right now…', we are transported into an atmosphere of praise as we fall down and proclaim to the King, allowing Him to move in our lives as He points out the places inside our hearts that we need to tackle as we become more and more like Christ. The choir towards the end of the song is fitting, as we join together to give God control of our lives, allowing Him to move in us without any stone walls or pillars in the way of our hearts. 'Redeemed' is the second single and one of the few ballads from the album. With an acoustic atmosphere of guitars, hand-claps and percussion; Mike delivers the truth that '…I am redeemed, You set me free…' We don't have to struggle to prove ourselves to anyone, God paid the price so we don't have to! 'Magnificent God', an anthem starting off with background vocals screaming out a 'woah'; leads to a musical arrangement similar to Ben Cantelon's 'Remain'. A standard CCM melody with guitars and percussion, Mike sings of the glorious attributes of who God is, '…You are glorious, almighty, infinite and holy, gracious, full of mercy, love without an end, magnificent God…' and we understand more of who God is and more of what He is capable of. As I am reminded of Psalm 145:8 '…the LORD is merciful and compassionate, slow to get angry and filled with unfailing love…' I am filled with awe and wonder at how God can love sinners like us. What a marvellous song we can bring to God!
'Save My Life' is a plea, from the sinner to the Saviour, the hurting to the healer. It is in the moments of despair that we cry out to the LORD, knowing that He alone can save us from the deepest parts of us that do things we don't want to do. A personal testimony of Mike's, as he sings '…here's my broken heart, I lift it up, it's empty of the foolish pride I no longer try to hide, please hear my desperate plea, come and rescue me…', we are compelled to just fall before the King of Kings, acknowledging that He alone lifts up the weary and broken. 'Maker of the Wind' is 'You Found Me' part 2 musically, together with the banjo and percussion, alluding to a country folk tune similar to that of Keith Urban or Carrie Underwood. As Mike sings out '…rough waters all around but here I am on solid ground, as You reach down to me and if You are on my side whom shall I fear…' we know that if God is for us, then no one can stand against us. This is the musical highlight of the whole entire album, and it was a shame that this was the only offering of this genre throughout Love Come to Life. 'If You Died Tonight' is one of the most confronting songs I've ever heard. To sing a song about dying and asking the question about where you are going to go, is unheard of; even in Christian circles. Songs about hope, hurt, love, power, and God is all expected, but the notion of '…if you died tonight, where would you be, where would your soul spend eternity…' seems almost taboo. Kudos to Big Daddy Weave for bringing up this topic!
Throughout the remainder of the album, Big Daddy Weave does some experimentation. 'Give My Life Away' tries to incorporate rock and roll together with jazz, but something doesn't feel right. It's trying to be a lot within the 3:12 minutes, fumbling through the electric guitar and saxophone, and doesn't seem to excel in either. Even the lyrical message seems generic '…I wanna give my life away, move every little thing standing in the way…' 'Different Light' seems a little mainstream for my liking, considering it within an album with 'Love Come To Life' and 'Redeemed'. As the words are sung '…I see it in a different light, now I understand the story of my life…' I am somewhat confused, is he singing to God or to someone else? However, despite these falls come heights of lyrical genius, shown through the last song, 'Overwhelmed'. With an acoustic guitar intro-riff that creates a grooving atmosphere, Mike sings out '…I see the work of Your hands, galaxies spin in a heavenly dance oh God, all that You are is so overwhelming…' Co-written with Phil Wickham, this is one of the best 'last tracks' I've seen on an album for a while. The added children's choir is a bonus, as we fall to our knees in front of a God who is indeed overwhelming.
Overall: Big Daddy Weave has improved yet again from their last studio album What Life Would be Like. With heartfelt lyrics and creative musical arrangements, this is an album that will stand tall amongst others throughout their career. With many songs falling into a ccm genre, there are enough different styles on the album to bring in listeners of other genres. Fans of Sidewalk Prophets or MercyMe will definitely enjoy this latest offering by Big Daddy Weave.
RIYL: Sidewalk Prophets, mikeschair, MercyMe, Phil Wickham
Buy the Album: iTunes/Amazon mp3