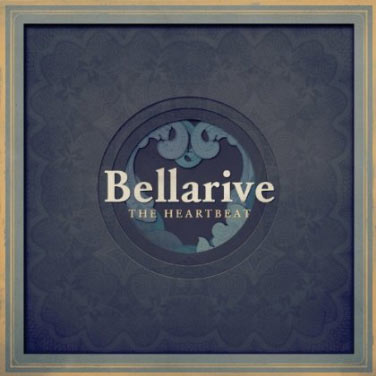 Artist: Bellarive
Title: The Heartbeat
Label: Sparrow Records/EMI CMG
Release Date: 6/19/12
Reviewer: Jonathan Andre
Tracklisting:
Heartbeat
Love Has Found Us
Hope Is Calling
Taste of Eternity
Measures of Rest
Sing
The Father's Heart
Here We Are
Tendons (The Release)
Shine On
I Know You
Stories
Mixing David Crowder*Band's musical experimentation together with Leeland's passionate enthusiasm for worship; brings the listener into the heart of newcomers Bellarive, recently signed to the Sparrow Records roster. Forming in 2009 through their church; Bellarive released their 2009 independent project, The Being Human Project…Start Listening EP before being signed in a major record label deal to find themselves releasing their debut label project, The Heartbeat, on June 19th 2012. As explored by lead singer Sean Curran, their debut album is special, as '…each one revealed a little bit more of who God is to all of us, a different glimpse of His glory or love and getting deeper and deeper into His heart…' Listening to each of the 12 ingeniously written melodies, I am certain that Bellarive (which means 'beautiful river') will receive many nominations for new artist of the year at the Doves; incorporating elements of both David Crowder and Rend Collective Experiment as the band infuses contemporary pop, acoustics, loud booming rock anthems and an overall passion that will make you want to jump out of your seat and worship Christ with all you've got.
The only instrumental track on the album is ironically called 'Sing', featuring lots of guitars, drums and percussion as the band just plays a simple melodic track rendition of the hymn, 'Doxology', with one humming along with the actual words, '…praise God from whom all blessings flow, praise Him all creatures here below…' With heaps of reverb and guitar effects similar to Stu G. from Delirious?; Bellarive have created a 4 minute ultimate praise moment, proving that even without words, songs can touch lives and delve deep into the soul, creating a space and atmosphere of surrender and worship as the listener is confronted with the glorious wonder of life and all its mysteries surrounding; pondering upon the maker of the universe and how they are loved unconditionally. Using similar musical elements that David Crowder or the newly formed The Digital Age would use; 'Sing' is one of my instrumental highlights since Michael W. Smith's 'Glory Battle' from his 2011 album, Glory, and a fantastic song showcasing the best of Bellarive.
'Hope is Calling', 'The Father's Heart' and 'Here We Are' are all highlights on an album expressive of God's unending love. 'Here We Are' showcases the passionate vocals similar to Leeland, as Sean opens up his heart for the world to see. Littered with guitars and electronics, Sean reveals the listeners, '…listen close, these are my thoughts, what do I know? All I know is I'm fighting, faking strong, wondering what's taking so long, what are You waiting for? Maybe You're waiting for me…' It is too long where we've sat back waiting for God to come and show up, to shake our hearts and souls, when sometimes we need to step back and see if our hearts in the right place, if we're really surrendering everything we have to Christ. We may seem like we're free, but as the chorus suggests, '…there's rest for my soul as it remembers that it's free, so c'mon be free…' Once we're free in Christ, we can stop the faking, let our guards down, and allow ourselves to be loved by the King. 'Hope is Calling' is certain radio-single material as Sean sings out '…your love is strong and it's chasing me…so sing along as it's making way, it's breaking through the clouds, I belong to the maker and heaven is in my reach…I can feel it coming on, and it's coming after me…' With such poetic lyrics filled with driving guitars and big drum beats; this is an anthem for the churches worldwide. Channelling Leeland in passion and vocals, 'Hope is Calling' is one of my favourite songs. 'The Father's Heart' carries the 'Sing' atmosphere as it incorporates similar starting bars to Newsboys' 'I Am Free', packing passion as Sean cries out '…I want to be like a child running wild straight into Your arms…' With a strong drum kick destined to promote this song's radio marketability; this is dance-worship at its best! Well done Bellarive for a heartfelt track reminding us all about how great God's love is for His creation!
With electronics and soaring vocals a central part of Bellarive's The Heartbeat, this is no exception with 'Shine', one of the most poignant songs on the album. With Sean proclaiming out to the listeners, '…we will arise, for Your glory has come…', we are left with the true reason for our devotion, understanding that it is in who He is that we respond with praise and adoration. With percussion, vocal echoes and synths, Sean utilises the electronic genre to his benefit as he declares '…I've been beaten and bruised, I'd forgotten love, but Your sunrise glory remains…', understanding that when everything has been flattened to the ground, God's love for us will always remain, and that's something to worship about! Similarly in 'Taste of Eternity' and 'Love Has Found Us', worship is the central theme as Sean gives everything that He has to God, amidst all the electronic noise that is used to enhance the worship experience. Starting with a piano riff, 'Love Has Found Us' declares with intention from the start as Sean reveals his need for the Lord, '…[breathing] in deep, this love…and it's so beautiful how only You can satisfy this heart…' Without holding anything back, Bellarive give their all, providing us with a transforming moment of clarity as we understand God's majesty and our worth when we gaze in the eyes of Christ. Powerful is the only word to describe album highlight 'Taste of Eternity' as Sean breathes the words, '…the taste of eternity is here on our lips…'; looking forward to the day when God comes to take His people home. A majestic song that stirs up emotions you'd never thought you had, Bellarive have done a great job at their first single!
Glancing through the remainder of the songs, it can be clear to see the motivation behind Bellarive's conception. Worship is at the forefront of all songs on this record, written poetically in a way that we are marvelled and who God is and our role in the never-ending story of Christ. 'Tendons (The Release)', 'I Know You' and 'Stories' all finish the record of hope and comfort. Some songs are confronting and challenge us, '…rip these tendons, they hinder my reach toward You…' ('Tendons'), but all in all, provide solace and consolation towards a generation that needs a lot of both. 'I Know You' places Sean at the helm of one of the top Coldplay-impersonators as he sings from God's point of view, giving listeners reassurance that God knows them, and loves them entirely. But it is the album closer, 'Stories', that links all the weaving themes together in an anthem about what we believe, and whether they're just stories, or something more. With a reverbing keyboard and echoing devices, Sean boldly states that '…I believe it, for my eyes have seen the King…' A challenging song that asks what we believe, this is a fitting album closer of an album packed with passion and outpouring of lyrical promises and praises!
Overall: Standing vocally with Leeland and musically with David Crowder*Band and Rend Collective Experiment; this is a band that will do well in the musical industry. Full of richness, musically and lyrically; this is an album for those who want to continually engage with the Father and what He wants for us. Well done Bellarive for a commendable debut; definitely eager to listen to the second album, whenever it comes!
RIYL: Rend Collective Experiment, David Crowder*Band, Leeland, Paul Baloche
Buy the Album: iTunes/Amazon mp3