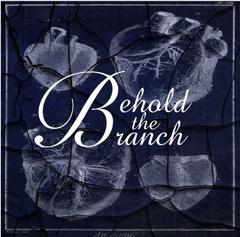 Band:  Behold the Branch
Title:  Oh To Love You More
Label:  Unsigned
Release Date:  June 24, 2011
Reviewer:  Jessica Cooper
Track Listing:
Psalm 19:14
1 Corinthians 2:9
Redemption
Creation Speaks
Take For Granted
Nothing But The Blood
Right off the bat, if you ever find yourself with the opportunity of seeing these guys play, you know that they're definitely a vessel for the Holy Spirit. The last two years I've been to Cornerstone Festival, I've attended their 11:00 a.m. daily worship service at the Raging Storm tent, and could feel the presence of God increase as I drew closer to the stage. This EP leaves no room for doubt in that, because it's packed with songs fully inspired by the love and Word of God.
Lyrically, the songs are formed around specific references in Scripture. For example, "Psalm 19:14";
"May the words of my mouth be acceptable to You; and the meditation of my heart be found pure. Oh, my Lord, won't You draw me near and teach me how You feel; oh, my Lord, won't You cleanse me. I'm drawing closer again."
When you listen to "Nothing But The Blood" you'll hear the classic lyrics of the treasured, traditional hymn, set to a mix of ambient guitar chords, cymbals, and subtle piano dins. A little over halfway through the song, they jump in with a more blasty ambience and lyric bridge:
"It was nothing but Your blood; it was nothing but Your blood. You came and died to take my place. It was nothing but the blood."
"1 Corinthians 2:9" catches your attention immediately with a drum cadence and chimey guitar, and simply proclaims the truth that's found in the Scripture: "No eye has seen, no ear has heard, nor mind conceived the things we will receive; if we only love You, Lord."
One thing about, not only this release, but this band as well, is that every member is individually expectant of the Lord's return, and they collectively portray that in their songs. It's incredibly encouraging to be introduced to people and music that I can relate to in this aspect.
I'd have to say my favorite song on this EP is "Redemption" because of its solid message and composition. The bells add a nice touch to the transition from the pre-chorus into the second verse, and I get chill-bumps every time I hear "Come to me; come to me. Come quickly; come quickly to me." I love the intimacy in such a plea.
Overall:  I definitely enjoyed hearing this group play again, and am glad I got my hands on this EP, because otherwise I could not find a hard copy of their music without being a pirate. They've actually got it up for free download on NoiseTrade, but if you're able to, I'd encourage you to donate along with your download; even if it's just a dollar. Whatever you do, don't miss out.