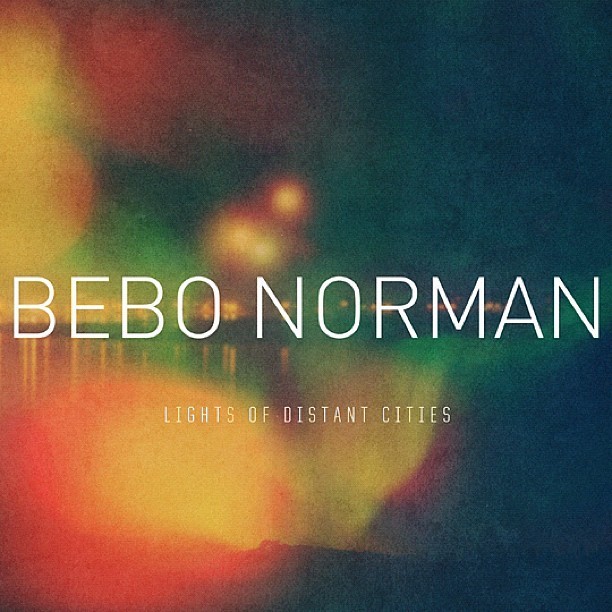 Artist: Bebo Norman
Title: Lights of Distant Cities
Label: BEC Recordings
Release Date: 10/22/12
Reviewer: Jonathan Andre
Tracklisting:
Lights of Distant Cities
The Broken
At the End of Me
Daylight Breaking
World Gone Dark
Sing of Your Glory
Collide
Wine From Water
Outside Her Window Was the World
Just a Glimpse
Go With You
With hit songs like 'Disappear', 'I Will Lift My Eyes', 'Great Light of the World', 'I'm Alright' and 'God of My Everything', Bebo Norman has graced our radios and hearts with his poignant melodies speaking to each of our very souls about a variety of topics, from life, grace, God, hope, even darkness and despair. Readying for his 11th studio album, Bebo (originally named Jeffrey Stephen Norman) is able to let listeners into some of his most personal songs to date- '…the last few years have been pretty intense – a long, slow progression, or digression, into a spiritual desert…I struggled to write anything hopeful. But I wanted to be true to the season I was in, so I simply wrote about the hopelessness I was experiencing…' What has come from his ordeal through Light of Distant Cities may not necessarily be the most musically layered, or even that worshipful. But from real experience comes a realisation of beauty in being broken; that in the midst of our hurts comes a healing that may or may not be expected. Produced by Ben Shive (Andrew Peterson, Sara Groves), this album is able to highlight some of the things that we as listeners may try to cover up, reminding us to unveil what is holding us back, both to our creator and our fellow creation, understanding full well that '…at the end of me, that's where You start…' ('At the End of Me'). With a mixture of upbeat and reflective moments, from country style 'The Broken', the honest 'At the End of Me' and the humble worship piano-driven melody 'Sing of Your Glory', this album is certain to assert itself as one of the best albums in October 2012.
'The Broken' is the first single on the album, and starts off with a country style banjo melody, highlighting the versatility of the album to portray a variety of musical genres, as well as the infusibility of these different genres to create the record Lights From Distant Cities. 'The Broken' is a cry of hope as Bebo offers up his own issues, doubts and questions unto the Lord '…in the dark night, is there a shelter over rescue light, is there a fire burning up the plight that plagues my shallow heart…my eyes are blinded by the things I see that are tearing us all apart…' With such honesty and heartfelt transparency, we can see the plight of Bebo as he writes one of his most personal songs, showing us the struggle within, understanding full well of Christ's salvation and unending love, yet also in a moment of confusion, unsureness and questioning. As Bebo gives us a look inside the writing process, not only for 'The Broken' but for every song on the record- '…you have desperation and recovery – darkness and light – represented within the same song…', we take a glimpse into his difficult season, and as we hear his cry to God to '…hear the cries that pour out from all the earth, can Your hands of glory reach down and heal the hurt of the broken…', we are invited to proclaim the same. As we all go through trials, we must stand firm in the knowledge that God has His hands over the whole world, keeping it safe; and healing our broken hearts in the process. Vulnerable and confronting, yet equally soothing, motivating and transforming, 'The Broken' shows us the two sides, one of certainty and assuredness and the other full of desperation and indecision; that is duelling within every human, with this song being an outlet, and a comfort that God indeed '…causes our hearts to sing [on behalf]…of the broken…' Well done Bebo for creating one of my favourite songs off Lights of Distant Cities!
'At the End of Me' is a bass infused melody with a drum kick undertone, reminding us of how sometimes in our lives, we can be at the place where nothing seems to make sense, struggling physically, mentally and even spiritually, at the point of crying out to God, not knowing when our hope or even our redemption is coming from as we search our lives and pinpoint the moment when everything started to unravel. With some of the most poignant words of the whole album, Bebo reminds us of how we ought to let God to '…tell all my secrets and open my scars, break into pieces, cos at the end of me…that's where you start…' and that when we confess to Christ that we are struggling, broken and are not in control anymore, we can stop pretending that we're ok, and understand that Christ's love and forgiveness is able to cover all our shortcomings and failures, as well as keeping us grounded when it comes to pride and humility. Also one of the most open, honest and transparent songs on the album is 'Sing of Your Glory', where Bebo reminds us of one of the darkest periods in his life, and how in the midst of trials, praises can still be sung to the Lord. Featuring a eerily mysterious and mesmerising baseline full of synths, keys and bass guitar, Bebo sings out the lines '…I'll sing of your glory now…' contrasted to the verses where he cries heartfelt to the Lord, '…but just below the surface, and just above the fault-line, I'm still afraid the time I have here is borrowed…' In the midst of great confusion and hopelessness, Bebo still calls this song '…probably one of my favorite songs on the record…it is perhaps the darkest song on the record in lyrical content…[with fears of my] spiritual despair.  But it is also possibly the most worshipful song on the record…[capturing] that moment of transition from the depths of desertion to the rapture of recovery…it is my reminder to sing always of the goodness of God, regardless of my temporal emotions…' Such an honest song filled with brokenness, honesty and transparency, Bebo's lyrical masterpieces in both 'At the End of Me' and 'Sing of Your Glory' are some of the highlights of Light of Distant Cities.
Though not necessarily the most musically complex album, it is the lyrical moments that tell the story about Bebo and his journey of the last few years. The acoustically driven 'Collide' is a reminder of how dichotomous this life can really be, when hurt and faith collide and tussle to fill the void of our hearts. As we struggle to '…hold on tight to the altars I keep building to the sky…and the failed attempts to fly…' we start to realise how in '…our best effort to find our value in pretty much everything else, there is rest in wait for us at the end of our search, in the infinite patience of God…' 'Light of Distant Cities' is a great first track that mixes underlaying percussion loops and remix-y sounds as Bebo proclaims the glory of Christ and how '…the lights call out from distant cities, and You come alive like a melody, and You shine, You shine brighter than a new day…' How we long for a moment when all lights around the world come alight in their praise to God, with this song a reminder that even inanimate objects praise God when we don't. 'Daylight Breaking' is an acoustic track filled with hopeful motivation as Bebo expresses his comfort in the understanding that daylight breaks through even the darkest of places, and the encouragement given to listeners (and even his own darkest moments) is a remembrance that Christ redeems even the places in our lives that we can't even face, and how we're '…called out into the light from a long and destructive night [and]…the sun never rose so bright or so tender…' 'Wine From Water' is also of the redemptive quality as Bebo uses the acoustic guitar to unveil his deepest personal hurts, speaking about how his time in despair took its toll on his own family and friends and how in those moments, it may feel like everything '…can't undo the tears we've cried, all the words we say just don't matter anyway, just weapons of war and shame…' As we journey through this track, we hear the phrase '…we are wine from water…', and how we are reminded on a constant basis that Christ continues to redeem His children, making wine from water, and creating beautiful memories from tragic circumstances. Well done Bebo for these tracks of honesty; relating to many of us that may feel like we're drifting in a maze of doubt and disbelief.
From creating an acoustic melody about how we long for the Lord to light up our lives especially '…in a world gone dark…' ('World Gone Dark'), and crying out to God to open up our hearts to even just a glimpse of who He is and His unending love and affection for His children ('Just a Glimpse'), to a simple guitar-only song about travelling life with his family and friends by his side ('Go With You'); Bebo's song writing ability always reminds us of the transientness of life and how our moments should be cherished with God giving us everything that ought to be important in our lives- Himself. One such song of mercy, forgiveness and redemption, was 'Outside her Window was the World'- speaking to me from left-field as I didn't think too much of this melody to start off with as I listened to Bebo describe a suicide scenario. Unsure about whether he was speaking about someone he knew or just speaking about overcoming trials in general, there is a moment of desperateness amongst the building guitars and drums as Bebo pleads out the words '…c'mon set free all that's left prisoner inside of me…burn the wreckage, leave it all behind…', a heartfelt moment to God to come invade and bring comfort in the midst of pain and sorrow- something that listeners can all relate to. With such vulnerableness and transparency in all tracks (yet this one in particular), Bebo's song-writing is sure to earn him some Dove Award nominations next year as we reflect upon the poignant truth about how '…Here in America [or any Western country], we live in a world abundant with "things" and yet can be so desperately poor in Spirit, impoverished by the absence of Hope…' With these songs providing some sort of anchor in reminding about who our hope is in, Bebo Norman's latest studio album is one of his personal best throughout his career!
Overall: Though not as musically driven as many other albums released throughout the year (from artists like TobyMac, Luminate, Bellarive, Britt Nicole or MercyMe); Bebo's acknowledgement of some of the darkest parts of himself, yet equally show us his source of strength and courage throughout his difficult moments is a miracle, bringing testament to Christ as Bebo unveils his most personal album to date. With much of these songs along the vein of previous ones like 'Pull Me Out', 'Sing Over Me' and 'Cover Me', Light of Distant Cities offers us a hope for our souls and the motivation to press on with our lives when times feel like it's slipping away, or if there seems to be a circumstance we cannot rid ourselves of. With a myriad of musical genres, from anthems to acoustics and reflective keyboard-prominent songs, these eleven melodies that make up the album are some of the most challenging, confronting and rewarding that Bebo has ever produced, making it one of the most satisfying musical experiences of October 2012. Well done Bebo for such an awe-inspiring and enjoyable album!
RIYL: Jadon Lavik, Steven Curtis Chapman, Andrew Peterson, Josh Wilson
Buy the Album: iTunes/Amazon mp3