Album Review :
Austrian Death Machine - Jingle All The Way
By Keith.Settles in Reviews | Comments closed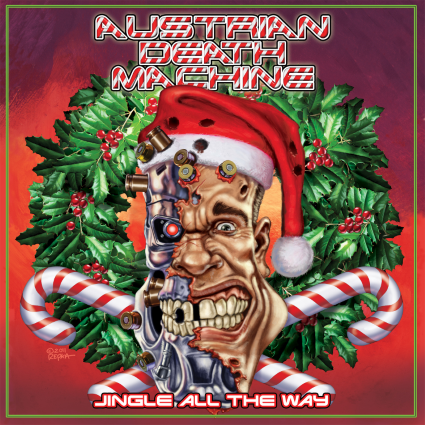 Artist: Austrian Death Machine
Album: Jingle All The Way
Record Label: Metal Blade Records
Release Date: December 19, 2011
I'm Not A Pervert
It's Turbo Time
Who Told You You Can Eat My Cookies
From the intitial guitar tone and voice of my former Govenor (Yes we all know it is not really him) chimes in "I'm Not a Pervert", prepare to get sucked into heavy metal at it's best. Austrian Death Machine, featuring As I Lay Dying front man Tim Lambesis, is set to release the first Christmas album entitled Jingle All The Way. A trifecta of brutality, speed, and guitar solos that will force you to get up and and demolish your living room with the spirit of Christmas.
If you have been living under a rock, Austrian Death Machine was a side project Tim Lambesis began sometime ago using Arnold Schwarzenegger quotes and movie titles as repetitive themes through out.  Jingle All The Way is not any different from the first two albums released. Every song is generic metalcore with a dose of speed metal and sometimes death-metal.
The song "It's Turbo Time" begins so fast and so heavy. With Tim screaming "It's Turbo Time" and the drums offering snare shots on every beat, this song is sure to start some crazy circle pits. After this goes on for the first minute and twelve seconds, the tempo slows into a tough chug a lug type part giving some rest to the ears until the music dies and you hear Arnold say "What is the matter with you? You totally forgot the guitar solo" resolving the track with a fast guitar solo filled with tapping, pull offs and some sweeps that blow the brains of the listener all over the wall.
Obviously being a three track project means this record begins and ends fast. Once you get into this record, you may find yourself listening a good five times before you realize it. The best part is that for the average metal listener, you will not have a hard time getting into this album. No need to be prepared to be surprised because there are no surprises at all in this three tracked EP. Just straight unadulterated metal flowing into your brain for almost nine minutes with no holding back.
Overall: This might seem like a short review but that is only because this is a short project. Do be worried about the run time however, this is a solid piece of work that should be in every metal heads iPod. Austrian Death Machine will make this Christmas heavier then it has ever been. To be honest, this is not the best album I have been giving to review by a long shot but it sure is one of the funnest. Be sure to pick it up and judge for yourself.