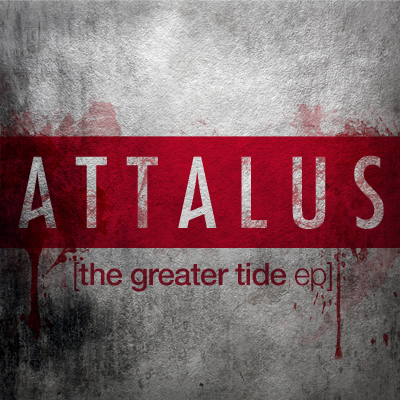 Artist: Attalus
Album: The Greater Tide EP
Label: None
Release Date: December 28, 2010
Reviewer: Eric Pettersson
Tracklisting
–
The Rich and the Poor
Behind Your Eyes
One Defining Spark
Message in a Bottle
The Finest Hour
The Greater Tide
Imagine what it might sound like if Emery were influenced by the big band jazz sounds of the 1940s. Now take out most of the screams and throw in a chunk of 90s melodic punk and some classic Stavesacre for good measure. The resulting mix is Attalus, as heard on The Greater Tide EP.
After a haunting piano intro, the album launches into full steam with "The Rich and the Poor," a dark and fast swing-punk tune that boldly proclaims "A man makes money, but money doesn't make the man." The guitar squeals all over the place, and at times this song is just begging for some gang vocals. A subtle piano ties it all together, barely containing the immense energy flowing through this track. Things get even heavier on "Behind Your Eyes," which has some screaming and a high backing vocal on the bridge, giving an epic feel that blends surprisingly well with the thick pop-punk ending that reminds me of Craig's Brother or Slick Shoes. The rest of the album continues with strong melodies, frantic guitar, light piano, and an overall dark feel, driven by such lines as "Take a lesson from the man who failed," from the song "Message in a Bottle," which tells of being saved by grace physically and spiritually after driving drunk and getting in a terrible car accident. It's unclear whether the wreck is real or a metaphor, because the lyrics address it in both ways, showing the creative and thoughtful writing that went into this record. The haunting piano melody from the intro returns for the closing ballad, "The Greater Tide," a chilling, profound, and ultimately uplifting song about death at sea for those who "kept their promise to the grave," seemingly talking about martyrs while pointing to the One who raises them up and makes them new on the other side.
Overall: Not too long ago, I said I needed to go to Indiana because so many good bands are coming out of that state these days. With this release, I am convinced that North Carolina must also be a happening place. I keep hearing about people coming and going from NC lately, and now I know why. Attalus have just exploded into my musical consciousness, and I will not be taking this EP out of rotation for some time. There is so much passion behind these songs, from the blazing rock songs to the heartfelt piano parts. At times the production sounds sloppy, but that doesn't necessarily harm the sound here. This music could stand on its own, but the lyrics make it all the better, dealing with life and faith in deep and personal ways. If you like Emery, 7-10 Split, or Stavesacre, this is one release you won't want to miss.