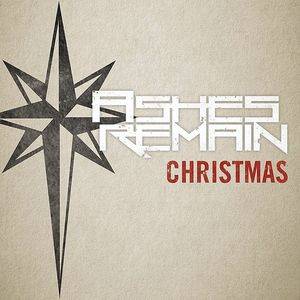 Artist: Ashes Remain
Title: Christmas EP
Label: Fair Trade Services
Release Date: 11/20/12
Reviewer: Jonathan Andre
Tracklisting:
Joy to the World
Gift of Love
O Holy Night
Room for a King
Christmas Medley
Signing to Fair Trade Services with fellow artists MercyMe, Skillet, The Afters and Phil Wickham, Ashes Remain released their debut album in 2011, with hit songs 'Everything Good', 'Without You', 'Save Me' and 'On My Own'. With their origins in Baltimore, Maryland; this rock quartet with similar musical leanings to Seventh Day Slumber, Kutless and RED, released their debut album to much critical acclaim, with their message of hope being the forefront of their label debut, and how they explore the '…themes of hope through humanity's brokenness. Many of the album's tracks discuss the idea that no matter how broken you think you have become there is always hope in the presence of God…' Now releasing their first Christmas record in 2012 titled Christmas EP, these 5 songs of humility and worship are some original melodies coupled with fan favourite Christmas carols that many listeners may know, all sung with a rock anthemic undertone that Ashes Remain has given throughout their first album, now translating through this EP release. Presenting some of my favourite Christmas carols in 'O Holy Night' and 'Joy to the World' and originals 'Room for a King' and 'Gift of Love' (that are sure to become favourites of many in the upcoming years); Ashes Remains' Christmas EP is one of my favourite Christmas EP's of the year (along with Mikeschair's It's Christmas), providing me some great Christmas songs as we move into a season of joy and hope, praising Christ and celebrating His birth and gift of love for all mankind!
'O Holy Night' will always be my favourite Christmas carol. There's such poignancy and hopefulness as we collectively proclaim '…fall on Your knees, oh hear the angel voices…'; knowing that the night of Jesus's birth led to a moment in history in which we are truly grateful for. Throughout the years, there have been many covers of this beloved song, from Chris Tomlin, Lincoln Brewster and Newsboys, to Rebecca St. James, Kerrie Roberts and Starfield. Possibly even one of the most covered Christmas carols since it was first written by Adolphe Adam in 1847; Ashes Remain are the latest to cover this powerful anthem. Filled with bass guitar and a percussion undertone with earthy vocals, lead singer Josh Smith gives a great reminder of God's extravagant love as we fall directly before Him in reverence and awe. Reminding myself of Jon Micah Summell of Kutless and Joseph Rojas of Seventh Day Slumber, Josh has given a stellar rendition of a song that can be sung as a Christmas carol equally enough as a worship melody. 'Joy to the World' is another Christmas carol redone with hand claps and an acoustic atmosphere as Josh sings the song in an up-tempo, reminding us that joy has come to the world in a tangible way. Adding his own chorus, listeners are reassured of how '…joy has come, victory's won and oh the sound of hearts that sing…', and through this light and refreshing take on the carol with a musicality similar to Francesca Battistelli's version on her album Christmas; Ashes Remain have given listeners a reflective song of hope and joy as we consider how thankful we are this holiday season, to be surrounded by friends and family and loved by them, as well as God Himself. Well done Josh for these Christmas carol arrangements.
Both 'Gift of Love' and 'Room For a King' are original Christmas tracks by Ashes Remain, and both certainly stand out as some of my favourite original Christmas songs this year, along with Josh Wilson's 'Once A Year', Francesca Battistelli's 'Heaven Everywhere', Steven Curtis Chapman's 'Christmas Card' and Jason Gray's 'Christmas is Coming'. As 'Gift of Love' starts off with a piano riff, we are met with a series of questions- '…what's the season all about when all we do is run around? Living for ourselves, leaving mercy on the shelves…' Full of humility and poignancy, listeners are able to truly understand the Christmas season- to share God's love to everyone we meet as well as celebrate His own entering into our own little stories to reconcile us all back to the never-ending story of God. With an acoustic backdrop filled with keyboards and a gentle strum of an acoustic guitar, Josh declares that '…salvation came to Earth, let us celebrate the birth, make ourselves the offering, meet the broken in the streets, the gift that came alive to take the blame and died for a world that lives in fear, let us give the gift of love this year…' and full of rich lyrical encouragement, 'Gift Of Love' is the humble anthem we all need to hear (with themes akin to Josh Wilson's 'Once a Year') as the holiday season draws near. 'Room for a King' is a slow eerie ballad full of electric guitar plucks with a lot of reverb, as we are given a tale of the birth of Christ shown through the journey from Nazareth to Bethlehem, as Josh reminds us that '…He is all we need, let's make room for a King…' Speaking about the irony of how the innkeeper didn't make room for the King of Kings to be born in one of his rooms, listeners are solemnly reminded through this jazz-like slow song of redemption that Christ is our everything and we need to prioritise our lives so that our faith reflects the actions we take everyday. But the real disappointment comes in the instrumental 'Christmas Medley', an instrumental guitar solo piece with supposed traditional Christmas carols placed in a musical arrangement that should flow together in one song. What really was given to me was a wannabe 'Miraculum' (an awesome instrumental from Lincoln Brewster's Joy to the World), with only two recognisable Christmas carols- 'O Come O Come Emmanuel' and 'Angels We Have Heard on High'. Not to discount some of the album's greatest guitar work, an instrumental song titled 'Christmas Medley' ought to have more Christmas carols within the musical work, as well as evenness in tempo and pace, rather than the faster-than-usual pace that really transpired in both the carols and other melodies that were mixed together on the instrumental track.
Overall: With 'Christmas Medley' the only downside to an otherwise impressive Christmas EP, Ashes Remain are able to give us carols and original tracks alike that speak to the heart of the Christmas season and remind us about the hope we have in Christ as we acknowledge and declare the worth of the Saviour born in the manger. Presented with a more acoustic framework, these songs (especially 'O Holy Night' and 'Gift of Love') certainly propel this Christmas album to one of my favourite of the year. Ashes Remain are certain to be part of Christian pop music's future, and both their debut album (that has the great single 'Everything Good') as well as this Christmas EP are enough to promote this band if you enjoy other pop/rock ones like Seventh Day Slumber, Sanctus Real, Kutless or RED. Another Christmas album this year is always great for those who love Christmas music (I'm certainly one of them!). Well done Ashes Remain for a compelling album experience!
RIYL: RED, Seventh Day Slumber, Sanctus Real, Kutless
Buy the Album: iTunes/Amazon mp3