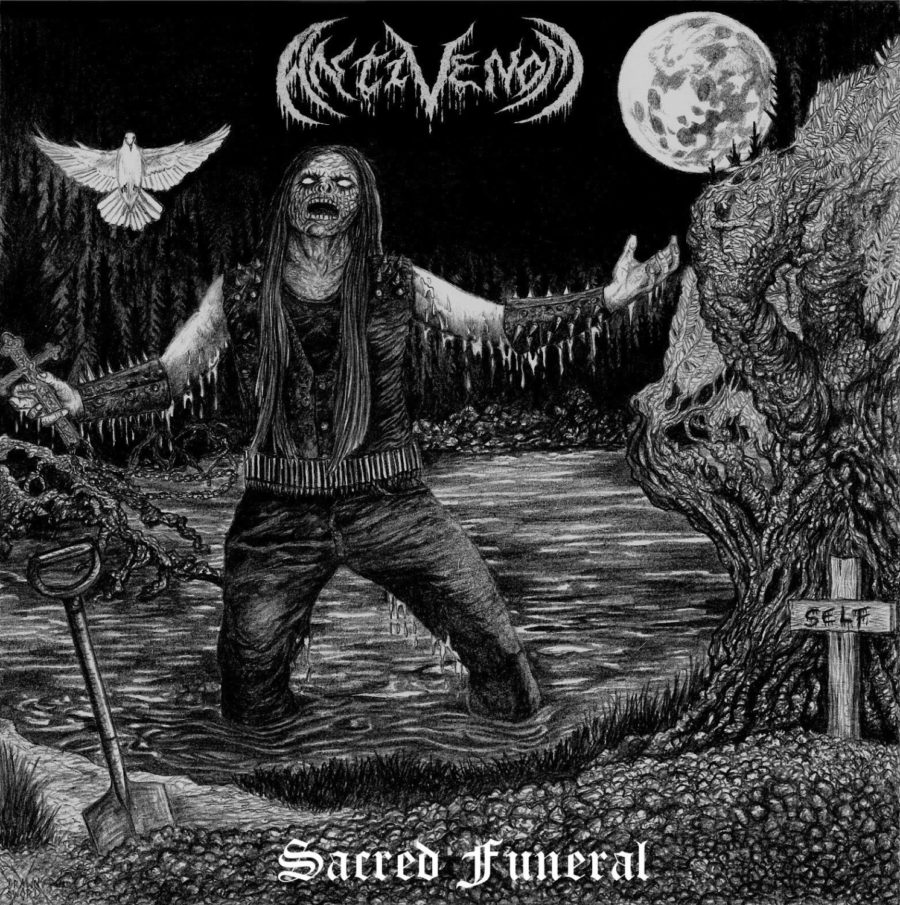 Artist: Antivenom
Title: Sacred Funeral
Label: Sword Metal Records
Release Date: 4/13/12
Reviewer: Taylor C.
Tracklisting:
Sacred Funeral
Total Apocalyptic Exorcism
Unblack Plague
Filthy Lies
Blood Path
Temple of Flesh
Hour Of Judgment
Where Darkness Cannot Reach
Death Angel
Shadows Fade
Sometimes I find that certain situations, in working out terribly for one thing, work out perfectly for another. For instance, when I first listened to this album in order to review it, I wandered to my back porch where I saw that one of my two cats had left a present for me in the form of a fat, dead mole. Consequently, I soon found myself digging a hole in the woods for a rodent to the sound of Antivenom's new album, Sacred Funeral. Hilariously perfect for me; not so perfect for the mole. I felt like that was worth mentioning.
Dead animals aside, Antivenom is a female-fronted, three-piece black metal outfit that is made up of members from Armath Sargon, White Funeral and Lunar Invasion (three underground Christian Black Metal bands), who are based on different spots around the globe. For this particular project, these three individuals bring their talents together to form a very classic and raw black metal album. From the high pitch shrieks of the vocalist to the fast-tempo guitars and drums, this is your standard underground black metal CD. Even the traditional macabre album art and Old English-esque font compliments the entire old school, extreme metal atmosphere. In short, if you like this genre, you should like this release.
The album starts off with the title track, "Sacred Funeral," which fades in with some slow guitar picking and drumming (backed by an atmospheric keyboard) before breaking into a fast black metal song. Personally, I was happy to see that keyboards were used sparingly throughout the album—often leaving nothing but vocals, drums and guitars to create the dark ambiance of the music. The songs that follow, some more memorable than others, are prime examples of black metal's capabilities. "Total Apocalyptic Exorcism" is a fist-pumping anthem that displays slow and extremely catchy riffs, "Death Angel" incorporates some punk elements into the drums and guitars, and "Shadows Fade" takes the listener on a melancholic journey through the brutal and melodic. Also, clocked at the ideal time of 31-minutes, none of the album's songs run the risk of growing tired before it is over.
Sacred Funeral's lyrics are also a great part of the album. Like most Christian black metal bands, they put a positive Christian spin on the usual motifs of secular black metal. There are a few of what I call "Christian clichés" here and there, but, for the most part, I was really impressed with how the lyrics were written—offering a variety of themes to match the genre. For example, "Sacred Funeral" has some amazing imagery associated with dying to oneself, "Total Apocalyptic Exorcism" paints a haunting picture of Hell and spiritual warfare, "Unblack Plague" takes the form of a spiritual death threat, "Filthy Lies" addresses religious and worldly corruption, "The Hour of Judgment" deals with end-times, and "Shadows Fade" depicts death and suicide.
The only negative thing I have to say about the album is that, while each song is individually good, sometimes the flow of the CD felt unorganized and roughly thrown together. Additionally, the quality of "Unblack Plague" sounds different/worse than all of the other songs, which serves as a mild distraction early on. However, low-quality is frequently a part of the basic blueprint of black metal, so these characteristics might be irrelevant to some listeners.
Overall: Antivenom has crafted an old-school black metal album that, ironically, is extremely refreshing to listen to. There are no gimmicks here—just direct, unsullied black metal. If you are a fan of this type of music, Sacred Funeral will not disappoint.
Buy the album here.