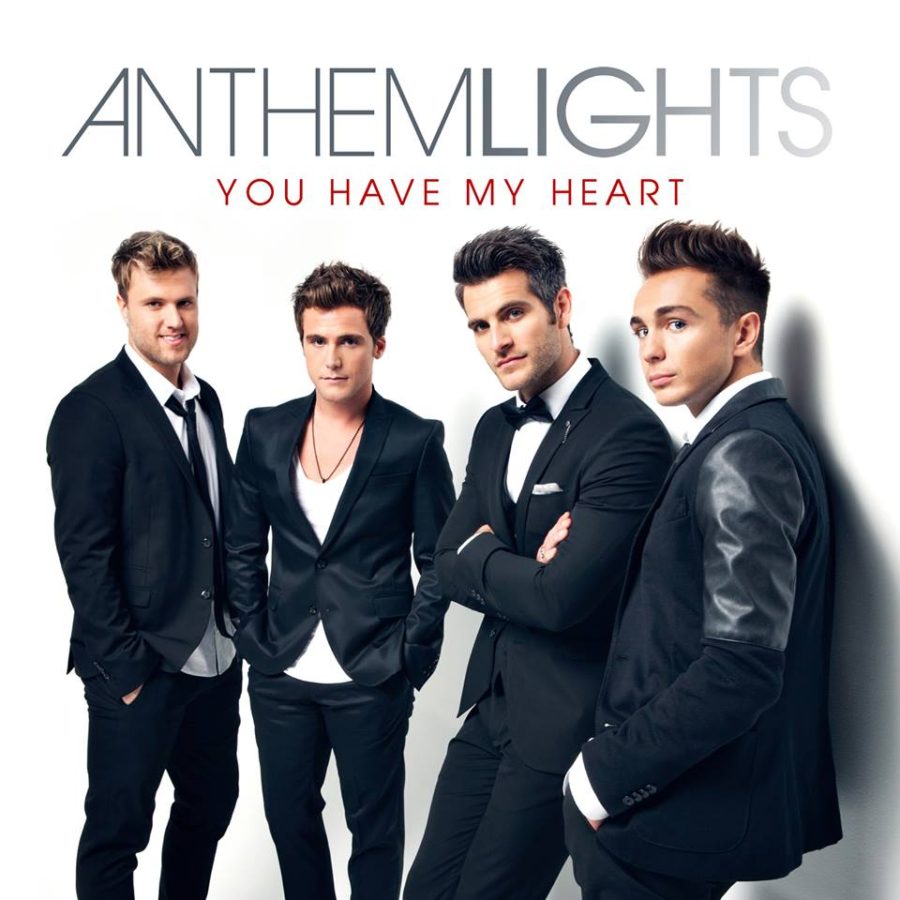 Artist: Anthem Lights
Title: You Have My Heart
Label: independent
Release Date: 2/4/14
Reviewer: Jonathan Andre
Tracklisting:
You Have My Heart
Follow My Heart
The Unknown
Fight Forever
Turn Around
That's What I'm Looking For
Light For You
Coming Home
Hide Your Love Away
Closer Than The Angels
Help You Stand
Dear Hollywood
'…as followers of Christ, we were not made for this world. We don't belong here. And all the self-doubt and insecurity and struggling to fit in, it's all part of believing the lie that we're supposed to be 'at home' here. God created us in His image–there's nothing to doubt about that! We're here to love others and be Christ in the world. The closer we get to Christ, to being what we were created to be in this world, our value of what this world values begins to fade…' Anthem Lights, formally known as Yellow Cavalier before they signed with Reunion Records in 2011; have quite a fan base. With their fans calling themselves the 'lightbulbs' like how Third Day fans call themselves the 'Gomers', Anthem Lights have had huge support since they released their self-titled debut album in 2011. Since then, Kyle Kupecky, a founding member of the quartet, left to have a solo career, leading to the band to recruit their youngest member, Joseph Stamper, into the band, with much success. Now 2 cover albums, departing from Reunion Records, and a kickstarter campaign later, this pop/CCM vocal quartet are back with another brand new studio album, You Have My Heart. With the band still having their trademark vocal group sound to create harmonies akin to other vocal/boy band groups like Backstreet Boys, Avalon, True Vibe and Plus One; Chad, Alan, Joseph and Caleb have given listeners 12 songs that are certain to be listened and enjoyed if you love these aforementioned groups, or if you just love pop music with an inspirational message. Releasing the album through funds from kickstarter (and not distributed on a label), these 4 men have reminded us that Christ has our hearts. Through heartfelt songs like 'Fight Forever', a song that promotes a message of standing up for the kingdom of God and fighting against our obstacles, as well as the upbeat 'That's What I'm Looking For' (a song that speaks about what to look for in a spouse) and the emotional 'Dear Hollywood', a letter of sorts to Hollywood, wishing for them to use their influence for encouragement and great things, rather than much of what Hollywood is famous for currently; Anthem Lights have crafted an album that's been a guilty pleasure of mine since the album released in February 2014. While this album may be only fully enjoyed if listeners enjoy the vocal/boy band genre, Anthem Lights nevertheless remind us through these twelve tracks of the Christian walk, and how '…our King has won the war, He reigns forevermore, Hallelujah, Hallelujah…' ('Fight Forever').
The first single from the album (and first music video from it too), 'Fight Forever' is an anthemic melody complete with electronic effects, light electric guitars, and strong vocals from all the four men. In fact the whole album, and possibly most of the songs they've done throughout their career so far, give us great reminders and allusions back to the backstreet boys days, and that 90s/vocal group era. While I'm sure Anthem Lights may not necessarily be for everyone (I must admit, even I struggled to listen to their first album in 2011, only to enjoy it more over time), the band continue to deliver songs of faith and hope, with 'Fight Forever' being no exception. With light electric guitars played in the introduction to mirror ancient Egyptian music, the topic of standing and fighting when adversary comes is a universal topic of discussion, with the band having the ability to sing about everyday subjects, but also being public about their faith and wearing it on their sleeves in every song they sing. With this song in particular, Alan and Caleb, the two main singers, present a moment of declaration in the chorus- about how '…we won't raise that white flag, we won't run or turn back, we will hold on and never surrender, we'll be strong and courageous, cause nothing can break us, we'll fight for the King of forever, forever…', and while this song seemingly on the surface contradicts Chris Tomlin's 'White Flag', where it talks about us laying down our white flags before the Lord, Anthem Lights remind us that in the face of adversity (basically when the devil and his strongholds come against us), our white flag shouldn't be surrendered, as we fight with Christ beside, knowing that as we joined by the group of angels fighting alongside us on behalf of Christ our King. A song that gives us encouragement when we're faced with a seemingly impossible task, 'Fight Forever' is one of my favourite songs on the album, and possibly one of my favourite songs by Anthem Lights ever. Well done guys for a greatly crafted song full of inspiration, hope, encouragement and motivation as we duel our adversaries and fight for our faith, Christ, and everyone else we care about in the process.
'Follow Your Heart', 'Dear Hollywood' and 'Hide Your Love Away' are all promotional singles that released prior/around the time of the album, as each of these four men address the topics of following Christ's heart and lead over our own ambitions, a prayer for Hollywood to influence the generation of entertainment seekers in a way that is pleasing to Christ, and saving the love and commitment for the spouse we are to marry, respectively. With a pulsating drum to kick off the second song in the album, 'Follow Your Heart' shows Caleb leading as we as listeners are reminded of how sometimes our own hearts can lead us on a different path to what the Lord has for us. The notion that's shown in the movies is the term 'follow your heart' (as in, follow the heart that's beating inside of us). And while on the surface it seems to make sense, we are called by the bible at times to forget what our hearts tell us- and at all times to guard it, knowing that in some circumstances, the devil, just as much as God, can be influencing our hearts to follow in a certain way. A song that encourages us to follow Jesus and His heart for us, instead of the 'gut' that we sometimes experience; Caleb's heartfelt vocals remind me why I enjoy these ballad-anthems by the band. 'Hide Your Love Away', a song that calls us all as Christians and non-Christians alike to stand united in 'hiding' our love and keeping it for our spouse when the time is right, it is the four men whose vocals make up the primary instrument/vocal on the song, with light electric guitars, drums and each of the four vocals overlayed on a song that is certain to encourage many listeners who are bachelors/bachelorettes, or even those who are in fact married or going to be married. With a theme that reminds me so much of Rebecca St. James's 'Wait For Me'; it is when the chorus comes that each of the men powerfully sing united (like a metaphor of every man singing to their future wife) as we are reminded about how necessary and crucial it is for us to take care of our hearts, not only because we can be hurt, but also knowing that God has someone special for us since the beginning of time.
'Dear Hollywood', the last song on the album and possibly the most controversial one, is sung primarily by Alan (chief songwriter of the band) as we grab some insight into what we as Christians and as humans long for from Hollywood. As we are exposed to this form of entertainment in virtually about anything we are in contact with, the band, though poignant lyrical messages, light keyboards and Alan's soothing, yet equally powerful and hopefully encouraging vocals and lyrics; the song invites us to venture into the thoughts of how we ought to see Hollywood as doing good in the world, rather than producing some artists, actors and the like that sadly don't enhance society and culture as a whole. Written like a letter as Anthem Lights declare out '…dear Hollywood, I wish you would see the truth, dear Hollywood, there's so much good that you could do with so many eyes watching you, Hollywood…'; we are called to pray for everyone involved in this entertainment empire, as we become aware that Hollywood is shaping and moulding us in our thoughts, beliefs and ideologies, much more than we can imagine or even think of. Anthem Lights and their ability to make us entertained yet equally moved emotionally by the songs they write and perform, is something that lifts and elevates 'Dear Hollywood' as one of my favourite songs from You Have My Heart!
Throughout the rest of the album, Chad, Caleb, Alan and Joseph continue to deliver powerful lyrical moments and harmonies, and while their songs aren't for everyone, their songs still speak volumes to their fans, and as I have listened to the album a few times already, I can honestly say that the band's second album is just as good, if not better, than their first. While I was suspect at the title of 'Turn Around', initially thinking that it was the Matt Maher cover, or even a boys rendition of 1 Girl Nation's song of the same name (makes sense, right, considering that Caleb Grimm and Kelsey Sowards- singer in the 5 piece all girl group- are about to be married in 2014 sometime); the men of Anthem Lights give us an originally written song, with 'Turn Around' seemingly providing us with similar themes that are also present in both Matt Maher's song and 1 Girl Nation's as well. With the song primarily piano based, each of the members of the band have their own turns to sing out some lyrics, as we are met with a heartfelt song that encourages us to turn around if we need to, knowing that '…the night is darkest just before the dawn, sometimes you need to stop and go back just to carry on…' Possibly the most 'mainstream' yet equally emotional and powerful song on the album (never losing its poignancy as the melody builds a bridge between lovers of both mainstream music and CCM); Anthem Lights have crafted a great song to be a hit in both the CCM and mainstream markets. The title track, 'You Have My Heart', is a great album opener, with the band injecting some great enthusiasm as the strong drums and powerful guitars leap to form a musical backdrop reminiscent of something Avalon would've done when they were still making music. With the song making it ambiguous about who they're singing to (the 'you' in the phrase 'you have my heart' can be God or it can be a friend or spouse), 'You Have My Heart' is nonetheless a melody that can be impacting to both sets of listeners as the song, and album as a whole, reminds us of how a selfless act of giving our hearts away can be just the difference between living for ourselves and living for others. 'Help You Stand', 'Closer Than the Angels', 'Light For You' and 'Coming Home' are all great tracks from the band, yet each one of these songs seemingly fall into the CCM-esque melody frame as the songs, compared to the others aforementioned, aren't necessarily as enjoyable or impacting. Nevertheless, the band give us great themes, from helping a friend stand and comforting them in hard times ('Help You Stand') to being a light for Jesus ('Light For You'), singing from the point of the prodigal son and declaring that we are coming home to Jesus ('Coming Home'), and being reminded that our place in heaven is closer than the angels, and that '…the way You see me is who I am, beautiful and treasured, love beyond measure…' (Closer Than the Angels). Well done guys for such honest, emotional and encouraging songs, and whilst some mesh into each other because of the similar CCM-esque style, the album overall is a reminder that pop/vocal groups can still impact listeners and both CCM and mainstream markets!
Overall: With the band also delving into acoustic pop and layered harmonies as they express what they are looking for in a spouse in 'What I'm Looking For' (possibly the most infectious, enjoyable and catchiest song on the album), and 'The Unknown', a song about travelling into the unknown and knowing that Christ is with us every step of the way; Anthem Lights have been able to crafted an album that continues to show us that funding collections of songs through kickstarter is now the new thing to do- with artists like The Sonflowerz, Audrey Assad, Carman, Jessa Anderson, Jimmy Needham and Hawk Nelson funding their projects through this crowd sourcing platform, these 4 men of God have indeed created an album that's certain to make some new fans of the band, as well as continue to prove to their loyal followers of how they can share the love of Christ, but also give us songs that can inspire and motivate both listeners of CCM and listeners of mainstream music alike. With one label produced album (their debut), a few cover albums and an acoustic EP their repertoire before this album, Anthem Lights continue to gain fans, with their faith keeping them grounded in the process. I am certain that this group, while paying great homage and throwback to Plus One, Backstreet Boys and Avalon back in the day through their music, will be a driving force in both sectors of the music industry in years to come. Well done Anthem Lights for such a reflective and musically refreshing album!
RIYL: Avalon, Plus One, True Vibe, Backstreet Boys, Royal Tailor
Buy the Album: iTunes/Amazon mp3