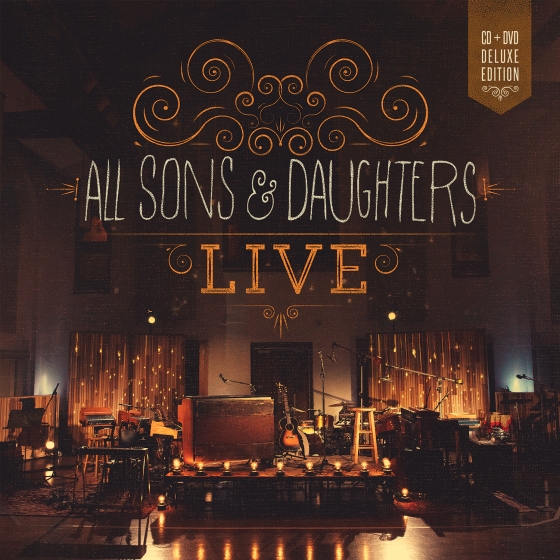 Artist: All Sons And Daughters
Title: Live
Label: Integrity Music
Release Date: 4/23/13
Reviewer: Jonathan Andre
Tracklisting:
Brokenness Aside
Hear the Sound
Oh How I Need You
Great Are You Lord
Rising Sun
Reason to Sing
My God, My King
Oh Our Lord
Wake Up
Called Me Higher
God With Us
All The Poor and Powerless
Your Glory/Nothing But the Blood
With their genre of music in the vein of acoustic folk meets CCM worship, All Sons and Daughters (comprised of singer-songwriters David Leonard and Leslie Jordan) have been giving us great music ever since both of them played a part in the Know Hope Collective album and then onto their band projects during 2011 and 2012. From hits songs like 'Spirit Speaks' and 'Sanctuary' that were some of the album standouts on Know Hope Collective, released in March 2011; this acoustic folk duo have poured out their hearts in every subsequent release, releasing a string of EPs leading up to their critically acclaimed album Season One in 2012 (perhaps my pick to win Best Praise and Worship album at this year's Dove Awards). From the heartfelt 'All The Poor and Powerless' that has exploded in popularity amongst the worship community of listeners and fellow artists alike, to the banjo infused anthem 'Oh Our Lord' (performed as a duet on Paul Baloche's The Same Love) and the ever-poignant 'Reason to Sing'; the band has delivered quality music with an edgy musical component that's presented as an alternative to many other worship album releases that could be touted as generic by many listeners and connoisseurs of worship music in general. Now releasing their first live album on the back of the success of their third EP The Longing; this is a certain purchase for any fan of All Sons and Daughters, or for anyone that may want something unique and different in terms of worship music. Featuring some fan favourites and some newer melodies (including the never-before recorded 'Great Are You Lord' and 'God With Us'), the acoustic and live atmosphere blend together quite nicely as the listener is taken on an emotional journey as each song reveals the continual loving character of God and His affection and acceptance of us His children. It is a joy to listen to All Sons and Daughters with all the musical instrument variations as well as the great harmonising between David and Leslie; and I guarantee it'll be a joy to listen to this upcoming record too, regardless of your worship music preference or whether you have listened to their previous albums or not.
Released as a video weeks prior to the album release date of 23rd April 2013, 'Great Are You Lord' invites us with a simple lyric, yet equally profound worshipful moment as both David and Leslie remind us of God's greatness through a song that's primary strings focused. As David's hauntingly refreshing and emotive voice carries the song to anthemic heights as the duo offer up one of my favourite songs on the album. Starting off the song with just David's vocals and a keyboard as he offers up the God-affirming words of how '…You give life, You are love, You bring light to the darkness, You give hope, You restore, every heart that is broken…'; we are offered hopeful words of encouragement as the song is sure to minister in the lives of the listeners (myself included). With great harmonies between David and Leslie, not just in this song, but throughout the entire album is such an immense joy to listen to, and as the instruments come to a grand and majestic forefront full of charisma and enthusiasm as the various forms of percussion (including cymbals and big striking drums) as well as the strings laden with emotion; an anthem is birthed that's certain to anchor most of the duos live concerts in months and years to come. Arguably one of my personal favourites from this live record, producer Paul Mabury has done well with producing the album; with 'Great is the Lord' one of the best musically choreographed worship songs released this year so far. Also producing albums from Hillsong and Darlene Zschech this year as well, his unique abilities to create an album that's musically different from either of his previously produced album is such a feat! Well done Paul for capturing the live element of the album, and well done to both Leslie and David for such a compelling song, one of the two newly recorded on Live, an album that presents some of the most uplifting and invigorating live album performances ever since Vertical Church's debut album in July 2012!
All representatives from their latest album The Longing EP, 'Oh How I Need You', 'Hear the Sound', 'Called Me Higher' and 'Rising Sun' all show us the excellent songwriting skills of David and Leslie; as well as everyone else involved in the process of writing these songs. The live setting presented with an abundance of acoustic instruments and a vocal and passionate live audience is enough to showcase the unique musical instrumentation as the songs are presented in a different way than just in the studio version. 'Hear the Sound' is my favourite song from The Longing EP, as we are shown a melody that reminds us fully of God's grace, love and mercy and how it is expected of us nothing less than praise and adoration to our King as we continue to discover and delve deeply into his everlasting love for us. The heartfelt cries of David and the soothing vocals of Leslie complement each other so nicely (as they do so in the studio recording); yet hearing the song again with the live crowd is a humble and overwhelmingly enjoyable moment. The band has always had a unique way of providing worship music, and the folk-acoustic atmosphere throughout the whole album is a complete blessing. 'Oh How I Need You' poignantly points out our need for God and that sometimes God can be found in the moments when we're not necessarily expecting Him. The banjos, hand claps and declaratory moments throughout the song gives it such a lift as the bluegrass-county musical genre is tried, tested and succeeded by the duo.
'Rising Sun' still continues along the country-style musical theme with heavy strumming guitars reminiscent of guitars prominent in Southern Gospel style songs as Leslie's heartfelt singing anchors the song nicely, reminding us that '…we lift high His glory shown throughout our stories, we praise Him as the children of God…' As the music travels from reflective to anthemic midway through the song as both David and Leslie, alongside the crowd of worshippers, cry out '…Hallelujah, name above all, simply to speak Your name is praise, hallelujah, now and always, forever we lift Your name in praise, Hallelujah, our God, You reign, simply to speak Your name is praise…'; we are shown a new poetic and worshipful dimension, possibly one of the most compelling and free-flowing worshipful moments on the whole album. 'Called Me Higher' is the last song taken from their latest EP, where Leslie takes the helms as lead vocalist again. While David is a great singer, it is in the songs where Leslie leads where they have been my favourites, with 'Called Me Higher' no exception. Speaking about how we can just sit in God's presence and delve deeper into His Word and everything He has for us; we are met with calling upon our lives, with God calling us higher and deeper to wherever He is leading us in our lives. The crowd seems to be non-existent on this track (even though the song is indeed 'live'), yet nevertheless; the song is still great with an abundance of strings and powerful vocals. With 4 out of the 6 tracks on The Longing placed throughout Live, All Sons and Daughters' huge success for their latest studio offering is sure to translate into great acclaim for their new live album, thanks much to the new track material, and fan favourites like 'Oh How I Need You' and 'Called Me Higher'. Well done Leslie and David for these heartfelt songs and sure standouts on the new live album!
Throughout the rest of this album, we are presented with a conglomeration of hits over the years as All Sons and Daughters showcase some of their well-known, and lesser known songs presented within a 60-70 minute set list. 'Reason To Sing' is the title track of the second EP, and is a sombre like melody full of strings and keyboards as the crowd becomes quiet to let Leslie sing about the assurance everyone seems to need in the midst of life when '…the pieces seem too shattered to gather off the floor and all that really matters is that I can't feel You anymore…'; while 'Our Our Lord', once a collaboration with Paul Baloche on his 2012 album The Same Love, shows us David's vocals at his best with Leslie harmonising, reminding listeners of God's majesty and abounding grace poured out over us. The tag to 'Our Our Lord' on Reason to Sing EP gets its own title and track length on Live, titled 'My God, My King' and standing at 2:30. While it is just Leslie repeating the refrain '…and I will sing sing sing, to my God, my King, for all else fades away, and I will love, love, love with this heart You've made, for You've been good always…', the heartfelt emotion outpouring from these words is beyond description, especially with Leslie's spoken word to the crowd where she reminds us all the importance of singing a new song to the Lord. 'All the Poor And Powerless', possibly the most famous song from the duo, anchors the last half of the album where David uses both the piano, his vocals and the crowd during the bridge where everyone cries out '…shout it, go on an tell it to the masses…that He is God…' to produce a stellar song full of praise, enthusiastic energy and hopefulness shown to all listeners; while 'Brokenness Aside', a fan-favourite song amongst many listeners, becomes the first track on the live album after coming after 'All the Poor and Powerless' on their first EP, ironically titled Brokenness Aside, with listeners being shown a celebratory prayer along a similar thematic frame to Steven Curtis Chapman's 'Beauty Will Rise' and how God takes the '…brokenness aside and make it beautiful…'
'God With Us' is the other remainder new track, and standing at 4:07 in length, David and Leslie deliver a great worship melody (primarily led by Leslie), showcasing a Christmas-like theme about God coming down to Earth and being God with us. Complete with interesting instruments like accordion and strings, the words of 'Emmanuel, God With Us' shows us how timeless Christmas really is, and that our celebrations that we have on that day shouldn't be confined to just one day throughout the year. While the medley of original track 'Your Glory' and hymn 'Nothing But the Blood' can seem a little disjointed upon first listen of the last track on Live, both David and Leslie's intense passion and the crowd's response seems to negate the initial hesitation from myself in how the rendition will turn out. Nevertheless, it is a wonderful last track and does great to finish off an album with both new and old tracks. Together with the new song 'God With Us', 'Your Glory' presents a moment of understanding of God's incredibly loving nature. Well done David and Leslie on all these songs that paint the picture of worship in a unique way, enough to hopefully gain more enthusiasm and interest among listeners who may want to listen to worship music with an alternative edge.
Overall: All Sons and Daughters new live album, an incorporation of hit songs from albums previous, is a great album if you have adored the band for years, or even if you have just started listening to this folk-acoustic-worship band. With the band redefining and possibly even reinventing the worship genre like other artists before them like David Crowder*Band, Gungor, Leeland, Audrey Assad and Jesus Culture (and to an extent, Rend Collective Experiment); Leslie Jordan and David Leonard should be commended on a job well done, not just on this album, but throughout their whole musical career. From 'All The Poor and Powerless' to their newest hit 'Great Are You Lord'; the band has taken modern worship music and stretched it, placing it on its head to remind listeners that worship music can still be fun and enjoyable, unique and different, compelling, emotive and encouraging all at once. One of my standout albums of the year, David and Leslie's enthusiasm for worship is what sells the album the most. While David Leonard has been in both needtobreathe as well as pop-rock group Jackson Waters, worship is his forte, and the album shows all of this and more. Well done guys for such a hopeful and inspiring album, one of my favourite in April 2013!
RIYL: Leeland, David Crowder*Band, Gungor, Rend Collective Experiment, Jesus Culture, Audrey Assad
Buy the Album: iTunes/Amazon mp3