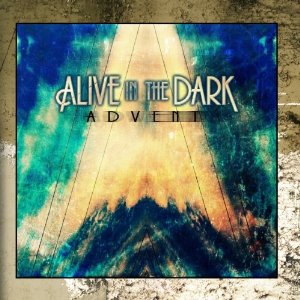 Artist: Alive in the Dark
Album: Advent
Label: Radial Records
Release Date: 02.15.13
Reviewer: Lee Brown
Tracklisting:
The Sea Divides
Fear My Sword
Sons of Abraham
Surrounded by Wolves
Broken Prisms
Blueprint
Indulgence
One by One
Cold Skies of the North
The Secret Life of Mr. Chu
Crimson Glass
Mt. Olympus
Maranatha
Advent
Alive in the Dark hails proudly from Union City, NJ and is the first band to be signed to the fledgling Radial Records. Stylistically, they are progressive metal with clear influences from August Burns Red, Texas in July, and bands like Inhale Exhale. Prior to Advent, the band had self released Oceans of the Sky, which can be found at their Purevolume/ BandCamp page. It must be stated, however, that the band featured on each of these albums is largely different.
Having been founded in 2009, the band went through "many" line-up changes before ultimately considering calling it quits. Rather than take that route, however, new blood was brought in and Advent was released. I make note of this simply because there are places in the album that feel subtly different from others. As a cohesive whole, the album works, but there was just something I couldn't put my finger on until I looked through the band's history. In doing so, I've found what I couldn't quite nail down… the band member changes. While I do not know for certain if these changes effected the tone and style of each song, it would be hard to imagine that they did not. In spite of almost calling it quits and several band member changes, Alive in the Dark shows quite a bit of potential.
Advent is a moderately strong album that is nicely cohesive, but suffers in one particular area. In talking about the strengths, this is an album that is not afraid to ramp into some nice technical moments. The drumming is very strong, as are the guitars. In terms of vocals, the guttural/screams are powerful and intense in all the right ways. What really caught me as needing addressed, however, were the clean vocals. To be frank, the cleans waiver at points. Sometimes they are strong, sometimes merely passible and in a few places, they seem to need some refinement.
Lyrically and spiritually, Advent is rather strong, providing some intense thoughts about God and life. The album begins with "The Sea Divides." As an opener, this song is a good choice. It has a nice lead in that proves the band's musical prowess before crashing in with heavy vocals that cut to the core. As mentioned above, "The Sea Divides" also provides the first taste of how uneven the clean vocals can be on this album. In their first brief appearance in this song, I was forced to play back through a few times to decide if they were intentionally warbly as an effect for the song or if there was just something that needed refinement. I then looked at the cleans that close the track. In the ending section of the song, the cleans come across as poignant and well placed for a moment, but also have a little warble to them as the song fades away.  In the end, I had to look at the song as a whole and came to the conclusion that the cleans are a brief sore spot in an otherwise impressive and powerful anthem (which holds true across the album).
"Fear My Sword" and "Sons of Abraham" fare much better as the songs exclusively utilize the guttural vocals throughout. They also showcase some great technical moments on the guitar. Sonically, these songs show off great skill with a nice dose of variety. Each one is a highlight track and should certainly be where listeners start with this band to find out what's being offered.
"Surrounded by Wolves" carries a slightly different tone. Some fry screams are brought in on the heavy side of things and the cleans are a much larger part of the song. In this instance the cleans are more than passible, but still land a little out of place. At points in the song, they are nicely done and fitting. At other points, they certainly stand out as the weaker element on the track.
"Broken Prisms" brings a nice fast and heavy intro with continually skillful guitar and drum work. The guttural vocals on this track are brought with a few nice vocal nuggets that reminded me slightly of Steve Rowe's work on Mortification's Hammer of God at points. Orlando Joubert's interplay of going from heavy to clean vocals is also handled well on this track.
"Blue Print" continues the album with some fantastic spiritual questioning. The lyrics refer back to the questions of our age of whether we've lost our way, what we've become, and whether or not we're simply lost. As before, the gutturals are strong and on point on this track, but also as before the cleans don't do the track as much justice.
"Indulgence" steps in as a brief interlude with some skillfully lighter fare before "Cold Skies of the North" crashes back in with a heavy message about where we are as a nation/Christian people. "Cold Skies of the North" provides some of the better clean vocals on this album. It also features a nice reprise of the instrumental element that slowly forges itself into an island sound before returning back to brutality. This is also a good place to point out that the titles on this album
"The Secret Life of Mr. Chu" is another highlight track that features some great brutality throughout and plays well on the band's strengths without any moments of weakness. "Mt. Olympus" follows suit in this, but there's just something about "The Secret life…" that catches me as one of the stronger tracks on the album.
"Maranatha," like "Indulgence" is a nice little instrumental track that prepares your heart for the final and title track "Advent." Meanwhile "Advent" is a powerful look at the sacrifice of Christ and the advent of new life. The lyrics, "I dreamt of this day all my life, now that it's here not a single thing could be better," gives a beautiful picture of the hope and expectation of stepping into Christ's eternal kingdom for the first time. The chant "we're going home" towards the end of the track brings a moment of sublimity before the storm as it rises in power and tone before closing with hopeful brutality.
Overall: Alive in the Dark bring a progressive metal experience that has strong guitar and drum work and powerfully heavy vocals. Unfortunately, the experience is lessened by uneven and sometimes weak clean vocals throughout. Where the album works, however, it really works well. Fans of hard music should definitely give this one a listen for themselves as several tracks on this album are more than enough to make up for the few shortcomings.
RIYL: August Burns Red, Texas In July, Inhale Exhale