Album Review :
A Plea For Purging - The Life And Death of A Plea For Purging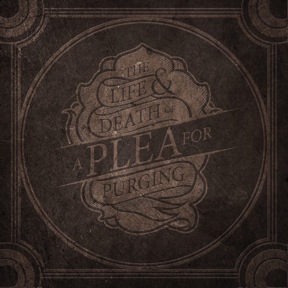 Band: A Plea for Purging
Album: The Life and Death of A Plea for Purging
Label: Facedown Records
Release Date: November 2011
Reviewer: BMer
Track Listing:
The Life
Music City
Heart of a Child
Miss Fortune
My Song
Skin and Bones
Room for the Dead
A Fight For Peace
Hell At Our Backs
Words Misread
Hands and Feet
Living the Dream
The Death
The Setting Sun
Metalcore veterans A Plea For Purging release their fourth full-length (5th release overall) titled The Life And Death of A Plea For Purging. Fans of the band will find this album somewhat different from previous releases, with a change in direction regarding the lyrics and themes. This also could be the band's last album depending on how one interprets the lyrics and messages found on The Life and Death…
After the widely praised The Marriage of Heaven And Hell which showcased Plea's maturing sound while adding clean vocals to the mix, A Plea for Purging have refocused. While the band is now just a four-piece, guitarist Blake Martin has stepped up and brought a new level to the band with his clean vocals and somber acoustic tracks. In fact, somber could describe the feel for the entire record. On previous record singer Andy Atkins sounded confident; condemning those who twisted the teachings of Christianity and prostituted the Church. On some of Plea's more popular songs like "Sick Silent America" Andy sings "They're all buying it, but I'm not buying it. You can't fool me anymore." Plea's songs served as anthems for those who wanted to see change in the hypocritical ways of modern Christians. You won't find those anthems on The Life And Death Of…
Where previous albums were observational, The Life And Death… is introspective. Right from start on "The Life" Andy sings "The dreams you've caught aren't the dreams you chased." Throughout the album Andy sounds like he's not sure if being a frontman for a band is really what it's cracked-up to be, more than once asking "Am I in Hell?" ("A Fight For Peace" and "Living the Dream"). He talks about his words being misunderstood on "Words Misread" where he laments "Breeding your anger was not my intent." On "Music City" he sings about how much he loves Nashville and how "Every single tour takes me kicking and screaming 30 hours from my home." The track "Living the Dream" lays it out there as clear as can be "Have I chosen poorly or has it chosen men… Is this living the dream or is it living a nightmare?" In what plays out as vulnerable, honest battles are broken up by clean, ambient songs lead mostly by Blake that could be perceived as moments of clarity among the chaos and despair of Andy's testimony.
The beauty of this album is the honesty, A Plea for Purging skips the watered-down Christian music cliches and tell it how it is. No song could be more vulnerable than "My Song" which features some guest vocal help from Chad Johnson of Hundredth. Assuming the song is Andy's own story, it starts off with the recent suicide of his mom and the death of his estranged father shortly after. The song must be therapeutic for Andy, and it's repeated refrain of "Home is where the broken heart is" is very haunting. A song like this encourages serious listeners less to throw-down and more inclined to confront ones own demons.
Not to disregard the music on The Life and Death of… these songs are excellent and well-constructed. Previous albums featured shorter, mosh-inducing abrasive metalcore songs, loud and heavy. This album however features longer, well thought-out tracks like "Room For The Dead" where Blake and bassist John Wand are beasts. The intricacy and technicality showcased gives you that scrunched-up face look like when Jay-Z hears a beat he likes from Timbaland. Aaron Eckermann on drums continues to show he has the chops to hang with the household metalcore names. Guitarist Blake Martin has a real feel for ambient, eerie guitar tones. Outside of the tight chugging in-line with the drums, he fills the space well, for example his work on "Heart of a Child" is on-point. In Fact, "Heart of a Child" is the closest thing to an anthem you'll find on this album, the overall feeling of the track is huge, and closing with "Hallelujah children live forever." is almost as epic as it gets.
As a sidenote, you could call this album "A Plea for Purging featuring Chad" as the guest vocal spots go to Chad Johnson of Hundredth ("My Song"), Chad Ruhlig of Legend and his excellent contribution on "Heart of a Child", and Chad Urich of Venia's guest spot on "The Death": "All these tattoos and all these miles haven't mad me a man yet; I'm nothing more than a frightened kid demanding undeserved respect."
OVERALL I'm sure that some fans will be let down, this isn't the typical Christian metal album. This is relevant, this is the touring-life not being as glamorous as it sounds. This is a band that is honest about their doubts, wanting answers about their purpose and questioning everything they're told. At first I felt almost guilty for enjoying A Plea For Purging, selfishly wanting the band to tour and make more music which apparently isn't all that great according this album, but after quite a few more listens I came to love the honesty, love the creativity and love The Life And Death of A Plea for Purging for holding nothing back, hopefully fans will be more than "robots, zombies, cattle herded by other's words."
Grab a pre-order bundle while you still can! Here.