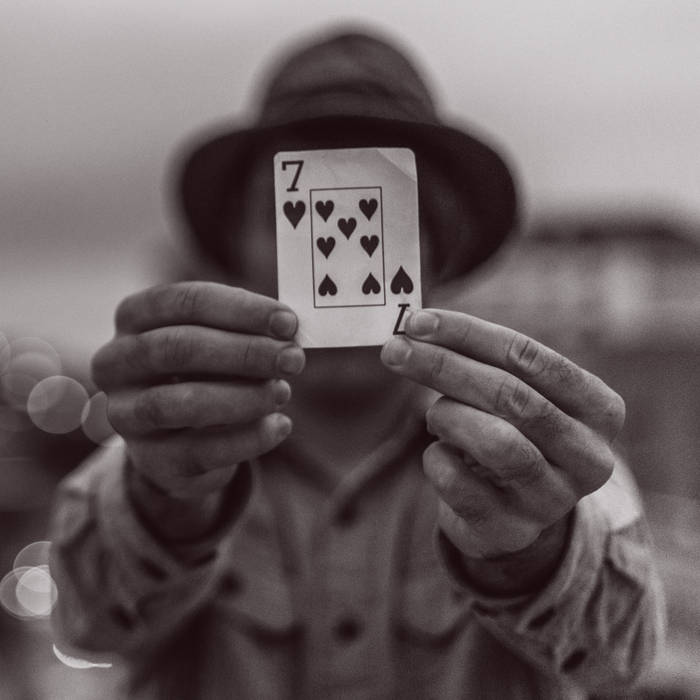 Just what should you expect from an album whose first track is titled Planes, Trains, and Automobiles? Though 7 is Orion Walsh's seventh album, it's my first listen to any of his work.
Naturally, the first exposure to any artist comes with baggage. I can't say I've ever met someone named Orion, but it's definitely a masculine name and inherently reminds me of mythology first and astronomy second. The album art is a desaturated photo with a strong depth of field, with a central figure who we might assume to be Walsh himself. In front of him, he holds a seven of hearts playing card. Questions abound.
However, a lot of the mystery vanishes right off the bat. Planes, Trains, and Automobiles showcases Chuck Ragan-esque songwriting with a vocal timbre similar to Andrew Peterson. It's not quite as rugged as I anticipated, but I can certainly say that somehow these two elements work together.
It's evident these are down-to-earth songs, speaking of travel, love, and faith. It's most certainly not a CCM record, though it's certainly fairly accessible. This is evident in the the first four tracks especially.
No More does take the rugged road, with Billy Idol-esque vocal style, electric guitars, and even some rhodes piano.
Love is 7 and Journey of a Spruce Tree Part 2 are an interesting pair of songs that work in tandem. The former appears to be an early song re-released, Love Isn't What You See on TV. The latter seems to be a continuation of its predecessor, but its title seems to be a follow up to a track off 2012's First By Water Then By Water. Both tracks incorporate similar vocals elements and the lyrics refer to the number seven several times. So despite the ties to previous albums these songs might hold, this truly feels like the core of the album.
Standing Bear is a historical account of the Trail of Tears. It's certainly a weighty subject and its place right after songs about love and faith put into practice is definitely powerful; the emotional shift catches the listeners off guard and the contrast between love and destruction. The vocal patterns are a bit odd and clunky, and some rhymes seem forced. Despite the powerful subject matter, this flaw is too prevalent and does end up detracting from the message.
Walsh's rendition of This Little Light of Mine features extensive harmonica use, and it continues to build to introduce layer vocals and claps. It's an interesting take, though it feels like an odd choice of song given the progression of the album to this point.
The Journey is Beautiful immediately struck me as familiar; indeed, it's a reprise of the earlier track, Die Reise War Wunderbar. This time, there are female harmonies, an egg shaker, and glockenspiel. It's certainly it's a different mood and thematically transitions to the end. However, its counterpart certainly wasn't a standout track and having to hear it a second time is a bit unnecessary.
The closing track, We are We, presents some of the most unique (and perhaps best) instrumentation on the album. Sadly, even disregarding any comments on the theology present, the lyrical delivery ends up falling short and sounding too cliché. It's a strong ending song nonetheless, but I wish the lyrics present were construed in a way that didn't remind me of a kid's song.
Vocals: Overall, Walsh has a pretty pleasant voice. Again, fans of Andrew Peterson will probably enjoy this album. His voice is fairly comparable to what you find from The Rocketboys or even The Republic of Wolves.
Instrumentation: For the most part, it's folky. No More is the only track that really dives into what could be classified as rock. There's certainly deviation between tracks, but, as is the danger with all minimalism, some tracks end up feeling too similar.
Lyrics: The lyrics range from thoughtful, heartfelt, and simple to forced rhymes, direct storytelling, and language that could have used a bit of fine-tuning. Many of the better lyrical moments are on the first half of the album, which makes the second half suffer – even though the instrumentation and vocals remain on par with the first half.
For my first experience with Walsh's material, I'm surprised by how promising he is as an artist. Love is 7 and Journey of a Spruce Tree Part 2 are standout tracks that truly showcase his ability. There does appear to be a cohesive theme about world unity, expressed through a variety of stories and personal accounts, but it does take a bit of processing to recognize this. Overall, the album isn't bad but it does feel disjointed in places. Walsh certainly isn't afraid to tackle difficult subject matter, but the missing eloquence can be hard to get past.
Overall, the album is very strong in places but feels too hit-and-miss to fully enjoy,