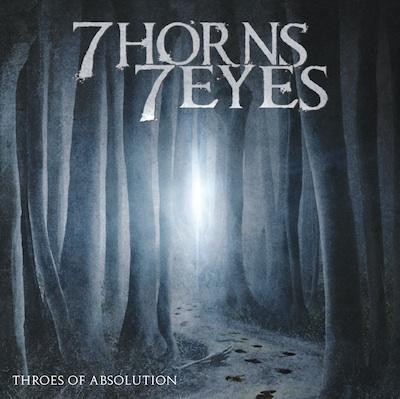 Artist: 7 Horns 7 Eyes
Title: Throes of Absolution
Label: Basick Records/Century Media Records
Release Date: 4/24/12
Reviewer: Taylor C.
Tracklisting:
Divine Amnesty
Phumis: The Falsehood of Affliction
The Hill Difficulty
Cycle of Self
Delusions
A Finite Grasp of Infinite Disillusion
Vindicator
The Winnowing
Regeneration
About three years ago I thought about listing 7 Horns 7 Eyes as a missing person on the side of a milk carton. They had an energetic and unique sound that I enjoyed, but for some reason they grew relatively silent after releasing their self-titled EP in 2007 and hinting at another release in 2009. Fortunately, the band finally rose from dormancy in July 2011 when they released three new songs, featuring some band changes as well as a new musical direction for their debut LP, Throes of Absolution.
First off, 7H7E attacks a completely different style of metal in this album. If you liked, disliked, or never even heard their debut EP, it doesn't matter. With this release, they abandon the "classic" metalcore genre (reminiscent of Zao) for a more mature sound that can be best described as progressive atmospheric technical death metal. (You could probably throw a "doom" in there somewhere for good measure.) Throughout the album, the clean and technical guitars are accompanied by a soundscape of different synthy melodies, tight drumming and sluggish ostinatos that flow into each other like the cover art's blue mist. This isn't an album you want to listen to if you need a quick head-banging fix—the songs themselves course through the CD at a steady pace, like the movements of a symphony, with a lot to offer as a whole.
The opening track "Divine Amnesty" sets the atmosphere for the entire album. The melodious echoing of both the music and the vocals, whether you like it or not, often sounds like the band is performing in an underwater tomb—adding to the ambiance created by the semi-orchestral sounds resonating in the background. As the track finishes up the 2 minute intro, the billowing vocals finally enter the arena as the melodies temporarily fade to dark, chugging riffs accompanied by pounding drums and extremely impressive guitar work. The song's tempo rises and falls throughout the song, eventually tapering off into fading sounds that are almost immediately shattered by the roaring vocalist and rising musical energy, increasing the tension shortly before cutting the listener off. This is simply a fantastic way to start an album. It leaves you hungry for more.
Give or take some elements, the rest of Throes of Absolution is a lot like this track. Some songs like "Vindicator," "The Winnowing," and "Phumis: Falsehood of Affliction" feature upbeat chugging riffs, while others take a slower more doomy approach, like "Delusions" and "Hill Difficulty"—whose particular methodical breakdowns and escalating rhythms fit perfectly with the lyrical theme of ascending…well, a difficult (albeit metaphorical) hill. The rest of the lyrics incorporate some excellent imagery associated with strong Biblical themes as well as spiritual struggles.
As a 7 minute instrumental, the final track will be a hit or miss amongst most metal fans. However, it does show signs of being the song that features Jeff Loomis (the great ex-guitarist of Nevermore), so don't brush it off as filler; excluding the 20 seconds of silence at the end, there is some amazing material in this track. On a related note, I don't know how much of the album is actually Jeff Loomis. I want to say he's on "Phumis" just because of the name, but maybe that's me just reading too far into things. Loomis or not, all of the high and tight guitar bits are part of what make this album so good.
So what's the negative? Why a 7 instead of an 8+? It has nothing to do with me wanting to say "I gave 7 Horns 7 Eyes 7 stars" and definitely nothing to do with the music. It's primarily the vocals. No album is really meant to be played over and over again, but after just three listens, I began to grow irritated with the lack of vocal variation. Setting the musical elements aside, Throes is forty-five minutes of just one unfluctuating, low-toned, garbage-disposal roar with a random, single-word high thrown in a few times just to remind listeners of the fact that there really is no variety. I love what the screams bring to the music, but with little to no changes, they take away the individuality of the tracks. Also, two of the album's best songs were already released with the 2011 Convalescence single, so they aren't anything new to most fans. If they were new, and the vocals had better range, this album would definitely be a solid 9.
Overall: With Throes of Absolution, every member of 7 Horns 7 Eyes does his part to achieve the honorable, mouthful labeling of "progressive atmospheric technical death metal." The drums, guitars, bass and death growls create a very distinct atmosphere that makes for a pleasant and refreshing listen. There's not as much vocal variation as I think the album deserves, but that's a miniature issue—Throes of Absolution is a musical masterpiece that was worth waiting for.
RIYL: As They Sleep, Becoming the Archetype, Meshuggah, Opeth, Sáwol, Sympathy