Album Review :
6'10" - The Humble Beginnings Of A Rovin' Soul
By Scott Swan in Reviews | Comments closed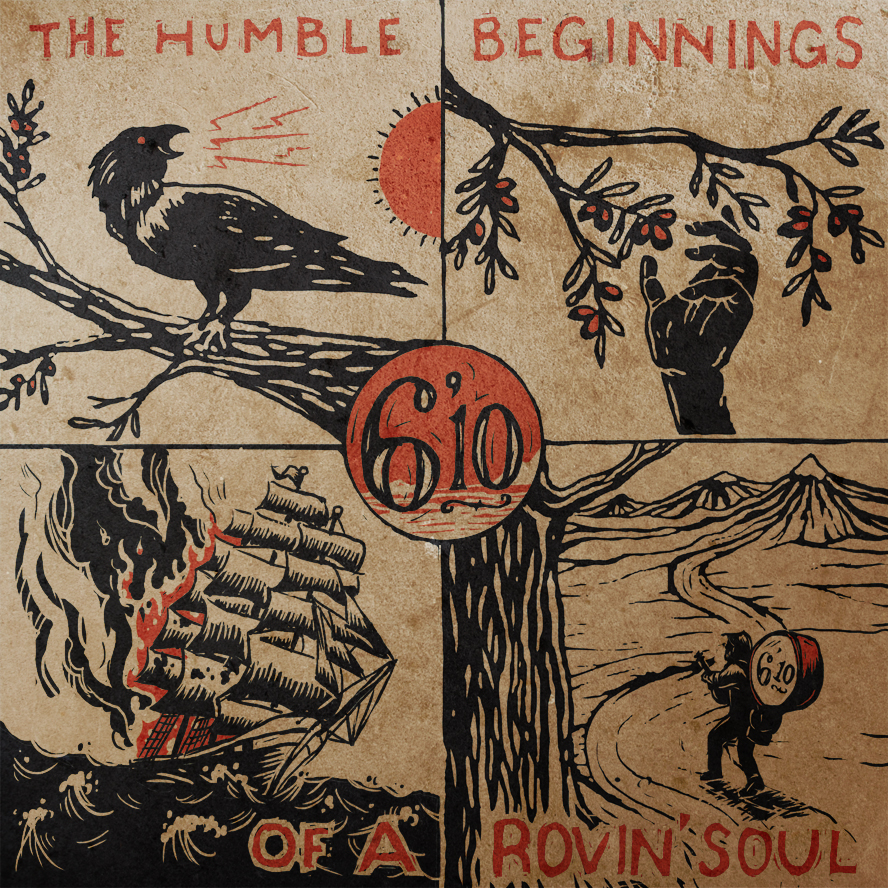 Artist: 6'10"
Title: The Humble Beginnings Of A Rovin' Soul
Label: independent
Release Date: 12/9/14
Reviewer: Scott Swan
Tracklisting
Cannonball
Da Boss
Peach Farmer
Timothy
Hurricane
Someday Hun
Where Did You Go
Tuesday
It Is Well
Burning Ships
Backpack
The Travelers
Lead singer Tobin Bawinkel of 6'10" dropped the thrashing guitars and bagpipes used in his usual gig, Celtic Punk band Flatfoot 56, and has gone unplugged. He says of this new work: "There is nothing as vulnerable as a punk lead singer having to give up his distortion and volume to be laid bare in front of a crowd with just his wit and raw guitar playing." Joined by an outstanding group of musicians, Bawinkel and gang have been able to create a sincere, no frills, folk/rock record, all the while staying true to his roots.
One of the first things that struck me while listening to this release, The Humble Beginnings of a Rovin' Soul, is how well Tobin's raspy voice makes the conversion to this genre. It seems to be a natural transition, his inviting voice just draws you in. Indeed, I got the feeling of sitting around a large living room listening to this collection of folk yarns, telling tells of the storms of life, and the battle through them. There are little things, like the way Bawinkel stops to cough during a verse, or the way he gives a few impromptu intros before the songs kick off that creates the type of atmosphere which brings no pretensions and is welcome to everyone. 
The opener "Cannonball," brings the first taste of the crisp, acoustic delivery. A song that has a melancholy vibe and a beautiful violin that sends the track out on a high note. Some good story telling develops here as well: After clearing his throat, Bawinkel starts in on "Peach Farmer," a fun little ditty about a peach farmer who is also a preacher, apparently. A tune that could just as well work as a good sing-a-long around the camp fire.
But in many ways, this record is a collection of songs that deal with the pain of growing up, learning from mistakes, and surviving storms. Not just surviving, but becoming a better man because of the new perspective on life that has been gained. Songs like "Timothy," "Hurricane," and "Backpack" all expertly illustrate this great expedition that is to be found in this journey. It's often a struggle, but there is no backing down in these lyrics. You get the sense that the writer has gained much wisdom and a greater sense of peace by what they have gone through, and in that, there is much encouragement to be found.
Tunes such as "Someday Hun," "Where Did You Go" and "Tuesday" are tales of love that never seemed to come full circle, where life interfered in one way or another. "Tuesday" features a steady, pulsating beat that really drives the tune forward. One of my personal favorites has to be the rousing rendition of the old spiritual hymn, "It Is Well." The tune plays out against the backdrop of rumbling crowd noise in the background, as if no one is really paying any attention. Then as the chorus hits, the anonymous crowd joins in with a joyfully "It is well, it is well, it is well with my soul!" I have never heard that hymn performed with such an great arrangement, plenty of banjo included.
Overall: 6'10" not only describes the lead singers height, but a group of guys who are poised to make a name for themselves in folk rock genre. With this release, Balwinkel and crew have created a sound that effortlessly converts the contentions of human life and all that entails into music that has a particular soothing effect on the soul. I got the idea that this project was perhaps an attempt to heal the writer's own soul and get some things off his chest. I'm just glad he chose to share that process with the rest of us.
RIYL: Flatfoot56, Frank Turner, Sundowner