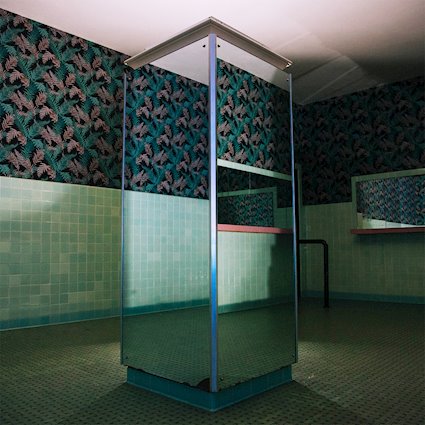 Influence has been lauded as the most-anticipated album in Facedown history. That's a big claim.
Shane Ochsner is certainly a Facedown Records veteran – someone jokingly said something of how Everything In Slow Motion and My Epic are the dads of the label due to their tenure at Facedown Fest earlier this year (yes, that was somehow this year.) Hands certainly left big shoes, with Give Me Rest considered a classic album by many to this day. And while EISM's catalog is admittedly sparse, the left-field sound of Laid Low was a welcome diversion from some of Ochsner's heavier work for some. "I'm not much of a singer", Ochsner remarks – a phrase that is consistently proven false across the EP.
But with Hands dropping two new tracks, fans were hungry for a return to form.
Influence doesn't exactly deliver in this respect. "Apollo", "Influence", and "Penny Wish" do tread into more aggressive sonic territory, but much of the album feels like a proper evolution from Laid Low – passionate, atmospheric rock with a bit of punch to it. Production nuance makes this the most commercial EISM release to date. All that to say, Influence is a mix of emotions but feels maturely-composed. While the singles hint at the record's breadth, they only provide a glimpse of what's at play here.
At times, Influence roars with the fervor of buzzsaw guitars; moments later, ethereal tides break forth. It's not a stretch to call this a progressive rock album – "Apollo" blends hints of Norma Jean with Of Man-era Cool Hand Luke. Ornamental piano meets mosh pit fury. And while the album isn't consistently this frenetic, it's still interesting to see things kick off full force.
The rest of the first half of the album is loaded with subsequent singles. This could be a good or bad thing depending on your stance. Ochsner has collaborated with My Epic in the past, and this time Aaron Stone lends his talents on the title track. It's an interesting guest feature, with Stone involved through most of the song. "Choke" has a fairly unique chorus, one that feels a bit adjacent to The Weeknd with its falsetto background vocals.
But for me, it's the second half that is ultimately more compelling. "Something I Can Feel" is probably my favorite track off the album. It has a mystical, cinematic vibe. It glimmers with its moody guitars and guest vocals from Crystal Rose (she also released an EP recently you should check out). Even in this otherwise chill track, both bass and kick drum are abundant and punchy – it'd be easy to miss, but the rhythm section is truly key on this album.
"Clementine" cranks up the tempo and energy a few notches – it's definitely closer to punk than its predecessor, though it has the embellishments of a Moving Mountains track.
"Taking Turns" is a ballad through and through; certainly not you'd expect to ever hear on Give Me Rest, but it's another staple track in my opinion.
"Tired Eyes" is another powerful rock track, but it's not until the final two tracks that we see mid-song genre-swapping again. In my mind, that's fine. There are four incredibly strong tracks back-to-back that are fairly homogeneous in their own right, and this is a strength rather than a flaw. It might be too commercial or safe for some fans, but it really feels like the band manages to lock in some great moments consistently.
"Life is short, the world is dark." These ominous sentiments start the album closer, "End of My Rope". The song features Ric Todd, and, more curiously, is actually a cover of one of Todd's own tracks. But instead of the gritty Americana of the original, EISM have adapted the track to be closer to a Prince ballad to some degree. The combination of piano and soulful vocal deliver makes this feel comfortably out of place. Of course, things close out with a gritty guitar solo and plenty of force. In this way, Influence is bookended by two diverse songs, each of magnanimous proportions.
Lyrically, Influence is decidedly cryptic than earlier EISM (and Hands) releases – Laid Low was, to some degree, overtly spiritual. And tracks like "Poison" are direct enough to decipher. But this time around, things are decidedly far more open ended. But that's not to say Ochsner is mincing words here.
"Apollo" sets the tone with two key parts. Here are the opening lines:
Tell me all your feelings love. Put everything on me.
The truth is what you say you want, but the truth you won't believe.
Later in the track, everything begins to escalate:
I'm tired of apologizing to people that just don't care.
I'm tired of apologizing to ghosts that were never there.
Is this what you wanted from me?
These parts may seem disparate and contradictory; the underlying tone is one of frustration. It's a sarcastic, or perhaps obligatory, sense of having to carry burdens and stand as a representative of people who will abuse that sort of care. It feels close to the sentiment off A Plea For Purging's "Finite" albeit less direct:
We're the ones you run to when your world is crashing down
This choice made years ago is such a heavy crown
I didn't know it would be so hard
That my words would mean so much
I'm not your priest
I'm not your prophet
In fact, that's arguably what Influence is all about – the idolatry of those around us, the allure of escapism, and the dominance of hedonistic thought. Influence here is a double entendre; it's a word that evokes both having power (being influential) and also being crippled by external forces (being under the influence). And Ochsner grapples with both extremes – the magnetic repellent of being an artist people admire while also being a person with a life fraught with struggles, both complex and mundane. That's not to say the album is strictly biographical, but it does read like a thesis on the complexities of modern communication and some of the associated problems.
Here's a snippet from "Satellite":
You like the sound of your own voice, but I'm not listening. Giving nothing to take everything.
Killing good intentions. Forcing your opinions.
Is there anyone that's truly listening, or am I talking to myself again?
…and a bit from "Choke":
You think I'm gone, but I'm here now.
A stranger, your sympathy is nothing free. You're just so cold.
You'd rather watch me choke.
Some of the same sentiments are echoed on "Taking Turns":
I never saw this coming from you. Congratulations. You burned this all to the ground. Congratulations.
You got what you wanted, now just leave me alone.
Even though many of the tracks are laced with poppier production details (everything from autotune to layered falsetto), the sentiments here are anything but relaxed. There's an evident aggression and hurt here, and it doesn't seem to culminate to hope in a traditional sense. Instead, we're left with this to close out "End of My Rope":
I can't find a reason at the end of my rope.
Life is short. The world is dark.
This is admittedly a dark turn from a track like "Red" – here, the pain is insurmountable. I'm reminded of Psalm 88, holding a unique position of total lament. But perhaps we should consider this not as what is but instead as what could be – that is, the logical conclusion of a life lived selfishly, one centered on being worshipped or one spent worshipping others. Influence shows us plainly the frailty of the human condition.
Ultimately, Influence is likely not the album anyone was expecting here – an album strewn equally with atmospheric, glimmering instrumentation and painful lyrical pining. It's a record that melds the emotional vulnerability of Laid Low with some of the punch of Give Me Rest. But more than all of this, it's an undeniable fresh direction for the band that sees them at their best. Influence is far more rock than metal, and some fans may be disappointed by the lack of heavier moments. But this is just the album Facedown Records needs right now as a staple of their broadened integration of "lighter" bands like American Arson and Weathered. It's complex, catchy, and high-energy. It's rowdy when it needs to be, but it's not afraid to show its sentimental side. It thrives off dynamics and extremes incredibly well.
If you're expecting a new Hands album here, you will be disappointed. But if you want to see what a rock band can do on Facedown Records, this is the album for you.