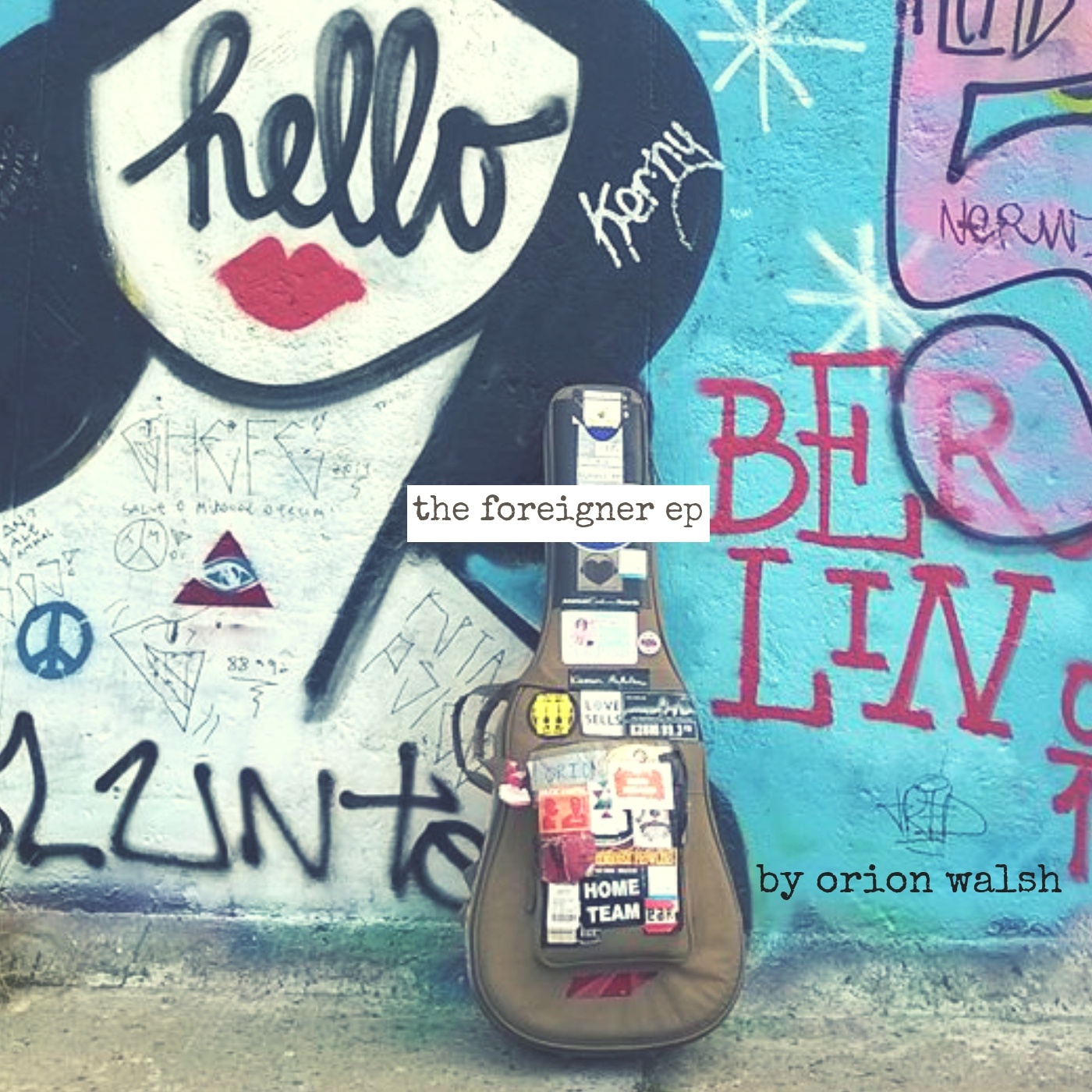 After a decade of putting out albums and touring, Nebraskan singer-songwriter Orion Walsh will release "The Foreigner" EP with Indie Vision Music. Full of fun songs & storytelling, this is truly a mature step forward for this well-traveled troubadour. Walsh has previously released 7 albums with independent labels Sower Records & the Hunter Records, including "The Hitchhiker's Son" produced by AJ Mogis (Bright Eyes, Cursive). He also released two full length albums with his band Slow Coming Day (Tooth & Nail Records). His accomplishments include releasing several songs for multiple compilations as well.
Walsh has been touring for over a decade and has performed over 1,000 concerts all over the United States as well as multiple tours to Europe both as a solo artist and with his band. Orion has opened up for artists in the past such as Big Bad Voodoo Daddy, David Dondero, Mae, David Bazan, The Mynabirds, Wayne Hancock, Matt Focht, etc. Several of his songs have been used on television and independent films in the past, the most noteworthy being on "America's Next Top Model" of international fame. Expect to see more from this free-spirited traveler and songwriter in the years to come.
"The Foreigner" Ep takes listeners on a journey, period. Whether that may be cross country, a journey that leads one internationally, or maybe just a trip in one's own backyard. Simply put, this is a collection of songs that will move you and get you moving. Relevant songs for the world we live in and a hopeful reminder of the happiness that comes from contentment.
Recommend if you like: Passenger, the Lumineers, & Of Monsters & Men
Produced by Jonathan Jones (We Shot the Moon, Waking Ashland) & Orion Walsh at Tabby Cat Studios in Oceanside, CA. Additional mixing by Matty Sanders in Lincoln, NE. Mastered by Sef Idle for Simpul Studio.
Featuring the talents of: Jonathan Jones, Will Hutchinson (Sower Records), Jessica Gerhardt, Onward Etc, & Jante (from Germany)
Catch Orion Walsh on tour now and this summer at these dates:
03.29.19 – Lincoln, NE – Blue Blood Brewing Co – 8-10pm, Free
04.25.19 – Columbus, NE – Freidhof Room w/JM Lansdowne
04.26.19 – Lincoln, NE – Crescent Moon Coffee – 8-10pm w/JM Lansdowne
05.02.19 – Ames, IA – House Concert w/JM Lansdowne
05.03.19 – Iowa City, IA – Yacht Club w/JM Lansdowne
05.04.19 – Chicago, IL – Elbo Room w/JM Lansdowne
05.05.19 – Indianapolis, IN – House concert w/JM Lansdowne
European Tour 2019:
11.05.19 – Offenbach, DE – "Come Together" Festival(info @paradies-und-das.com)
17.05.19 – Ludwigsburg, DE – Garden concert
18.05.19 – Allgau, DE – CVJM
19.05.19 – Friedrichshafen, DE – Cafe Karamell
24.05.19 – Koblenz, DE – FreiRaum
26.05.19 – Bad Oeynhausen, DE – House concert
29.05.19 – Horn-Bad Meinberg, DE – Strickcafé
31.05.19 – Nuremberg, DE – House concert
08.06.19 – Oud-Heverlee, BE – Café de Keuze
13.06.19 – Calberlah, DE – House concert w/Jante
14.06.19 – Bad Harzburg, DE – House concert w/Jante
15.06.19 – Leiferde, DE – House concert w/Jante
17.06.19 – Wesel, DE – JZ Karo
20.06.19 – Hamburg, DE – Cafe Raum & Zeit
21.06.19 – Chemnitz, DE – Fete de la Musique Festival
24.06.19 – Chemnitz, DE – Inspire
26.06.19 – Berlin, DE – Prachtwerk
28.06.19 – Berlin, DE – House concert
29.06.19 – Meissen, DE – Sax 11 Studios
30.06.19 – Dresden, DE – House concert
05.07.19 – Zurich, CH – House concert
13.07.19 – Münster, DE – House concert
15.08.19 – Vierhouten, NL – Graceland festival (gracelandfestival.nl)
More E.U. concert dates for 2019 to be announced!
For booking email: orionwalsh81@gmail.com