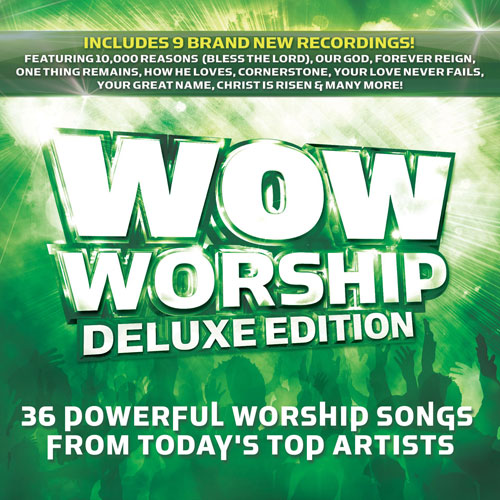 Artist: WOW
Title: WOW Worship Lime: Deluxe Edition
Label: Provident Label Group
Release Date: 3/11/14
Reviewer: Jonathan Andre
Tracklisting:
Disc 1:
Our God [Chris Tomlin]
God's Not Dead (Like a Lion) [Newsboys]
10,000 Reasons (Bless the Lord) (Radio Version) [Matt Redman]
Lord, I Need You [Matt Maher]
Oceans (Where Feet May Fail) [Hillsong UNITED]
How He Loves (Radio Version) [David Crowder Band]
Redeemed [Big Daddy Weave]
Love Came Down [Kari Jobe]
White Flag [Building 429]*
Glorious Day (Living He Loved Me) [Casting Crowns]
One Thing Remains [Kristian Stanfill]
Open Up the Heavens [Vertical Church Band]
Your Great Name [Natalie Grant]
Forever Reign [Chris August]
Beautiful Things [Gungor]
Lay Me Down [Rush of Fools]* [BONUS]
Stronger [Dara Maclean]* [BONUS]
Revival [Soulfire Revolution] [BONUS]
DISC 2:
Cornerstone [Hillsong LIVE]
Christ Is Risen [Tenth Avenue North]*
From the Inside Out [for KING AND COUNTRY]*
Your Love Never Fails [Jesus Culture]
Whom Shall I Fear (God of Angel Armies) [Passion]
Overcome (Radio Version) [Jeremy Camp]
Holy Spirit [Francesca Battistelli]*
Give Me Faith [Elevation Worship]
Never Once [One Sonic Society]
Jesus, Son of God [Brandon Heath]*
Not For a Moment [Meredith Andrews]
The Stand [Hillsong Young and Free]*
The Power of the Cross [Matt Hammitt]
God is Able [Patrick Ryan Clark]
Waiting Here For You (Radio Version) [Christy Nockels]
Always [Rhett Walker Band]* [BONUS]
Cast My Cares [Tim Timmons] [BONUS]
Break Every Chain [Tasha Cobbs] [BONUS]
*= New Recordings
WOW Worship, just like the annual WOW Hits albums, have been rising in popularity ever since they have been in circulation since the 1990s. With the albums being a partnership between Integrity Music, Marathana Music and Vineyard Music to begin with, as time went on, CCM and contemporary worship artists across a variety of different music styles and a variety of different labels (from Sparrow to Fair Trade, sixsteps to Word Label Group, Provident Label Group and Gotee Records) have begun to make their way on an album, that, along with WOW Hits, have become the subject of debate as long as the WOW projects have been in production. While WOW has not made that much WOW Worship's compared to Hits (the last WOW Worship album was titled WOW Worship: Purple and made in 2010), it nevertheless is interesting to see which songs make it on a WOW Worship release when these albums to come out. Just like WOW Hits, sometimes their decisions are spot on, and sometimes the choices leave much to be desired. New recordings, older songs, some songs by artists whose original music style may not be worship to begin with, and others that have been sung and recorded to death that it's almost a given that you'd see it on the list (but secretly hope that the selection of song by that particular artist would be something different), are all points of discussion for WOW Worship, with this 2014 edition giving us nothing different.
Like WOW Hits, there has been some debate as to whether these compilations are even relevant, and even if it is only for collection sake (or for presents to anyone who wants to just hear the modern hits of worship songs on the radio), WOW Worship's branding and selection of tracks need to be smarter if both Worship and Hits are to survive in the near future (frankly, I would put money- if I was the betting type- on Worship to die out long before Hits run out of steam). Still, these compilations do certainly sell millions of copies, and whether it is listeners just wanting to buy these types of albums just for the car, or to buy them for someone else, WOW Worship continues to be a formidable force amongst various worship albums released each year. Looking at the song lineup for the 'Lime' 2014 edition, with new recordings of songs from artists like Rush of Fools, Hillsong Y&F, Dara Maclean, Francesca Battistelli, Rhett Walker Band and Building 429; this 2014 edition is shaping up to be a great collection. With their song choices more accurate and inspired than the Hits series, WOW Worship nevertheless still need to tinker a few song choices (and maybe revert back to annual WOW Worship albums like they used to do in the beginning) before they can release their best compilation yet (maybe a WOW Worship 2015 or 2016 edition?).
With the last WOW Worship album releasing in 2010, there have been many worship songs that have come into our churches and into our homes since then, with songs like 'Our God' (Chris Tomlin), 'At Your Name' (Phil Wickham), '10,000 Reasons' (Matt Redman), 'This is Amazing Grace' (Bethel Music), 'God's Not Dead' (Daniel Bashta), 'Great I Am' (Jared Anderson), 'Always' (One Sonic Society), 'Greatness of Our God' (Hillsong), 'Oceans' (Hillsong UNITED) and more recently 'I See Heaven' (Bryan and Katie Torwalt) and 'Holy Spirit' (Jesus Culture) being some that have made an impact on an individual and corporate scale. And looking through the album holistically, WOW have been able to choose virtually a vast number of standout tracks, and songs which I'm sure many people would've known, heard and sung along to within the four years since the last WOW Worship album, a very thorough snapshot of the past four years in contemporary worship music. Chris Tomlin's 'Our God; a massive hit since its release in 2010, finds itself as opening track on Disc 1, and while personally I may have chosen another track by Chris, like 'God's Great Dance Floor', 'All To Us', 'Once And For All' or a more recent hit like 'Sovereign'; 'Our God' is arguably Chris's most famous song that's been sung in many churches since 'How Great is Our God' that released ten years ago (and therefore a well-deserving addition to WOW Worship Lime). Another powerful hit, Matt Redman's '10,000 Reasons' has been sung probably hundreds of times (and deservingly so) in my church, and I'm sure many others. With the song already given hymn status (by me at least), this is Matt's biggest and most popular hit since… well, ever. Yes, bigger than 'Blessed Be Your Name', 'Dancing Generation', 'The Heart of Worship', 'The Father's Song', 'Lord, Let Your Glory Fall', 'You Never Let Go', 'Undignified'… you get the picture. Therefore, it would almost have been criminal to leave this modern hymn out of WOW Worship Lime. A great studio rendition to accompany the live track on WOW Hits 2013, Matt's inclusion on WOW Hits and his continual presence on WOW Worship remind us what a great song can do as its impact, since its release in the 2011 album of the same name, has been almost phenomenal with God's breath upon the melody as it impacts the lives of 10,000 people and so much more.
Just as Matt Redman's powerful hit was a given on WOW Worship Lime, no one can deny the recent popularity of Hillsong UNITED's hit, 'Oceans (Where Feet May Fail)', and its inclusion on a WOW Worship was something that I'm sure was a no brainer, even if the song was also on WOW Hits 2014, which it wasn't, and I reckon it should've been. A song that speaks about us as Christians stepping out into the unknown as we channel Peter's faith to step on the waters and walk where Jesus longs for us to be, singer Taya Smith powerfully declares out '…I will call upon Your name, and keep my eyes above the waves, when oceans rise, my soul will rest in Your embrace, for I am Yours and You are mine…'; a lyric line that reminds myself a lot about how Jesus is my first resource when it comes to whatever I need, rather than my last resort. Though it is only the radio version on the compilation (which cuts down the song from the original 8:56 to 4:09), it is still powerful nonetheless and a great standout on Disc 1. Written by Brian Johnson from Bethel Church in California, 'Love Came Down', though not a popular hit currently, has been a standout song throughout the last four years, with various churches around the world singing the heartfelt words of how '…love came down and rescued me, love came down and set me free, and I am yours, I am forever yours…' The song has been even famous to the point of American Idol finalist Angie Miller singing it on live television during American Idol performances one week in 2013. Quite rightfully appearing on this 2014 Lime Edition of WOW Worship, Kari Jobe delivers a powerful performance full of heart and emotion as this keyboard led melody invites us all to participate in the reminder that we are children of God, and that the love of Christ envelopes and covers us far wider than we can even fathom or even imagine. Other standouts like Kristian Stanfill's studio cover of Jesus Culture's 'One Thing Remains' (which delivers a powerful theme of God's love and presence being what remains in our lives when everything else falls around us), 'How He Loves' (written by John Mark McMillan and covered by David Crowder and his distinctive voice, with the melody being a passionate vertical track that gives us hope and comfort that God loves us and that '…we are His portion and He is our prize, drawn to redemption by the grace in His eyes, if His grace is an ocean, we are sinking…') and One Sonic Society's 'Forever Reign' (this time not sung by OSS but by CCM pop artist Chris August, albeit a little faster than the original on WOW Worship Purple); Disc 1 of WOW Worship Lime gives us a great range of contemporary worship hits and famous popular church songs that showcase stellar moments of vertical praise and worship, introducing to the family new worship melodies and the hope that WOW continues to deliver more current radio worship hits on their albums both now and into the future.
Disc 2 of WOW Worship Lime features another strong song lineup, this time with much more contemporary hits, and while some, if not most of the songs aren't necessarily known (at least to the church that I attend), each of these melodies present to us a great moment of worship and praise as we use these songs as expressions of adoration and thanks to our Father. One of my all-time favourite worship songs ever, 'Your Love Never Fails' is a great reminder of God never failing in His love poured out to us, and Jesus Culture's powerful live version with Chris Quilala's emotive vocals is enough to bring great moments of praise to the fore in anyone who listens. While this song is somewhat on the long-ish side (most Jesus Culture songs are), the length doesn't detract from the passion and emotion exuberated from Chris and the rest of the band. And though the cynic in me would probably want Newsboys's version of 'Your Love Never Fails' on WOW Worship Lime, and possibly a more recent hit of Jesus Culture's (maybe 'Rooftops', 'Come Away' or 'Burning Ones'), and also adding in the original version of 'God's Not Dead' by Daniel Bashta instead of the Newsboys cover version that was already on WOW Hits 2013; the song selection of 'Your Love Never Fails' is nevertheless a great version of the song. While I do prefer other renditions better than the original, 'Your Love Never Fails' is deserving of being on the compilation, regardless of the version and who sings it. 'Give Me Faith', 'Waiting Here For You', 'Cornerstone', 'Not For a Moment' and 'Never Once' are other standout songs on Disc 2, a disc where most of the songs have never seen the inside of my own church, yet are still powerful, emotive, compelling, and maybe even more enjoyable than most of the songs on Disc 1. Writing and delivering one of the most poignant songs ever released in 2012, Meredith Andrews's heartfelt 'Not For a Moment' reminds us that God is never far, and through her powerful vocals and a piano music undertone, we are able to worship alongside her to proclaim that '…not for a moment, did You forsake me…' Writing a chorus to flow right out of the verse of 'The Solid Rock', Hillsong have delivered a modern hymn in 'Cornerstone', and as lead singer David Ware sings out in the added chorus '…Christ alone, cornerstone…'; I am able to place aside everything that is bothering, knowing that God our cornerstone is our rock that we stand upon at all times.
Christy Nockels, another one of my favourite worship leaders, lends her voice to 'Waiting Here for You', a song made famous on Passion 2011: Here For You, and written by Chris Tomlin and Martin Smith. With the radio version of 4 and a half minutes, as opposed to the full length acoustic 5 minute long track, 'Waiting Here For You' is a bundle of enthusiasm and raw passion. With a soft piano introduction drawing the listener in as Christy sings '…if faith can move a mountain; let the mountains move. We come with expectation, waiting here for You…'; the song builds up with anticipation. As the instruments soar into electric guitars, strings and drums, I am amazed about how this song captures the heart of Christy and her longing to wait for Jesus, to feel His presence, and to dwell in Him with adoration and praise. 'Never Once', originally recorded by British worship leader Matt Redman on his 2011 10,000 Reasons album, is just as poignant with Jason Ingram of One Sonic Society singing, and at a quicker pace, this electric guitar driven melody that reminds us all that '…never once did we ever walk alone, never once did You leave us on our own, You are faithful, God You are faithful…', is possibly one of my favourite worship songs of the last few years, and a great addition to Disc 2 (especially with the great electric guitar work from Stu G., Delirious? guitarist and my favourite guitar player ever!). 'Give Me Faith', possibly the most popular song by Elevation Worship, a worship movement out of Charlotte, North Carolina, is a powerful song that asks the Lord in a prayer for more faith, more hope, more insight and more of God's way of looking at things. As singer Chris Brown declares out for God to '…give me faith, to trust what You say, that You're good, and Your love is great…', I am able to rest in the knowledge that God is able to give me faith when I ask, and that as God gives good gifts to His children, we are rest knowing that whatever happens, God will give us the faith and courage to believe that He will use each circumstance we face to shape and grow us into individuals more reliant on God and His presence.
New recordings and bonus tracks- isn't that the real reason why we buy WOW Worship albums in the first place? From Casting Crowns's 'Beautiful Saviour' back in 2004 to the more recent Matthew West's 'The Wonderful Cross' in 2010, bonus songs and new recordings of songs we love have always been the tradition of this Worship brand, and WOW Worship Lime is no different. Francesca Battistelli, famous for her songs like 'I'm Letting Go', 'This is the Stuff' and more recently 'Write Your Story' from her forthcoming album If We're Honest, Francesca's rendition of 'Holy Spirit', a song originally performed by Bryan and Katie Torwalt. Sticking quite close to the original, the song builds up in a crescendo as the drums, guitars and Francesca's soaring voice declare out '…holy spirit You are welcome here, come flood this place and fill the atmosphere…' One of my favourite songs from 2013, this is by far one of my favourite new recordings on this edition of WOW Worship. Tenth Avenue North also cover a favourite song of mine, 'Christ is Risen', originally recorded by fellow Provident Label Group artist, Matt Maher. Reminding us that Christ has risen from the dead and that the sin in us has died with Christ and we are a new creation; lead singer Mike Donehey present a melody that showcases some great acoustic guitar and percussion work. Emotive and powerful, Mike continues to sing this song as if it was his own, and if I didn't know Matt Maher wrote the track, I would believe in a heartbeat that Mike and the band wrote it- that how 'into the song' Mike is, singing along and connecting with the lyrics of how '…Christ is risen from the dead, we are one with Him again, come awake…come and rise up from the dead…' With the song stripped down to more an acoustic frame, Rhett Walker's rendition of 'Always', a powerful song originally by Kristian Stanfill, does enough to make Rhett Walker Band fans enjoy the song, and while I myself personally enjoyed the original recording (and Tricia Brock's cover) much more than this bonus track, Rhett's passion cannot be denied as he cries out '…oh my God, He will not delay, my refuge and strength always…', proving that country/rock artists can still sing a worship song great. Building 429 offer their rendition of 'White Flag' (written by Chris Tomlin), and with Jason's trademark voice, the band deliver great guitar riffs and remind us that surrender and raising our white flag to Jesus is one of the best things we shall ever do. A rock worship anthem that gives me a reason to love both Chris Tomlin's songwriting and Building 429's singing style even more; the cover songs keep coming, with Aussie duo for KING AND COUNTRY providing us with their version of Hillsong's 'From the Inside Out'. While it is an odd combination with string instruments and powerful kick drums taking the fore musically, both Joel and Luke and their enthusiasm with the melody is undeniable, and gives us a unique, fresh and powerful rendition of possibly one of the most underrated Hillsong melodies ever.
Dara Maclean's version of Hillsong's 'Stronger', while not as fast paced and enthusiastic as Newsboys's version on Restart, is nevertheless just as poignant and emotional, with keyboards, light electric guitars and Dara's soulful and distinct voice being the anchors of the song and standout portions, vocally and musically. The topic of us being stronger with Christ is something for us to hold onto, when things are great, but also when things are tragic as well. Brandon Heath, usually a singer of pop/acoustic/folk, tries his hand at worship, and what results is a fantastic rendition of Chris Tomlin's melody- even to the point where Brandon's version is much more enjoyable than Chris's himself. The emotion that comes with the knowledge of how '…You took our sin, You bore our shame, You rose to life, You defeated the grave, and a love like this, the world had never known…' is undeniable, and tying with Francesca's 'Holy Spirit', makes the second disc of songs my preference if I had to pick one disc over the other. And while Hillsong Young and Free's rendition of 'The Stand' can feel like more of a dance cover than a worship song, and Rush of Fools's attempt at 'Lay Me Down' sounds like a carbon copy of Chris Tomlin's studio version (to the point where I think some music is pasted down from Chris's version- even though I know it wasn't); these songs as a whole provide us with fresh, new, invigorating and unique arrangements of these songs we have grown to love over the years, showing us that CCM artists, not only worship artists, can deliver great worship songs, even if these are all covers from Hillsong and Chris Tomlin, arguably two of the most popular artists in the worship music industry currently.
With every great thing to say about any album, there are always things to criticise about it. Analysing WOW Worship: Lime is nothing different. Despite seeing a lot of new recordings, some older worship songs and some new highlights and standouts (which make WOW Worship Lime equally as enjoyable as my favourite WOW Worship ever, WOW Worship: Aqua); this album still has some faults, even with all the new recordings by artists like for KING AND COUNTRY, Rush of Fools, Dara Maclean, Building 429, and Hillsong Y&F. Immediately when I take a glimpse at the songs and artists on this lineup, I see a few omissions, and some glaring ones where, if I was picking an ideal worship album, I'd place on there in a heartbeat. Paul Baloche, seasoned worship artist and veteran singer/songwriter, recently released his 2012 album The Same Love, with hits like the title track, 'King of Heaven' and 'Oh Our Lord', both the latter tracks featuring duets with All Sons And Daughters, another missing artist on this WOW Worship Lime Edition. To be honest, I would've expected to see Paul Baloche's 'The Same Love', as well as the recent hit 'Oh How I Need You' from All Sons and Daughters on the WOW Hits song list, and frankly didn't understand why these melodies where not included, with both of them great radio hits throughout the last few years. Phil Wickham, powerful songwriter whose song 'This is Amazing Grace' became his first No. 1 single ever, was also sadly missed on WOW Worship: Lime, with 'This is Amazing Grace', or previous hits 'This is the Day' or 'At Your Name' seen on the song list. In fact, Phil Wickham was in fact on the provisional list for WOW Worship Lime, when all of a sudden, his song was replaced with Soulfire Revolution's 'Revival'. Not to discount the quality and passion of this powerful song from the Colombian worship band, but even if Soulfire Revolution's single was a late addition, I probably would've still found a way to keep Phil's powerful song 'At Your Name' on the WOW album… maybe omit songs like Kristian Stanfill's 'One Thing Remains', Matt Maher's 'Lord I Need You' or Big Daddy Weave's 'Redeemed' (all of which were also on WOW Hits 2014)? Israel Houghton's 'Your Presence is Heaven', a single from his powerful live album Jesus At The Center, is possibly one of my favourite songs from Israel ever (even on par with his famous melody, 'You Are Good'). Surely the song was a shoe-in to be placed on a WOW Worship compilation, right? Sadly, this was not the case. In fact, no artist who is signed to Integrity Music are on WOW Worship: Lime– in addition to omissions from Paul, Israel and All Sons and Daughters (all signed to Integrity Music), artists like The City Harmonic ('A City On a Hill'), Christine D'Clario ('Magnified'), Desperation Band ('Strong God'), Julissa ('Great I Am'), Martin Smith ('Back to the Start'), Ben Cantelon ('New Day'), Brenton Brown ('Glorious'), Tim Hughes ('God is Coming' or 'Counting On Your Name'), Jared Anderson ('Impossible, Possible'), Daniel Bashta ('Let Hope In'), Rend Collective Experiment ('Build Your Kingdom Here' or as a bolter, 'My Lighthouse'), Worship Central ('Let It Be Known'), Darlene Zschech ('Victor's Crown'), Planetshakers ('Limitless'), Travis Ryan ('Jesus, Precious Jesus') and Bluetree ('Jesus, Healer') are all missing. I'm sure when you add all these songs and artists up (just on Integrity Music), there'll be more than 15 tracks that should've (and could've) been on WOW Worship Lime but weren't. Should WOW Worship do a WOW Hits 1, 3 separate WOW Worship albums annually, or at least release WOW Worship albums not once every four years (which is the time length between Aqua and Purple, and Purple and Lime)?
Looking through a wider lens (not just at the artists on Integrity Music that were snubbed), it can be fairly said that WOW has their favourite artists, and their favourite songs, and artists and songs that they promote again and again, even if the artist or song has been on another WOW Hits (or Worship) before. Previously on WOW Hits 2014, Big Daddy Weave's 'Redeemed' is still proving to be a great hit, but placing it on two WOWs doesn't make it any more of a hit- while the song is great, and speaks about us being redeemed by Christ and shaking '…off these heavy chains, and wipe away every stain…', I may have been more intrigued and interested if WOW did a bolder move and placed on a song like 'Overwhelmed' or 'The Only Name (Yours Will Be)' on the album- newer hits and singles from a band that's still going strong, even 10 or so years after their powerful hit, 'Audience Of One'. Similarly with Matt Maher's 'Lord, I Need You' and Kristian Stanfill's 'One Thing Remains'- maybe a more recent hit by Matt ('All the People Said Amen') and something that Kristian Stanfill actually wrote ('Day After Day' or 'Children of Light' perhaps?). Rebecca St. James, recently releasing her worship album I Will Praise You, was sadly neglected on this year's WOW Worship, and even though she's currently being a mother and writing books, surely a song from her most recent album deserves to be on this compilation- 'I Will Praise You' or 'Shine Your Glory Down' anyone? Bethel Music released their first studio album last year with Tides, and hit single 'Chasing You' was possibly one of the most loved and enjoyable worship songs I've heard from Bethel since 'Rooftops'. Speaking about how we long to chase after the presence of God, I was almost certain that this song would be on this new WOW Worship instalment…alas, my intuition was far from correct. And David Crowder's 'How He Loves'? Sure it's a good song, maybe even better than John Mark McMillan's original version, yet, what about 'After All (Holy)', 'I Am', the folk/electronic worship melody from David Crowder off his solo album Neon Steeple, or even 'All The Poor and Powerless', a song made famous by The Digital Age, remnants of the DC*B? Just like Integrity Music, DREAM Records, one of Christian music's up and coming labels, sadly didn't have any representatives on WOW Worship Lime- and maybe if the WOW Worship's were more frequents, songs like 'We Sing Hallelujah' (Jonathan Thulin) and 'Hope Will Rise' (Warr Acres) may have had a chance to squeeze on a list that probably should warrant 3 discs instead of 2 in each compilation, especially if they want to still release WOW Worship albums every 4 years.
And it's not just artists that are on labels that are being shunned- where's the love for the indie artist? Is WOW Worship that exclusive that great songs by worship artists not on a label are also bypassed, in favour of outdated songs like 'Glorious Day' (maybe they should've put on 'You Are the Only One' from Casting Crowns' latest album Thrive), 'Overcome' (a Desperation Band cover by Jeremy Camp- the original song was released and recorded in 2010), 'The Power of the Cross' (Matt Hammitt's rendition of a relatively unknown song was actually done in 2008), and 'Your Great Name' (Natalie Grant's powerful song was also on WOW Hits 2012, perhaps a more recent worship song by her, like 'For All Of Us', a worship song originally recorded by Hearts of Saints and on her latest album Hurricane)? Just looking at quality alone, artists like The Sonflowerz ('Love Walked In' or 'My Adoration'), Joanna Beasley ('Rooftops'- yes, the 'Rooftops' originally recorded by Kim Walker Smith, or her previous single 'This Same Love'), Marthe De La Torre ('Only You Are Holy'), Brett Younker ('Come To the Water'), The Ember Days ('Run to You') Amanda Noelle ('Beautiful Name') and Audrey Assad ('I Shall Not Want') are just as great as the artists and songs on WOW Worship Lime currently, and in my opinion, are equally deserving of the 36 spots- perhaps some, if not all of these artists should be considered for the next WOW Worship (for next year maybe)? And the artist that I reckon is sorely missed from the list is Kutless- a reliable rock/worship band that still continues to deliver worship songs and heartfelt melodies, even after much backlash and discussion about whether they are rock, worship or both, and the changing of styles since their debut project. Surely 'You Alone' was a shoe-in on WOW Worship Lime, or are WOW reserving that song for WOW Hits 2015? Aaron Shust ('No One Higher'), Newsong ('Who Loved You First'), Citizens ('Made Alive'), JJ Weeks Band ('Let Them See You'), Esterlyn ('Everyday Your Love is New') and Shane and Shane ('That's How You Forgive') have all released albums and songs throughout the 2010-2014 period that all have sadly missed out- so if you have been counting all the omissions (and I know you have), what finds me baffled is that they forget these artists, but they record new recordings of worship songs by CCM artists- not that these renditions are bad, in fact, I reckon Tenth Avenue North's cover of 'Christ is Risen' slightly usurps Matt Maher's original version, and Building 429's version of 'White Flag' provides us with a great rock anthem rendition with plenty of electric guitars, similar to the makeover they did with 'Famous One', also from Chris Tomlin as well. But shouldn't WOW Worship have songs by worship artists, before they start to place songs by CCM artists on there (and the same with WOW Hits, but the other way around)?
Overall: I know each WOW Hits and WOW Worship isn't perfect, and that on the whole, WOW Worship Lime is possibly up there as one of my favourite WOW Worship albums ever produced. In its own right, WOW Worship Lime is a pretty good album. With songs that uplift and others that provide a pop/rock emphasis, we are given songs that have been circulating radio for quite some time. However, when looking deeper into the selection process to see what songs were omitted, you can see that WOW in its current state advocates sameness at the expense of uniqueness and originality, and perhaps not placing any artist from Integrity Music on the album has led me to believe in the compilation label's idea that worship songs sung by CCM artists are somewhat 'better' and 'more deserving' than worship songs actually sung by worship artists (which I know they don't believe, but what is shown is far from what they may want to convey). Don't get me wrong, this is a good album, and perfect for a friend who loves modern worship music, and if 'Redeemed', 'Your Great Name', 'Glorious Day', 'One Thing Remains' and 'Lord, I Need You' were omitted and other more relevant and newer worship tracks were added in, the album may have received a 4. As of now however, it seems to be only just scraping 3- do the people who make WOW Hits think we won't notice the double up of songs between WOW Hits and WOW Worship? Regardless, if anyone does purchase this album (even if they do have it on iTunes!), then know that even if these songs are the best from the last four years, there are so much more worship songs and albums and artists out there that are equally as great, enjoyable, encouraging and heartfelt as these songs represented on this compilation. If the WOW brand really wants to live up to their name, they must consider overhauling the whole franchise, consider dropping a few big artists from their roster (or using them less frequently) as well as adding some fringe artists to remind listeners of the great variety of Christian songs out in the Christian music marketplace. Maybe, just maybe, it's time to retire Chris Tomlin, Hillsong and Jeremy Camp from ever appearing on a WOW Worship album from now onward.
RIYL: Chris Tomlin, Hillsong LIVE, Jeremy Camp, Casting Crowns, Kari Jobe, One Sonic Society, Matt Redman
Buy the Album: iTunes/Amazon mp3