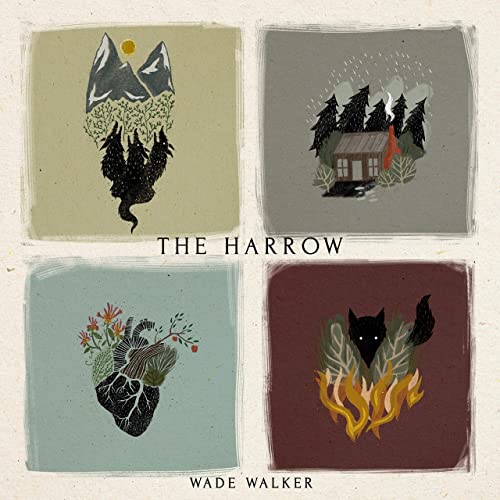 Put simply, The Harrow is an album of parables. No, you won't need a dictionary, nor are any of the sentiments too obtuse. The central narrative instead rests in simplicity; an earthy barrenness meets dirty hands resulting in what can only be described as common man's praise. Where others would opt for sprawling pedal boards and tireless crescendos, Wade Walker chooses a subtler option: vulnerable, poetic, alt-country worship without all of the glitz.
Walker's sophomore release is undeniably folkier than its predecessor, but what it lacks in percussion, it makes up for in craftsmanship. That's not to say The Harrow necessarily overshadows Pine Fire, as each release is strong in separate ways. But the lyrical arc here is impressive and consistent, with many motifs of rural and Southern life tied into the Gospel story. And it's fitting – after all, Jesus was far from a city boy. There's a reason people remarked, "Can anything good come from Nazareth?" God cares for the lesser things, and these are the building blocks of the kingdom. So, it's refreshing to hear a modern album that seems to embrace beauty in simplicity. "Normal Town" in particular is a great testament to this.
Of course, the one-two punch of "The Harrow" and "Thousand Year Oak Tree" really set the stage for the album. "You're so much more than religion to me," Walker exclaims, going as far to say Jesus is the "currency" that bought him back from death. The imagery of God at work on a field is practically straight from Scripture. It never feels cliché, there are no needless country tropes here. It all feels and sounds genuine.
Speaking of Scripture, that's a primary lyrical catalyst for this album. "If You Love Me" is, sadly, a challenging song in the worship sphere, solely for the fact it gives us the reminder that our love for God is shown through our obedience. Indeed, the same crowd that praised Christ on Palm Sunday wanted to crucify Him a week later. Our love must extend beyond our hands held high to music on Sundays.
The album closes on "I Wanna Feel Your Heart", a captivating close with female harmonies and a surprise build at the end. It's infectious, and these are the sort of sentiments we surely want playing through our minds.
Musically, the album blends folk, worship, country, and Americana – it kind of feels Jon Pardi, Orville Peck, or even Johnny Cash to some degree, though Walker takes this sound and makes his own. It's folk for people who can't relate to small-town living; it's worship for people tired of vanity at church.
The Harrow is a glimmering reminder that songs of praise have not exhausted every creative avenue just yet. Scriptural retellings comingle with the reality of simple living in the modern word. Wisdom and meekness interweave. And the result is an album that is compelling, well-crafted, and thought-provoking. It's in invitation to ruminate on truths we've heard in passing now displayed in a new light.