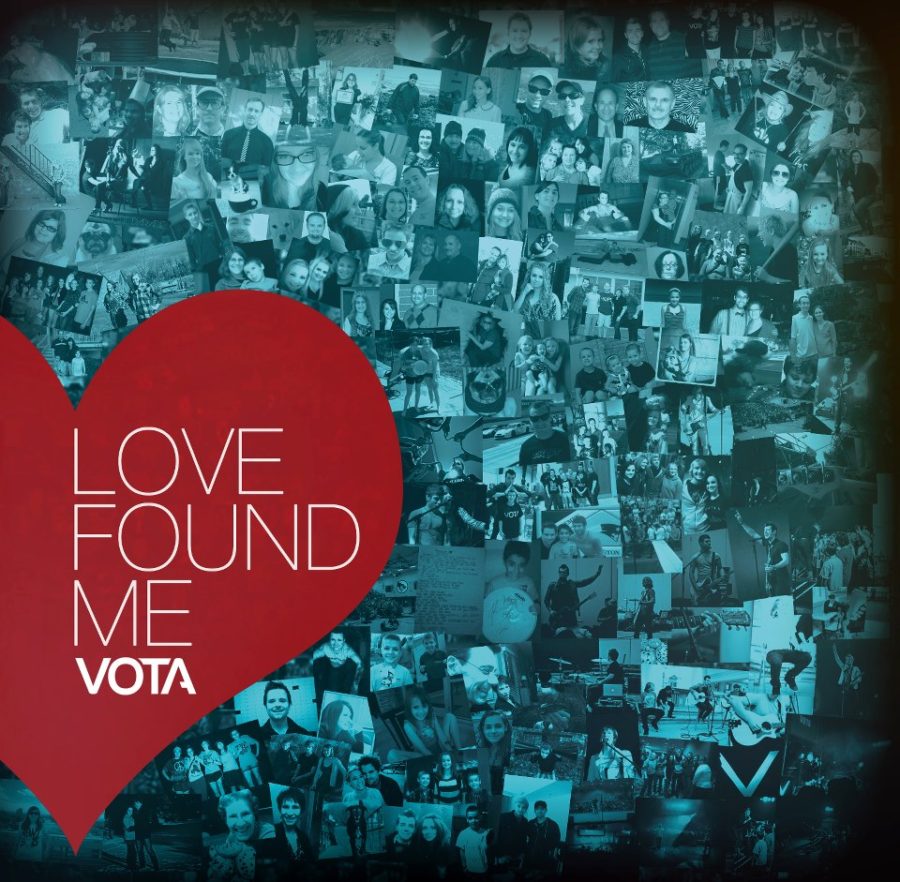 Artist: VOTA
Title: Love Found Me
Label: Big Box Records
Release Date: 1/8/13
Reviewer: Jonathan Andre
Tracklisting:
God of the Universe
Lift Me Up
Learning to Dream
Love Found Me
Show Me What I've Got
Blame Me
Open Up the Sky
You Alone
Keep Me Where You Are
Crying Out
Come to Me
Starting off in 1997 under the name Casting Pearls (and then changing their name in 2008 to VOTA to avoid confusion with Grammy Award Winning Christian pop-rock group Casting Crowns); ex-Newsboys guitarist Bryan Olesen has fronted a band that has had just as much personnel changes as the Newsboys, with VOTA cycling through lineups until 2010, leaving Bryan as the founder and only surviving member of the band. Musically similar to other pop rock bands like The Afters and Stellar Kart, VOTA has shown that the time away from the Christian music industry (their last self-titled album was released at the end of 2008) can be a good thing, with their newest album Love Found Me releasing to iTunes and in stores this coming Tuesday. Filled with a great electronic undertone to present a dance-pop musical atmosphere; Love Found Me was completely funded via kickstarter, an initiative that has been welcomed by many artists, from Everlife, Elizabeth South and Hawk Nelson, to Philippa Hanna and Jimmy Needham. Reminding us of our identity in Christ and the freedom, love, acceptance, confidence and hope we have in Him; these men from Lincoln, Nebraska have given us great music full of timeless truths. While VOTA may still not be a recognisable band or even a popular one, Love Found Me is sure to place these God-loving inspirational men on the radar of many listeners (myself included), as I listen to one of my favourite albums in January 2013; along with Chris Tomlin's Burning Lights. From themes about hope and praise to struggle and encouragement; these 11 songs are enough to lift someone's spirit as they understand that '…love found me, and I'm forever changed, nothing is the same, Your love found me…' ('Love Found Me').
'Love Found Me' is the title track on the album and also one of my favourites. Full of enthusiastic passion and a worship-centric focus, this song complete with looping percussions and light guitars remind us of how much Christ loves us, '…that on the cross You took my place, now I am Yours…we're sons and daughters of the living God…' VOTA have placed a lot of lyrical relevance into this 3:46 length melody, starting off the song with just the keyboard and Bryan crying out one of the most relevant lines on the album, that '…I knew something was missing, I knew something was just not right, I couldn't call life normal when death just made a joke of life…' With everyone in the world searching for purpose and meaning, we can all testify to feeling alone in our lives- like something was missing that we know now that only God can fill. Life wasn't meant to be lived normal, and Jesus didn't come to give us normalcy but rather a life full of wonder, exuberance, hope and excitement as we ponder the lyrics at how we can't call this life normal and therefore we shouldn't. Christ within us excels us to a place where we can be called sons and daughters of God. This ballad delivers musically with a light acoustic guitar undertone and prominent keyboard and percussion, but also with some of the most heartfelt moments on the album. One of the strong points on the record; well done VOTA for such an emotional and uplifting song of redemption and restoration.
Originally recorded as a slowed-down acoustic track on their debut record in 2005; 'You Alone' is based upon one of the most popular Psalms ever quoted- Psalm 139. Now rerecorded with a looping electronic keyboard undertone and a quickened pace to erase more than a minute off it's original recording length, this pop-dance rendition of a heartfelt song that reminds listeners of God's ever-knowing and equally loving nature brings a fresh, invigorating and rejuvenated approach to a song that has been one of VOTA's most popular songs, alongside 'Alright' and 'Hard to Believe'. 'Learning to Dream' is a 2:57 percussion prominent song about following your dreams and pursuing them because God has placed them in our hearts to be used by us for the glory of Him; whereas 'Lift Me Up' is a dance song reminiscent of something Hawk Nelson would play- with Bryan giving us a call to God to lift us up from the places we have been or are right now, to the place He has called us to be from the beginning of our lives. But it is 'Open Up the Sky' (which also carries the same theme of 'You Alone') that is my favourite dance-pop melody from Love Found Me, complete with a looping percussion and an electronic backdrop with similar musical leanings towards Group 1 Crew or Owl City. With Bryan acknowledging that it is God alone that gives purpose and meaning to our lives, we are met with the notion that every human is on a continual search for something meaningful, and as we relate that '…I know there's something more, something worth living for, I know I'm here for a reason…I need a hope to believe in, I'm waiting…'; we are able to proclaim and give thanks to God who is indeed opening up our very own skies and giving us a wider and clearer vision of who He is and what He longs for us to be both now and into our futures. Well done VOTA for a great collection of dance-pop melodies that lift our spirits and give us a reason to dance and cry out our praises to Christ our King.
Apart from the dance-pop prominent genre VOTA's music is famous for, they have also recorded many heartfelt reflective melodies recorded over the years, from 'Honestly' to the original cut of 'You Alone' and 'In My Heart'. Love Found Me also has its fair share of ballads, some of which are favourites on the album, from the poignant 'Show Me What I've Got', a prayer to God to '…show me what I've got, help me to see that what I already have is everything I need…' in a moment where we may think that the transient and urgent are the most important instead of the long-term issues that indeed require much more of our attention; to the worshipful 'Keep Me Where You Are', an encouraging song that expresses Bryan's continual love for His Saviour, and how all he longs for is to be where Jesus is. The last two songs on the album, 'Crying Out' and 'Come To Me', are also powerful ballads with a similar message of coming to Christ with our vulnerabilities, hurts and fears and placing them at God's feet ('Crying Out' is a piano only track and 'Come to Me' is sung from God's point of view); but it is the album opener and first radio single, 'God of the Universe', that is clearly one of my favourite worship tracks from VOTA. Released as a song stream via Kickstarter earlier in 2012, the song is able to provide a worshipful slant that the band has pursued for many songs on the album. Not as ridden with synths and electronics as many other dance songs on the album, the song brings together a light acoustic guitar with a looping drum beat to give us a melody about how God is the God of the universe, but He's also personable and relatable in our lives at the same time. Christ is the God of all creation, and Lord over ever star and galaxy. Our praise and adoration to a God who has sacrificed His own Son for us ought to be a given and fitting as '…day by day, night by night, I'll tell the world who You are…' Well done VOTA for such a joyous and uplifting song of thanks and gratitude.
Overall: With a musical comparison to other artists like Hawk Nelson, The Afters and Newsboys, VOTA's second album in Love Found Me is a great one to purchase if you have been a fan of their previous work, or even a fan of them under the name of Casting Pearls. Bryan Olesen and the rest of the band have been able to give us 11 songs full of intense passion and great life application as we hear their heart for Jesus and the spread of the message of Christ and the gospel in the world that we live in. With some ballads, some radio friendly songs and other dance melodies; VOTA have shown a vast musical genre collection within Love Found Me. Also releasing in the same month as albums by other veteran worship artists like Chris Tomlin, Kim Walker-Smith (lead singer from Jesus Culture) and Meredith Andrews, this independent album released through Big Box Records is one that will please the listener who loves to hear some alternative music with a worship edge. Though a four year wait between albums, Love Found Me excels and even beats their debut record as my favourite VOTA album. Well done guys for such a memorable and enjoyable album.
RIYL: The Afters, Hawk Nelson, Newsboys, Stellar Kart
Buy the Album: iTunes/Website/Amazon mp3