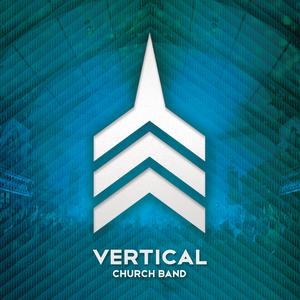 Artist: Vertical Church Band
Title: Vertical EP
Label: Essential Worship
Release Date: 5/7/13
Reviewer: Jonathan Andre
Tracklisting:
Open Up the Heavens (Seth McConkey)
Jailbreak (Kyle Fredricks)
Light Shine In (Tara Rios)
Not For a Moment (After All) (Jon Guerra)
Restore My Soul (Andi Rozier)
Releasing their debut album Live From Vertical Church with critical and commercial success and acclaim, Harvest Bible Chapel (the home church of artists like Meredith Andrews and Lindsay McCaul) have once again released another project, and while it's only a 5 song EP, it does give fans of their music something to listen to and enjoy ahead of their live album maybe this year or next year. Since listening to songs from their last album 'Open Up the Heavens', 'Light Shine In', 'All Glory' and 'Who Will Rise Up'; Vertical Church Band have skyrocketed to belong as one of my favourite worship bands alongside Passion, Jesus Culture and Bethel Music. Despite only releasing one album, their passion and heartfelt melodies included within both last years release as well as this year's 5 song EP is infectiously enjoyable indeed. Presenting to listeners three alternative acoustic arrangements of arguably some of their most famous and popular songs ('Open Up the Heavens', 'Light Shine In', 'Not For A Moment'); the love for the music of worship leader Meredith Andrews led me to discover a worship band that's certain to be on my radar of artists to follow in years to come. Despite Meredith (or even Lindsay) not singing on this 5 song EP (and hearing a male vocal singing 'Not For a Moment' can seem a little weird at times); it does prove that songs transcend the artist singing them, as we are collectively reminded that the song can still be good even without the original artist singing it. Releasing three of the five songs in a stripped down unique way, these renditions are sure to peak the interest of listeners who have enjoyed the original recordings and are looking for something different, unique, encouraging and hopeful. Even if you haven't heard of Vertical Church Band before, this album is certainly a highlight this year, and definitely for fans of artists like Meredith or Lindsay, or even fans of worship moments like Hillsong, Desperation Band or Passion.
With an acoustic riff starting off 'Open Up the Heavens' that brings great life, vibrancy, energy and hopefulness amidst the new rendition, Seth McConkey sings out with plenty of enthusiasm the words that ring out as one of my favourite on both Meredith Andrews' Worth It All and Vertical Church Band's Live From Vertical Church. With the song sped up to create an anthemic song with riffs, keyboard undertones and a powerful bridge reminding us that Christ's glory manifested through the signs and wonders that we see is enough for us to live our lives sold out for him, this uniquely choreographed rendition is perhaps my favourite version of the song. 'Open Up the Heavens' is a great opening track full of intense emotion and heartfelt praise as the songs are given a new and unique interpretation while keeping the original musicality and emphasis on Christ our Redeemer. 'Light Shine In' starts off with a ukulele feel reminding me of the introduction to Steven Curtis Chapman's 'Long Way Home' as worship leader Tara Rios (who sounds vocally similar to Reunion Records artist Moriah Peters) sings out the slowed down track of 'Light Shine In'. With no Stu G. like riff to start off the song or any gang vocals that are present in both the One Sonic Society and Vertical Church recordings, this laid back folksy blues like melody reminds us that even if the tempo and musical elements are drastically changed, the message of the song still remains true- that Christ's light shining within us and around us ought to remind us more of the character of God and the love and peace He offers to each one of us. 'Not For a Moment' is the last song to be re-done, and while a noticeable difference is the absence of Meredith on the track, the song still encourages and motivates just like Meredith's famous version. One of my favourite worship songs released in 2012, worship leader Jon Guerra lets us into an intimate worshipful moment with just the piano and light acoustic strums as we are invited to participate in the declaratory statement that Christ never leaves us during our moments of need. While I enjoyed 'Light Shine In' and 'Open Up the Heavens' considerably more than this musical rendition, 'Not For a Moment' still remains one of my favourite songs from last year, and perhaps one of my favourite Meredith Andrews songs ever. Well done Vertical Church for giving us different and interesting renditions of some of my favourite Vertical Church songs and highlights both on this album as well as the debut project in 2012!
Along with these newly recorded acoustic tracks are two new recordings, 'Jailbreak' and 'Restore My Soul'. Listening to the familiar melody and tune incorporated into the last hymn-like track, I couldn't really put my finger on which melody they borrowed to create this song until my brother pointed out that the music for 'Restore My Soul' came straight from 'When I Survey the Wondrous Cross', before that hymn was redone by Chris Tomlin and Matt Redman and then re-titled 'The Wonderful Cross'. With the initial melody of the beloved hymn not going to waste as many people seemingly forget about the hymn and focus on Chris Tomlin's rendition, 'Restore My Soul' certainly pays great homage and honour towards one of my own favourite beloved hymns, and as I listen to Andi's heartfelt words of how he cries out for God to '…restore my soul, revive my heart, renew my life in every part, reveal to me what sin remains then lead me to the cross again…', I am able to submerse myself into heartfelt praise and adoration through this prominent keyboard and acoustic guitar song. 'Jailbreak' on the other hand reveals a Country undertone with steel guitar pedals and a southern gospel musical atmosphere as lead singer Kyle Fredricks invites us to listen to this metaphor of a song reminding us that Christ has given us the key to break out of our very own jail cells, all we need to do is open it and walk right out the door. Reminding myself musically of southern country style artists like Rhett Walker Band and Third Day; 'Jailbreak' is a fun song to sing along to, and I'm sure will be a blast to sing live in churches around the world. Well done Vertical Church for showing us a variety of new and old songs that's certain to peak the interest of new and old fans alike!
Overall: Vertical Church Band is relatively new in the worship music market, with I'm sure many people looking to worship movements like Passion, Hillsong, Jesus Culture or Bethel for their worship music fix. Nevertheless, this 5 song album effort from this worship movement in Chicago, Illinois is full of fresh and vibrant acoustical worship and hopefully will be a great addition to any worship lovers music playlist. While most of the songs are lesser known, 'Not For a Moment' anchors the EP that reminds us of God's faithfulness throughout all times, irregardless of how we feel. Fans of Meredith Andrews, Chris Tomlin or even Hillsong and fans of their newest album Zion will be right at home listening to this new album from one of the artists that released one of my favourite live worship albums released during 2012. From the hymn like 'Restore My Soul' to the folksy 'Light Shine In'; these 5 songs are destined to be in the hearts of many listeners for months to come. Well done Seth, Andi, Jon, Kyle and Tara for such a wonderful and enjoyable EP.
RIYL: Meredith Andrews, Hillsong UNITED, Chris Tomlin, Jesus Culture
Buy the Album: iTunes/Amazon mp3