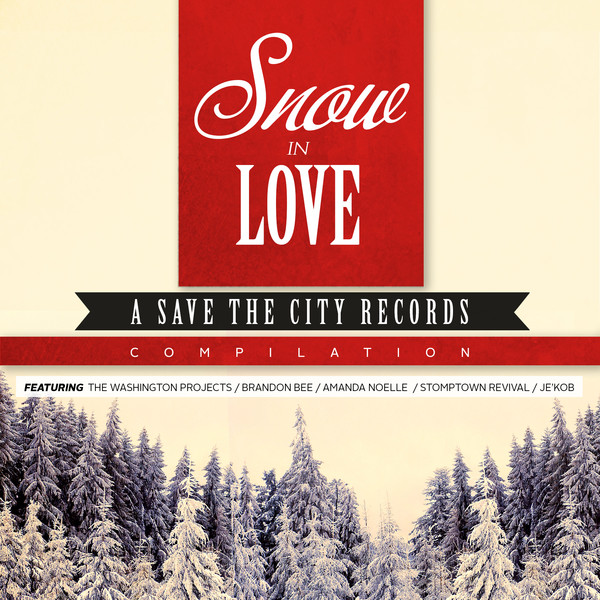 Artist: Various Artists
Title: Snow in Love
Label: Save the City Records
Release Date: 11/20/12
Reviewer: Jonathan Andre
Tracklisting:
Hark! The Herald Angels Sing (feat. Anthem Lights) (Amanda Noelle)
Snow in Love (Je'kob)
Angels We Have Heard on High (Brandon Bee)
Stay a While (The Washington Projects)
Do You Hear What I Hear (Stomptown Revival)
Christmas music has been great this year, with memorable albums from Steven Curtis Chapman, Lincoln Brewster, Josh Wilson, Francesca Battistelli and Jason Gray to name a few. With a compilation as well released during the holiday season (A Very Special Christmas: Bringing Peace on Earth– featuring Word Label Group artists), enter in Save the City Records, home to some of the more independent and lesser known artist types like duo Washington Projects (originally formed as Souljahz back in the early 2000s as a trio), Holly Starr, co-founder Brandon Bee and newcomers Stomptown Revival; and their 5 song Christmas EP, the latest album to release in 2012 to feature holiday and worship-themed melodies that are to be played during the festive season. With a great combination of fan-favourites and original songs, this mini-album is great for anyone who loves the Christmas season- and with great renditions of songs by artists that are still relatively new and up-and-coming, it gives a great opportunity for listeners to hear great new music and branch out into some other artists that listeners may not have heard before. From the pop infused 'Hark! The Herald Angels Sing' to the dance-prominent 'Snow in Love', this is a joyous and fun collection of songs to bring home the Christmas spirit. And don't worry if Christmas Day has already past- remember there are twelve days of Christmas right? (you can always save these songs to play during Christmas 2013!).
'Hark! The Herald Angels Sing' is one of my favourite 'angel-themed' Christmas songs, as well as 'Angels We Have Heard on High', also on Snow in Love. Featuring solo artist Amanda Noelle (ex-member of disbanded group Kimber Rising) on lead vocals for the first track, we are given a dance-pop rendition to one of the most beloved Christmas songs ever sung by Christians and non-Christians alike. Starting off with a looping percussion and an infectious passionate vocal, Amanda has created one of my favourite renditions of the carol (along with Lincoln Brewster's stellar version on Joy to the World) with Christian pop vocal group Anthem Lights singing at various times throughout the 3:16 length song. The added chorus of '…glory to the King, all the angels sing…' is a nice addition to create a unique, fresh and timely song about what the angels must've felt on the glorious day of Jesus' birth. Though a fade-out song (I usually prefer a song that ends on it's own than fading it out otherwise), this is the only fault for a melody that is and will continue to be one of society's most treasured and beloved Christmas songs. Well done Amanda and Anthem Lights for creating a harmonious melody full of vibrancy, life and encouragement.
Sung by co-founder Brandon Bee (who in this song sounds distinctly similar to Josh Wilson and Sanctus Real lead singer Matt Hammitt), 'Angels We Have Heard on High' continues with the declaratory proclamation theme as Brandon gives us a clear reminder of how God and His angels were singing on that starry night, reminding the shepherds to '…come to Bethlehem and see, Him whose birth the angels sing…' With the verses not that divergent from the original accepted melodies, it is the chorus of '…gloria, in excelsis deo…' that is given an electronic transformation, with the word 'gloria' sung more times that we could remember. This heartfelt 3:07 song is not without great humbleness from Brandon as we are shown a song that though it is carefully given a rendition that is worthy enough to draw in listeners who love more electronic-rock music, the carols are still timeless and those who love the original melody will be bound to enjoy this song too. Acoustic-folk group Stomptown Revival lend their voices to 'Do You Hear What I Hear', complete with acoustics, a sitar and a reverbing electric guitar as well as a booming drum and a underlaying bass line. Giving the song a country-style atmosphere, 'Do You Hear What I Hear' is a great representation of how the message ought to be spread, from those who eye-witnessed the event first out towards the farthest parts of the Earth. Perhaps the song told it how it really occurred, or perhaps not; but regardless, this song (one of my favourite carols) gives us a great encouragement to spread the hope and joy during the Christmas season and beyond.
One half of The Washington Projects (with his sister Rachael Washington), Je'kob has released a few solo EP's in 2012 ahead of his first solo release Faith, Hope and Love in February 2013. Reminding me of rappers like KJ-52 and Lecrae as well as pop singers like TobyMac; Je'kob's contribution to this Christmas EP comprises of both 'Snow in Love' (sung solo) and 'Stay a While' (with Rachael and sung under The Washington Projects). Starting off the song with a light acoustic guitar, Je'kob offers up a love song with hopeful meaning as he sings to his wife (or girlfriend) about the moment when he fell in love. With a rhythmic beat that provides a Caribbean feeling, 'Snow in Love' reminds us of the love God has for His children, to the point where He gave up His only Son to die on a cross so that we can be brought back to Himself. While on the surface this could be a simple song of love and devotion to your spouse, 'Snow in Love' gives us a deeper message of the relationship between Christ and His church. 'Stay a While', sung by Je'kob's band The Washington Projects, is a great song carried by Rachael Washington as she gives us an account of what makes a great Christmas- family, friends and communion with the Lord. With her vocals sounding like Rachael Lampa or Stacie Orrico, we are reminded of how we ought to be thankful for our lives and the blessings in it, and that Christmas should be a time of remembering our greatest gift as we never lose sight of the reason for the season. Certainly going to gain popularity over the years with comparisons to earlier pop Christian artists like Rachael Lampa, Stacie Orrico and Jaci Velasquez; 'Stay a While' rounds out an album that is a great addition for anyone's collection of Christmas songs in 2012.
Overall: Though a relatively new Christian label group, Save the City Records have created a Christmas EP that will be great for those who love to enjoy acoustic-type carols in a more percussion-based musical atmosphere. Though one drawback would've been that the EP was too short (a few more songs would've been nice), co-founder Brandon Bee and the rest of the artist roster (minus Holly Starr and Bryan 'Mr Talkbox' Chambers) have come together to create an album that will certainly stand out as one of my favourite Christmas EP's of the year, along with MIKESCHAIR's It's Christmas EP. Also one of the Christmas albums with a great inventive cover, Snow in Love gives us a clear reminder of God's grace and His providence during the busy season of December. Well done Save the City Records for such a memorable and encouraging Christmas EP!
RIYL: Je'kob, The Washington Projects, Brandon Bee, Stomptown Revival
Buy the Album: iTunes/Amazon mp3