Album Review :
Various Artists - God's Not Dead: The Motion Picture Soundtrack
By Jonathan Andre in Reviews | Comments closed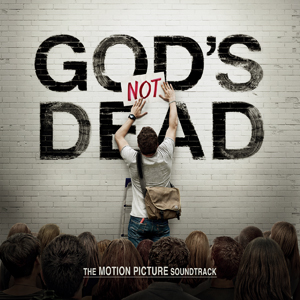 Artist: Various Artists
Title: God's Not Dead: The Motion Picture Soundtrack
Label: Capitol Christian Music Group
Release Date: 3/4/14
Reviewer: Jonathan Andre
Tracklisting:
Hold You Up (Shane Harper)
Ones and Zeros (Stellar Kart)
Save a Life (Manic Drive)
What I Know (Tricia)
The King is Coming (Newsboys)
God's Not Dead (Movie Version) (Newsboys)
This is the Time (Superchick)
Arrows (Jimmy Needham)
Save Us (JJ Weeks Band)
Excerpts from Original Score
Christian movies have been around for a while, from the Left Behind trilogy starring Kirk Cameron released in the early 2000s to the string of David A.R. White movies released throughout the last 10-15 years or so via PureFlix, a movie company that David is heavily involved with. Sherwood Pictures, a movie production company funded by Alex and Stephen Kendrick, have also been involved within the Christian movie scene, releasing several movies that have been successful, from Fireproof and Courageous, to Firewall and Facing the Giants. Add to this the constant stream of faith based movies that have been made recently, from 'A Strange Brand of Happy' starring Rebecca St. James, Grace Unplugged, Blue Like Jazz and The Grace Card, to the upcoming Hollywood movies of 'Heaven is For Real' (Greg Kinnear), 'Noah' (Russell Crowe), Left Behind (Nicolas Cage, Chad Michael Murray) and the recently adapted 'Son of God', a movie from archived footage of the History Channel's The Bible (slated to release at the end of February 2014); Hollywood, and people in general, have been interested in faith and the stories about it for many years in the past, and probably will be interested in it many years into the future. On the whole, faith movies have had the ability to influence movie lovers around the world, giving them stories that speak to their hearts, tugging at the issues that mainstream movies sometimes gloss over or not even discuss about at all. One of the most anticipated Christian movies of the year, God's Not Dead: The Movie releases in March 2014, starring actors Shane Harper and Kevin Sorbo, and featuring a special appearance by Christian Grammy Award winning quartet, the Newsboys. The story, about a college student, played by Shane, who stands up to his professor in class and is challenged to a debate relating to the existence of God; is something that I'm sure will become a great talking point, both amongst viewers of the movie who are Christians, as well as Hollywood and movie-goers in general. A movie about the topic of God's existence, we are given the soundtrack to the movie, also released during the time period of March 2014. Featuring songs from artists like the Newsboys, Superchick, Jimmy Needham, JJ Weeks Band, and even Shane Harper (who sings on the first radio single, 'Hold You Up'); the soundtrack to a movie that I would recommend to anyone who is interested in this God debate, is something that gives us a reminder of the thematic elements of the film, that '…God's not dead, He's surely alive, He's living on the inside, roaring like a lion…' ('God's Not Dead').
Originally written by Daniel Bashta, 'God's Not Dead' (or how it's more appropriately called, 'Like a Lion') has become one of today's most popular worship anthems, and arguably a song that now Newsboys, Kristian Stanfill and David Crowder and famous for, more so than Daniel himself. As we are reminded by this uplifting anthem that God is in fact not dead and that He is living, moving and active in the lives that we lead, Michael Tait's booming voice declares out, to '…let love explode and bring the dead to life, a love so bold, to see a revolution, somehow…', and from the first note til the last, listeners (at least myself) can worship alongside the Newsboys, proclaiming God not irrelevant, but crucial in everyone's life, no matter if they know Him or even aware of His existence or not. While an alternative version of 'God's Not Dead' (a.k.a. 'God's Not Dead' (Movie Version)) is featured in this album instead of the original Newsboys recording (this version had speaking parts of the movie slotted in strategic spots of the song- when there was heavy instrumentation between verses and choruses); this song nonetheless has become a beacon of hope and powerful declaration to many around the world, and is the basis of the movie with the central theme of this Pureflix project being to deliver the resounding truth that God is in our lives, moving and active- even in the moments when we can't feel or even see His touch. One of Newsboys's biggest hits with Michael Tait at the helm as lead singer of the band, this is a fitting choice to base a movie around, and while it is somewhat disappointing to have movie lines in the song that disrupt the song's flow, the song nevertheless is a highlight on the soundtrack, and paves the way for other melodies to shine and echo the central theme of God being in the midst of our lives, turning the chaos into beauty through any of our life experiences.
The key concept of both God's Not Dead the movie, God's Not Dead the compilation soundtrack, and even the song 'God's Not Dead', is the understanding that as Christians, we know that our God is living, active, proactive, and moving in our lives as we serve and follow Him. With this album reflecting this truth, a wide range of artists are compiled together to give us the remaining 9 tracks, each of which emphasise and stress the message of God being present and constant in the lives that we lead. While known for his acting, particularly in the Disney Channel series Good Luck Charlie, it is Shane's singing that has really made him act out what he believes, with 'Hold You Up' being the album's first single, and one that really reminds us of the faith Shane holds onto, even as an actor in Hollywood. Grounded in biblical principles, Shane gives us all a reminder in this acoustically driven melody, that sometimes '…demons will harm you and try to steal what you know. But the angels, they brought you, and they're gonna hold you up…' While the debate still carries on about whether we have our own guardian angels or not, the song nevertheless is a great reminder of the strength of God and the angels, giving us motivation that as we have been held up by God in various circumstances in our lives, it is out of the love and gratitude of it that we can be the hope and comfort to others, holding them up when we are needed to. While this is the only song I've heard from Shane (he did record an album in 2012), his unashamedly proclamation of how '…when the timing is right, somehow you'll know, when nobody stands, stand on your own…', is a moment of bold truth- that even if no one else is believing what we know is true, we don't back down from the convictions and beliefs that we have. A song that'll hopefully encourage both lovers of Christian music and mainstream music alike, 'Hold You Up' is one of the standout songs on the album, and one of my favourite melodies of 2014 so far!
Throughout the rest of the album, the theme of God being able to impact lives of ordinary people is seen through the selections of tracks from artists that, from one time or another, were signed (or are signed) to Inpop Records. Newly signed to the label, Stellar Kart offer up their powerful hit, 'Ones and Zeros'. Serving as a unity-type song, Adam declares amidst the stellar electric guitar undertones that '…we are the ones, we are the ones and zeros, the beautiful incomplete…a colourful symphony…' As we are able to gain a picture of a nation and world united, despite the fact that some of us are ones and some of us are zeroes (the differences that divide us, like our race, creed, heritage, values); we are all called to stand tall and unite under a common belief- that we are given '…a voice for those who can't say a word to the ears of those who never have heard…' With the song reminding us of the unique task we all have to share our experiences with each other and thereby building each other up; this is a perfect song to bring the theme of standing up for beliefs to the fore, as we stand for values that count and not waste the time we've been given in this life. Tricia Brock, wife of Stellar Kart guitarist Nick Braumhardt, gives the listeners two songs, both as the frontwoman of the now disbanded Superchick, as well as a solo artist, under the pseudonym, Tricia. 'This is the Time', one of the last songs Superchick recorded with the now-in-heaven Chase Lovelace, is an emotional song that encourages us to take a chance on life, and be an encouragement to those around us. Speaking about how '…this is the time to try, step out, your life is waiting…', it is when we realise that we ought to make the most of opportunities given to us, that we can be an inspiration to others. Tricia's song 'What I Know', from her second solo album Radiate; is a piano ballad that serves to tie in themes from each of the songs on the compilation album together, as Tricia also reminds us of our certainty in Christ, declaring that what she knows is that '…You my God are real, no matter how I feel, You've never let me go…' With powerful vocals and a great accompanying piano and strings, a song that lacks musically still feels just as poignant and powerful as a hard-hitting song like 'God's Not Dead', even though there is a general trend for artists to affiliate their stronger songs (both lyrically and musically) with upbeat tracks in general. Despite the trend, 'What I Know' is one of my favourite songs from both Radiate and this compilation, and what it lacks musically (without the electric guitars) it makes up for it with poignant melodies and powerful moments to consider and reflect upon.
Newest signed artists to Inpop Records, Manic Drive offer up the melody 'Save a Life', a reminder and a question asked to the listener of whether we can save someone's life (both physical and metaphorical), even if it isn't ours that we are saving. With looping percussion and powerful lyrics, these 3 men from Canada leave comfortableness aside and strike to the heart of motivation, as we are met with a heartfelt chorus- '…so would you save a life, save a life? If it was do or die, would you save a soul, save a soul? Even if it's not your own?…' and something to think about as we assess our own priorities to see if we would really set everything aside for another, just like how Jesus set everything aside for us. JJ Weeks Band, who released their debut Inpop Records album All Over the World in March 2013, offer up a powerful melody in 'Save Us', a heartfelt song with JJ having a yearning to God about wanting the King of the universe to save us from the hurt, shame, guilt and longing that we long to be rid of. With a powerful electric guitar component and JJ singing with intense passion, 'Save Us' is a great album ender (before the 8 minute excerpts from the original score) and one song to ponder to as we understand the complexity and enormity of Christ saving us from the things that may not necessarily be bad for us, but may shift our focus from things that really matter in this life. The instrumental last track is a medley of sorts- with the title of it being 'excerpts', I'm sure the 8 minute track encapsulates the best of the best of the instrumental moments of the movie, and listening to this album ender, I am able to at least use it as a vessel for reflection and soaking as I come into God's presence.
Overall: With the album also boasting songs from Jimmy Needham (even though Jimmy's releasing albums independently now) with 'Arrows', a motown flavoured song with strong pianos and percussion where we all glimpse into the God who shows us arrows, signs that we see everyday that point us to where He wants us to go and to be; and the Newsboys with 'The King is Coming', a powerful worship track written by Jared Anderson and Seth Mosley, about us declaring that God our King is coming to take us home when the end of days come; God's Not Dead is a great collection of melodies that challenge and hopefully inspire us to delve into this topic of God, and whether He is in fact alive, relevant, moving and influencing the city we inhabit today, just as much or even more than He did with Jesus all those years ago. With songs from some of today's most respected Christian artists, this album is a great promotional tool for the movie, which in my opinion will create just as much critics as it will lovers of the movie, as both sides- the sceptics and the believers, will have something to talk about and say after the movie is finished. Arguably one of the most promoted and anticipated Christian movies of the year (alongside the movie adaption of Heaven is for Real and the remake of Left Behind), Shane, Kevin Sorbo and David A.R. White all ought to be commended in starring in a film that will hopefully be a tool to lead people to Christ after they watch the movie and discuss it with their friends. While this album isn't necessarily a great album to purchase if you have all the individual tracks already (the only track that I reckon is worth purchasing is the instrumental track at the end), this is a great gift for someone who is seeking and wanting to know more about Jesus, Christ, Christianity, and the life of hope, forgiveness and abundant joy that comes along with it.
RIYL: Newsboys, Superchick, Stellar Kart, JJ Weeks Band, Jimmy Needham
Buy the Album: iTunes/Amazon mp3