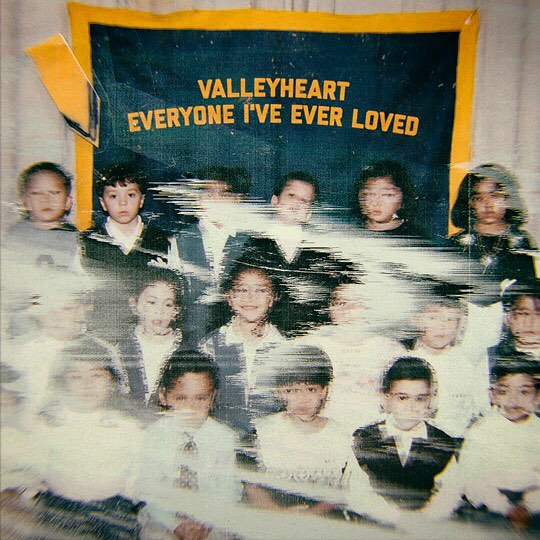 Massachusetts-based Valleyheart  first caught my attention with their cover of Sufjan Stevens' "Fourth of July" as well as the infectious "Kids from Calvary" released on their debut EP last year. Admittedly, I haven't been following the band as closely as I'd like to admit – so when I realized they dropped their first full-length, Everyone I've Ever Loved, this morning, I knew I needed to check it out.
Valleyheart's style is a complementary mix of alt-rock, arena rock, and hints of post-hardcore. Guitars are often reverb-laden; vocals are aggressive yet catchy; the rhythmic pulse is typically what you'd expect of high-octane modern rock acts.
"Heaven & Hell" opens the album, and it's certainly one of the more restrained tracks on the record. Guitar lines are doused in flanger as vocalist/guitarist laments his wrongdoings. "In Your great big house of many rooms, is there any room for me?" The end of the track coalesces into a wall of sound, hinting at what's to come on following tracks.
"Friends in the Foyer" and "Crave" are an amazing pair of tracks which add a bit more aggression into the mix. The lyrics themes of guilt and regret carry through both of these tracks, though Klein's poetry never seems to falter as he presents us with moving lines like, "As of lately, yes, I haven't felt like myself at all, and in the moments of my weakness now I barely feel the fall. And all the time spent chasing shadows of some greater thrill, could I find contentment in just being still?" Overall, these two songs make for a very strong start to the album.
"Dissolve", is one of the strongest tracks in terms of rhythm. The lyrics center around exhaustion, futility, and doubt (seemingly based around Ecclesiastes). The pensive center of the track is uncomfortably vulnerable before exploding into an incredible close.
"Drowned in Living Waters" is certainly my favorite track on the album. The lyrics are as honest as ever. "How do I beat this? How do I win? The voice of the prophets, I hear them again. They say, 'Man, what has happened? You lost and prodigal son. You to be an example. You used to bear the mark of His love.'" The song is repentant and humble, and the instruments complement the mood incredibly well.
"Communion" and "Paradisum" are another strong pair, this time working to close out the album. The former is laced with falsetto; the latter builds upon the foundation of "Jesus Loves Me", but adds a couple twists (replacing "little ones" with "broken ones", for starters) which places the song in an adult context and ultimately serves as reminder that our need for grace is not diminished by our age. It's the end of the prodigal narrative at play on the album.
Other tracks each have their strengths as well. "Agnosia" shows guitars oscillating between palm-muted power chords and spiraling ambiance. "Maryland" shows bright instrumentals which are juxtaposed by heavier sections. "Intangible Dreams" tackles the corruption of prosperity preachers.
Overall, Everyone I've Ever Loved is a moving and refreshing album for those burdened with guilt, doubt, and pain. It tackles our own shortcomings. It reminds us how we fail ourselves and those around us. It presents us with boundless grace that calls us home. It never feels cliché or dilettante; production is strong, instrumentation is tight and diverse, and there's plenty to love for fans of both indie and punk here. Don't sleep on this band – as this is likely a late entry to many "best of 2018" lists.