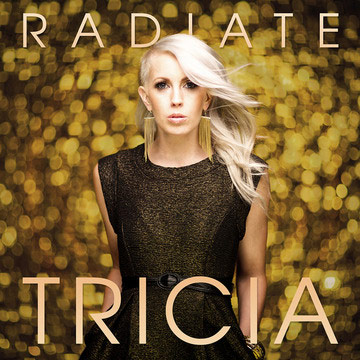 Artist: Tricia Brock
Title: Radiate
Label: Inpop Records
Release Date: 8/13/13
Reviewer: Jonathan Andre
Tracklisting:
Everything as Loss
Mirror, Mirror
Enough
Radiate
Good to Be a Girl
Daughter of a King
Love Will Not Let Go
Different
Adding Up to a Miracle
Pity Party
Without You
What I Know
Superchick has been one of Christian music's most popular and relevant bands of the 2000s, often crossing the Christian line to have their songs being marketed in films and TV shows around the world. Yet even though the band went into hiatus in 2011 due to personal reasons, lead singer Tricia Brock has still been writing and recording songs, delivering one of my favourite worship albums of 2011, The Road. With Superchick still to release new music in either 2013 or early 2014, Tricia's solo work has continued to flourish, showing listeners once again her pop flair in Radiate, a 11 track album releasing on August 13th, full of heartfelt ballads and upbeat dance melodies that will place Tricia more along the popularity line as listeners hear her solo music in a different light than when she was lead singer of Superchick. With The Road delivering some of my favourite worship songs ever to be produced in 2011, from the hit single 'Lean' to the worship cover 'You are My Shepherd' and 'Always', Tricia's poignant vocal delivery on the tracks had always felt to me that the band never left, with Tricia's heart for worship and her love for Jesus shining through on Radiate more than ever before. From her first radio single 'Enough' to the piano and string heavy anthem 'Love Won't Let Go' and the upbeat dance melodies 'Good To Be A Girl' and 'Different'; this is an album certain to be purchased by listeners who have enjoyed Superchick's pop-rock material, as well as fans of other artists like Britt Nicole and Group 1 Crew, that will most likely enjoy such music from Tricia. As we are met with the overall arching theme that we as Christians ought to let out the love and hope that we have and shine for Christ wherever we go, and that God alone is enough for us to live out each day; Tricia's powerful vocals and hopeful lyrics assert her female presence within a still male dominated Christian industry. With many female pop-worship vocalists becoming popular over the years, from Francesca Battistelli and Meredith Andrews, to Mandisa, Kerrie Roberts and Britt Nicole; Tricia's name as a solo artist will hopefully become more reputable and respectable with the release of this sophomore solo album.
'Enough', 'Everything as Loss' and 'Radiate' were all on Tricia's EP titled Enough which released in June 2013, and all anchor Radiate with primarily pop-dance musical backdrops and emotive lyrics about living wholeheartedly for Christ and sometimes making the hard call to count everything as loss when compared to pursuing after the love of the Father. Starting off with some great and enjoyable guitar riffs, 'Enough' speaks about how Christ has given Himself and that's enough for us to be whole in Him, to not worry about everything else we may so often compare ourselves to. As the song starts off with a compelling and confronting first verse where Tricia declares that she wishes '…I didn't always compare myself, wanting what You give to somebody else, wish that I felt a little more content, just being me…', we are reminded that it is almost human nature for us to wish things about our lives, hoping, but out of a place of feeling discontent with the lives we are living. While the song travels from a wishing stance in verse 1 to a hopeful stance in verse 2, where Tricia exclaims that even if life falls apart, Christ is taking her to somewhere good, exciting and beyond all comprehension, we are invited to place our trust in a God who always keeps His promises. With electronic keyboards, light electric guitars and layered backing vocals all performed by Tricia, 'Enough' has been one of my favourite pop-dance melodies that have been released since The Afters's hit, 'Every Good Thing'.
Also delivering heartfelt promises are both 'Radiate' and 'Everything as Loss'; with the former song being an avenue for Tricia to channel a bit of Beckah Shae-esque musicality to remind us that we have to radiate, sparkle and shine in our lives for Christ, and the latter a powerful moment of surrender to Christ as we realise that nothing can overshadow or come close to knowing and deepening the relationship we have with our Father in Heaven. With light acoustics and a 'ooohhh' backing vocal also delivered by Tricia, 'Everything as Loss' is a great first song that showcases her intention of setting the theme for the entire album- that once we know Christ, everything temporary should fade in light of the things that are eternally important. Well done Tricia for these three songs, with each of these themes added together providing a somewhat overarching theme reminding us to live fully for Christ and that with Christ in us, we can challenge and accomplish anything that is set before us!
Starting off with a keyboard introduction, 'Love Won't Let Go' is full of hope, confidence, encouragement and motivation as Tricia encourages the hurting, broken and unsure with words of comfort in the 3 and a half minute melody. Possibly one of the most vulnerable songs from Radiate, Tricia invites listeners to delve into the lyrical moments of the song, and dwell in the fact that '…love will not let go, the darkest night is light to Him, He'll find you again and again…' Something that we need constant reminding everyday that God is with us even in the darkest moments when we may not necessarily feel him, this string and keyboard prominent ballad delivers a great balance musically compared to pop melodies like 'Radiate' and 'Enough'. Another piano ballad delivered in 'What I Know', the last track attempts to tie in all the themes together as Tricia also reminds us of our certainty in Christ, declaring that what she knows is that '…You my God are real, no matter how I feel, You've never let me go…' With powerful vocals and a great accompanying piano and strings, the last song on the album feels just as poignant and powerful as the first ('Everything As Loss'), even though there is a general trend for artists to place their stronger songs (both lyrically and musically) near the front of the album. Despite the trend, 'What I Know' is one of my favourite songs from Radiate, and what it lacks musically (without the electric guitars) it makes up for it with poignant melodies and powerful moments to consider and reflect upon. Well done Tricia for giving us both 'What I Know' and 'Love Won't Let Go', both hard-hitting and powerful ballads in an album primarily pop-dance based.
With the focus of Radiate being to promote self-worth and reliance on Christ for many young girls dealing with self-esteem issues, there are many songs on the album directed to teenage girls and young women that remind them of their own worth in Christ. 'Mirror, Mirror' offers young girls and teenagers a way out and another perspective to look from, as we are reminded that the mirror and other people's perceptions don't tell us how we should be, behave or act. With an electronic beat, Tricia leaps into declarations, telling the mirror that '…you don't know me, you don't own me, it doesn't matter what you think at all, we're more than just a reflection…' A revelation that could change people's mindset when they hear the identity and life spoken over them in the form of promises and assurances, 'Mirror Mirror' does its best to remind us that beauty and worth aren't determined by earthly standards, but by the Father in heaven. 'Good to be a Girl' is a fun tongue-in-cheek melody about all the positive points about why it is good to be a girl, and while I myself didn't resonate at all with the song (because I am not a girl), the song is musically top notch, incorporating an electronic musical undertone and offering positive affirmation to girls and young women everywhere.
Leading on from 'Good to be a Girl' is 'Daughter of the King'- another potential radio single from Radiate. While at first glance the song is directed at teenage girls and young women as they are reminded that they are daughters of the King of Kings and therefore they are priceless; the song can still apply to the rest of the population (guys too) as I myself am reminded that as surely as God declares girls to be daughters of the King, I know I myself am a Son of the King too. As I am encouraged through poignant honesty and poetic lyrical techniques that '…you are perfect in the maker's eyes, even when you don't believe…'; I can rest in the knowledge that Christ has given myself a spirit of tenacity, determination and self worth, giving myself and many other teenagers and young adults the courage to walk firmly in Him. Ending the tracks that serve as 'target' songs thematically for girls is 'Pity Party'; a moment where teenage girls can lament and sing if they have been through a bad relationship breakup or if they want a song to listen to during slumber parties with their girlfriends. While the song can be a little contradictory- why have a pity party if you know your identity in Christ?- it does provide us with some perspective, that many teenagers and young girls think that throwing a 'pity party' and feeling sorry for yourself is seemingly the answer, when we know that leaning on God is much more proactive and helpful for us to do. A song that'll promote discussion in years to come, well done Tricia for these 'girl' themed songs, providing us a window into teenage girls and what they think about God and the world around them.
Overall: From the inspirational 'Different' that reminds us that in order to make a change the world, we have to be different ourselves compared to the world, to 'Adding Up the Miracle', a dance influenced 3 minute song about the love spreading around to influence the people around us; Tricia's Radiate is a perfect gift for mothers, sisters, girlfriends and best friends, with the album's target listeners being teenage girls and young adults. While I myself enjoyed Tricia's worshipful The Road a little better, Radiate still gives us great inspiring lyrics and emotional moments that remind us of the never-ending nature of God's love. From the radio single 'Enough' to 'Everything as Loss' and 'What I Know', Tricia is able to unveil the deepest things about herself, proclaiming that the words of God being enough for her in every circumstance is certainly true for everyone else. Her heart for worship and hope to encourage listeners can be felt through every song delivered on Radiate, making the album one of my favourite pop-dance records I've heard in 2013, alongside albums from Capital Kings, Tammy Trent and Kerrie Roberts earlier during the year. Well done Tricia for such a compelling and enjoyable album. A great purchase if you enjoy similar artists like Britt Nicole, Kerrie Roberts or Mandisa!
RIYL: Superchick, Kerrie Roberts, Mandisa, Britt Nicole
Buy the Album: iTunes/Amazon mp3