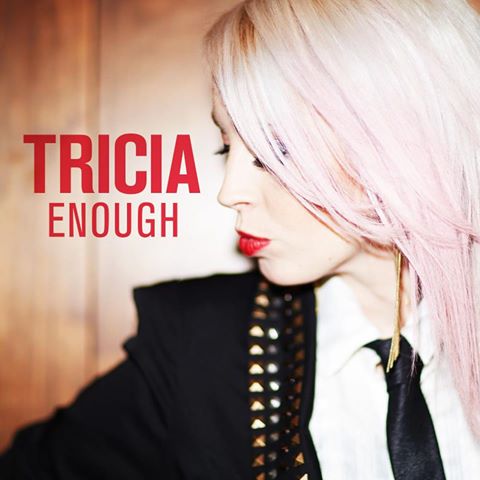 Artist: Tricia Brock
Title: Enough EP
Label: Inpop Records
Release Date: 6/11/13
Reviewer: Jonathan Andre
Tracklisting:
Enough
Everything as Loss
Radiate
Following her highly successful 2011 debut solo album The Road, lead singer of Superchick Tricia Brock once again has given us great music in the form of the upcoming Enough EP ahead of her August 2013 second album release titled Radiate, releasing August 13th. While the band of Superchick went on a hiatus in 2011 due to personal reasons (I could only surmise that it was because of drummer Chase Lovelace's cancer diagnosis, yet there could've been other factors that led to the band taking a break for a bit); Tricia started to write and sing worship songs, many which would end up on The Road, from the hit single 'Lean' to the worship cover 'You are My Shepherd' and 'Always'. Feeling like the band never left, Tricia's heartfelt declarations of her love for Jesus is what shines through in her debut album, and as I hear these 3 songs that precede what is described by Tricia as more of a pop-dance orientated album, I can safely say that if the full album is just as good as these three songs, then Radiate will perhaps be one of my favourite albums of the year. Releasing her radio single 'Enough' a few weeks ago (and also uploading a lyric video of it to youtube earlier this week), this is an album certain to be purchased by listeners who have enjoyed Superchick's pop-rock material, as well as fans of other artists like Britt Nicole and Group 1 Crew, that will most likely enjoy such music from Tricia. With the EP as a whole reminding us that God alone is enough for us to live out each day; Tricia's powerful vocals and hopeful lyrics assert her female presence within a still male dominated Christian industry. With many female pop-worship vocalists becoming popular over the years, from Francesca Battistelli and Meredith Andrews, to Mandisa, Kerrie Roberts and Britt Nicole; Tricia's name as a solo artist will hopefully become more reputable and respectable with the release of both this EP and her sophomore solo album.
'Enough' is the first song on the EP, and also first radio single too. Standing at a seemingly short 2 minutes, 52 seconds, its short time is made up through some nicely performed guitar riffs to start off this pop song about how some people may wish that they can obtain this or that, and not see that Christ has given Himself, and that's enough to satisfy all our needs and wants. As the song starts off with a compelling and confronting first verse where Tricia declares that she wishes '…I didn't always compare myself, wanting what You give to somebody else, wish that I felt a little more content, just being me…', I am reminded of the many times I myself have fallen into the trap of wishing hopefully, whether its hoping that I obtain a blu-ray player soon, or wonder what it could be like if I have an X-Box instead of a Nintendo Wii. While those are seemingly little things (some people covet other people's houses, spouses and even lives themselves); the point and message of the song is quite simple- that in the midst of all our wishing and often selfish hoping, Christ is there and is urging us to understand that He is enough and can satisfy all our yearnings and hearts desires. With the second verse highlight a more hopeful stance, where Tricia exclaims that even if life falls apart, Christ is taking her to somewhere good, exciting and beyond all comprehension, we are invited to place our trust in a God who always keeps His promises. Something to hold onto when life doesn't go the way we often plan like it should; the song's strongest assets are the heartfelt lyrics, as well as the looping percussion, light acoustic guitars and a beat you can tap your foot to. Easily one of my favourite songs released within the past few months (and one of the most infectious and enjoyable melodies I've heard since Stellar Kart's 'All In (Apologize)' and The Afters' 'Every Good Thing'), 'Enough' is almost a shoe-in to be placed on WOW Hits 2014, releasing at the end of September 2013.
'Everything as Loss' is a powerful moment of surrender to Christ as we realise that nothing can overshadow or come close to knowing and deepening the relationship we have with our Father in Heaven, and that as the song suggests, everything else we ought to count as loss after knowing Christ our Saviour and Lord. As we fully come to grips with the phrase of 'everything as loss', we realise that if we are truly changed from the inside out, we can't help it but exclaim about the love we have inside of us that has changed our whole lives and perspective. Our priorities change, we become more focussed not on ourselves, but on others. Our focus changes from temporary to heavenly, and the things we held dear become insignificant and sometimes not even important at all. In comparison of knowing and having a relationship with our Saviour, Friend and Father; nothing else should come close. Our lives and what we do with it ought to be a reflection of our own relationship with our God and those around us. While the song is presented with light acoustics and 'woah' backing vocals, Tricia delves into the theme of letting go of the material in 'Everything as Loss', something that we can often find difficult as we see through our own lives and wonder what things we are holding so tight that Christ tells us to let go of. 'Radiate' is the last song in the EP, and Tricia places on her 'Beckah Shae' hat to perform a dance number about how we ought to radiate and sparkle, even in the moments when life doesn't turn out like we think it should or hope. Shining in the darkest parts and places of ourselves can require discipline and encouragement, and while the message of the song is superb in thematic quality, the musicality of the song seems a little out of place tempo-wise on an EP of anthemic-like songs. Not that the song itself is bad, the message, rhythm and beat are quite good, and the electronic noises and undertones are a nice touch and add a great deal to the song in general. Nevertheless, something feels missing from the song. Maybe when I listen to it a second time, or even on the album when it releases in August, I may feel different. Despite this, these three songs are still top-notch from Tricia. Well done Tricia for a great way to end the EP, reminding us that God '…make[s] the sun shine and push the clouds of the way…You can be my sunshine and we can radiate…'
Overall: Tricia's EP digital release is a nice precursor to her sophomore album in August 2013, and anyone who loves Tricia Brock's powerful solo album performances, as well as her material with Superchick, will leap to check out these 3 songs ahead of her highly anticipated month of August. Featuring some of the most honest and hopeful contemporary-pop songs of the last few months, Tricia is able to unveil the deepest things about herself to proclaim the words of God being enough for her in every circumstance. A must to purchase for anyone who loves contemporary pop, we are invited into a glimpse inside the musical genre of her second album, and what to expect in the second week of August. Arguably one of my anticipated releases within the next few months alongside Stellar Kart's All In and Newsboys' Restart; Tricia's heart for worship and hope to encourage listeners can be felt through every song, and will possibly be a gem of an album if the rest of the tracks are equally as good as these three. While only rating this album a 3 (because of the oddness of 'Radiate' and its seemingly out-of-place feel within these three songs); the album could possibly receive a 4/5 if Tricia continues to travel along in a similar lyrical and musical vein as shown through these first 3 confirmed tracks on Radiate. Well done Tricia for the new music, something many fans, including myself, were anticipating. Can't wait for Radiate August 13th!
RIYL: Superchick, Beckah Shae, Britt Nicole, Kerrie Roberts
Buy the Album: iTunes/Amazon mp3