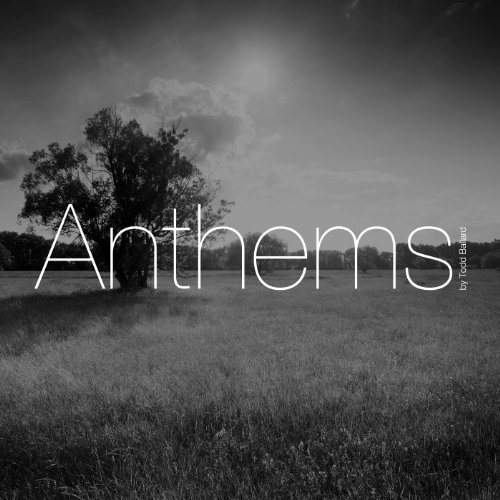 Artist: Todd Ballard
Title: Anthems
Label: independent
Release Date: 2/5/13
Reviewer: Jonathan Andre
Tracklisting:
Why We're Singing
Victorious
King of Love
Closer to Me
Be Glorified
The Only Way
Find Me in the River
Rejoice
Immanuel
Undeniable
Be Exalted
Find Our Rest
Psalm 18
Formerly a worship leader at Red Rocks Church in Golden, Colorado; Todd Ballard has always had a heart for both worship and the stage. Full of enthusiasm and passion to lead people into communion with God, he has decided to release his first full studio album after 18 years of church ministry titled Anthems, out February 5th 2013. With a musical similarity to other worship contemporaries like Paul Baloche, Chris Tomlin and Lincoln Brewster; Todd has written (or co-written) every song on the album, except for the Delirious? melody; 'Find Me in the River'. With the album produced by Otto Price (who previously worked with artists like BarlowGirl and TobyMac) and co-written with Otto, Ian Eskelin and Chris McClarney (writer of 'Your Love Never Fails'); what has resulted is 13 songs full of encouragement and anthemic praise as each song rouses up the worshipful spirit, both in a corporate and individual sense. With a vocal similarity to Steve Fee and Eddie Kirkland; this is a great album for those who have enjoyed albums from Passion or North Point, with songs like 'Victorious', 'Why We're Singing' and 'Be Glorified' destined to be sung in churches in the upcoming weeks and months ahead. As Todd provides the hope for this album- '…I hope it opens up some doors for a new, creative sound to happen in the church world…maybe it will even open doors for people who aren't Christians…', I am pleased to say that Anthems is one of my favourite independent albums of 2013, alongside Hearts of Saints' For All of Us and The Ember Days' More than You Think.
'Why We're Singing' opens up the album in great fashion, with almost a minute long introduction full of electronics, vibrant electric guitars and a great anticipation given to listeners as they hear the musical rising to the anthem the song becomes, as Todd proclaims that '…God is good and He is holy, God is great in all His glory, this is why we're singing…' We sing to Christ because of who He is to us- our Saviour, Redeemer, Friend and Father. Our gratitude and thanks are only the tip of the iceberg when it comes to our response to our freedom given by God through Christ, and 'Why We're Singing' is a great start to an album full of anthems of praise given to God out of a heart full of worship, awe and wonder. With the song inspired by well-known pastor and speaker Charles Spurgeon and a message he gave on the foundations of faith, we are able to soak in the simple truth of the reason we give praises to our King. From adoration to reverence, joyous shouting to declaratory proclamations, this song gives us an invite to join along with Todd as we see how the rest of the album plays out.
'Find Me in the River' is one of my favourite Delirious? songs from The Cutting Edge days in the mid-90s, and hearing the song again covered in a new and fresh way is certainly invigorating. With a calm and eerily refreshing setting full of light acoustics, Todd offers up a great rendition to what will forever be a Delirious? classic, with a powerful chorus that gives us a great reminder of how even if we think that God has gone in our moment of need and it seems like we're '…cracked and dry, find me in the river, I'm waiting here for You…'- a lyric in the chorus we all need to ponder, and whether we'd stay in the river and long to wait for God, even if it takes longer than we'd realise to the point of uncomfortableness. 'Be Glorified' is also a slow song like 'Find Me in the River', offering up a simple praise offering to God as we shout out the simple, yet equally profound chorus '…be glorified, be glorified, as we lift up Your name Lord higher…as we worship You God forever…' A moment of power and realisation is felt in the chorus of this almost-five minute song as we hear the electronics and Todd's powerful vocals giving us a song that is a certain standout on Anthems. Starting off with a string introduction with an added piano melody to bring us into this song about stillness and soaking in the Lord's presence; 'Immanuel' was co-written with Chris McClarney. With a light acoustic presence added to prominent strings that create a sense of relaxation as we contemplate the words sung by Todd, Brent Kutzle of One Republic added the strings to a song that is one of the mostly subdued melodies out of a whole album of guitar driven and fast-paced anthems of praise. As Todd explains, '…it just turned into a very intimate moment. Where the rest of the project is pretty guitar-driven, this one's laid back…' Well done Todd for the great contrasts in music, and the welcomed differences within these styles that are able to create the same emotive response gained from either listening to 'Why We're Singing' or 'Immanuel'.
With every song given an anthemic feeling (which in turn creates the album title) as we are reminded to lift up our voices in proclamation to Christ; it is the guitar driven melodies of 'Victorious', 'King of Love', 'The Only Way' and 'Closer to Me' that, together with the aforementioned songs above, round out some of my favourites on Anthems. With a striking comparison to North Point worship leader Steve Fee, Todd reminds us of how we are victorious in Christ ('Victorious') and that there is nothing better than us to be close to Him in whatever circumstances that arise, regardless of whether they are in our favour or not ('Closer to Me'). With award winning producer DJ Frank E (Justin Bieber, B.o.B.) providing the remix-like elements in 'Closer to Me'; Todd has been able to garner much attention from myself especially to take notice, especially when a song was remixed by a mainstream producer when it clearly has a Christian message. 'The Only Way' starts off with a magnificent electric guitar riff that leads into a lifting up of God's grace as we declare that He is the only way to peace, salvation and hope. Similar thematically to Paul Baloche's 'Our God Saves'; we are met with a song that's not afraid to speak the direct truth- that there's no other God and Saviour than Jesus. 'King of Love' further continues along with this theme with an equally similar electric guitar opening and as Todd cries out in the chorus '…the king of love we bow before, the king of love we all adore…', listeners are able to fall in reverence of the King as we sing this simple repetitious song of gratitude and thanks. While 'King of Love' may not necessarily be the most interesting of titles on the album, it's still one of the musically most sound tracks on the album, with explosive guitars and great moments of gang vocals at various parts throughout the song. Well done Todd for these motivational and joyous songs of awe and admiration.
'Rejoice' is a unique song depicting Jesus's birth in a manger as we corporately and collectively lift his name up, not just on Christmas Eve and Christmas Day, but on every day of the year. Some listeners may not want to hear this song until Christmas time, but I say well done to Todd for placing it on the album- we cannot be reminded enough as we look back towards the Christmas past and towards the upcoming one and reflect on God's goodness to all mankind. Todd also gives us a great variety of songs to end the album with, from speaking about Psalm 18 (the last song on the album) as he declares God as his refuge, rock and shelter; as well as how God's love for us is undeniable, taking the parts of us that we may see as ugly and unfixable and turning them into moments of beauty and clarity ('Undeniable'). 'Be Exalted' stands on similar thematic ground to 'Victorious' or 'King of Love' as we see Todd exalt God and inviting Him and '…let Your glory fill this place…'; but it is 'Find Our Rest' that seems to resonate with myself out of the last few songs on Anthems. With only four guitar chords throughout the whole song, this simple melody of finding our rest in God sung by Jerrica Matrone (fellow worship leader at Red Rocks Church) is one of the most soothing songs on the album, alongside 'Immanuel'. As we sing along with Jerrica in how we '…find our rest in Your arms, in Your arms…'; this strings and keyboard emphasised anthem leaves the album just like how it started- with complete reverence and praise to God our healer, comforter, Saviour and protector. Well done Todd and Jerrica for such a moving and emotional melody, one of my favourites on Anthems.
Overall: With a worship style similar to other contemporaries like Eddie Kirkland and Steve Fee (and in some parts, musically sounding like some of Chris Tomlin's anthems); this album is a great purchase if you enjoy upbeat anthemic worship songs, or if you are a fan of North Point worship in particular. From the awesomely covered 'Find Me In the River' from Delirious?, to the poetic string and keyboard infused 'Find Our Rest' and the explosive album opener 'Why We're Singing'; Todd's first album is sure to garner critical and commercial praise and acclaim. Though this album is releasing on the same day as albums from Jenny Simmons (ex-Addison Road lead singer), RED, and Daniel Bashta (who wrote 'God's Not Dead', one of today's top worship songs covered by both Kristian Stanfill and the Newsboys); Anthems is able to stand tall amongst all the prominent releases and assert it's own place with great songs full of vertical worship to our Father in heaven. While not necessarily the most recognisable of worship artists, the quality and honesty of Anthems is sure to give Todd a great year of praise, accolades, touring and respect in the year of 2013. Well done Todd for such an enjoyable and anthemic album!
RIYL: Steve Fee, Eddie Kirkland, Chris Tomlin, Kristian Stanfill
Buy the Album: iTunes/Amazon mp3