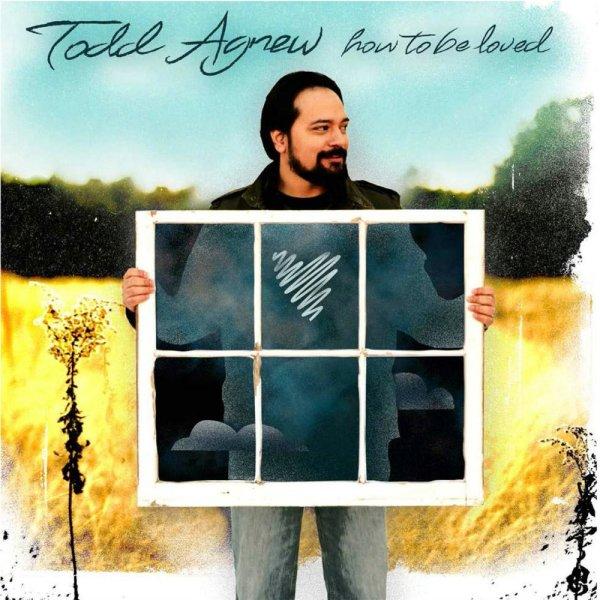 Artist: Todd Agnew
Title: How To Be Loved
Label: Fair Trade Services/Ardent Records
Release Date: 3/6/12
Reviewer: Jonathan Andre
Tracklisting:
The One You Want
Love Your Neighbour
God Undefeatable
Letting Go
There is Coming a Day
Loved
Give What's In Your Hand
Don't You Think
House of Boxes
You are Good
Your Great Name
Famous for his chart-topping rendition of the popular hymn, Todd Agnew's 'Grace Like Rain' propelled him into a world of Christian music. With a collection of solid albums in his repertoire (Reflection of Something, Better Questions, Need), Todd Agnew has recently released his new album, How to Be Loved, in March 2012. Fusing his signature gruff-sounding voice together with southern rock-pop influences, and mixing in a bit of folk acoustic melodies with a touch of worship undertones; Todd has experimented much with this album, and in the most sense, has paid off. With the famous worship cover 'Your Great Name' as the last track, seemingly fitting as to create a sense of worship as the primary focus for listeners; Todd's genre of music seems to have expanded over the years, pulling in different listeners that listen to both the traditional rock/pop as well as those who are more tuned towards acoustically alternative music. Listening to these eleven tracks, I can safely say that Todd has certainly matured to become a seasoned veteran in the Christian music scene. With the radio hit 'God Undefeatable' responding positively in radio, How to Be Loved is certainly different from the traditional CCM albums, standing out on a release date in March 2012 together with Andy Cherry's Nothing Left to Fear and Fireflight's Now!
'God Undefeatable' is Todd's first single, and starts off with a musical punch with a keyboard and a declaratory statement '…behold the King who conquered and overcame our sin…' A worship song from first keyboard note til last guitar strum, 'God Undefeatable' as become one of my favourites from Todd, probably second to 'Grace Like Rain' as favourite worship song from the Texan. With stellar vocals and passion evident through his lyrical praise, Todd gives all that he has to the King who is worthy, proclaiming that He is '…God undefeatable, kingdom unshakeable, in majesty and power You reign…' Just as worshipful is the last track on the album, 'Your Great Name', written by songwriters Michael Neale and Krissy Nordhoff, and made popular by CCM artist Natalie Grant. Sung with the same enthusiasm as versions gone before, Todd shows his intentions as he proclaims '…Jesus, worthy is the lamb that was slain for us…You are high and lifted up, and the entire world will praise Your great name…' The addition of a reverbing keyboard in the background is a nice addition to the song, an acoustically sounding counterpart to Natalie Grant's powerhouse version of the worship classic of late. These two tracks have given me confidence that Todd's worship album (if he does one!) will certainly be enjoyable, and though it'll be a detour from his distinctive rock sound, both 'God Undefeatable' and 'Your Great Name' have shown Todd's calibre when it comes to worship music. Well done Todd for these two songs!
Reminding me of Jeremy Camp's 'There Will Be a Day', 'There's Coming a Day' picks up the particular theme of reminding us that a day is coming when we will stand before the Lord and worship Him face to face runs through this song, a potential radio single for Todd. As Todd begins to sing about the life experiences and trials that he has experienced during his time on Earth, he is able to sing with confidence, looking forward to '…a day when my faith shall be made sight…darkness shattered by the light…' With a light percussion undertone with an anthemic feel, Todd has been able to produce one of my favourites on this record, reassuring me that that there will be '…healing for this hurting saint…hope for this hopeless sinner…' Similarly, Todd's rendition of timeless hymn 'I Surrender All', titled 'Letting Go'; carries on with the theme of letting go of our worries and pain as we look forward with confidence as our healer shows us mercy through our continual reminding of His sacrifice on the cross for us. As Todd proclaims across the keyboards and soft acoustics, '…I'm letting go of the shame that I let define this hurting heart of mine…', we are able to seek comfort in the knowledge of God's acceptance of our baggage as we cross the valley from death to new life in Him.
The theme of the album How to Be Loved is certainly met with the two songs 'Love Your Neighbour' and 'Loved', both reflecting our relationships with our Father in Heaven, as well as mankind on Earth. 'Love Your Neighbour' is the most confronting song on the album, with this jazz-infused guitar focused track showing us God's instructions, about loving our neighbours as well as our enemies. As Christians, we are the hands and feet of God. Showing Christ's love to everyone that we meet, even if it is someone that we don't like or someone that may ask us for our money (if they are homeless); we ought to just shrug off our pride, hurtfulness and shame to just love like Jesus did. Loving, shown by the song '…is a little about him [or her], probably more about me, but it's a lot, a lot about You…' Loving is therapeutic, and this song is just the encouragement listeners need to be called into action. 'Loved' carries on from this and declares that we love others because God first loved us. Through Todd's poignant lyrics '…through all of the lonely years, the shame and fear, it's so hard to believe, but You're teaching me how to be loved…' across the swaying musical elements of electric guitars and drums; we are met with the revelation that we are loved unconditionally. What an incredible concept to be considered; hats off to Todd for executing it so well!
From singing about how God loves us, despite us feeling like we don't deserve it ('The One You Want'), and reassuring listeners that there is '… truth in the middle of these lies, you'll find it in time if you follow…' ('Don't You Think') to showing us that we ought to give whatever we have over to God, whether it is big or small; so that He can multiply and further His kingdom ('Give What's In Your Hand'); Todd has brought every issue that has been close to his heart onto the table known to him as music; each song speaking to listeners in different ways as fans connect with his music. Each of his musical offerings has someone thoughtful to say, resonating with at least someone in the world; thereby giving credit to each song on the album.
Overall: With a similar southern voice to Third Day frontman Mac Powell, Todd has been able to produce an album that is an improvement upon his earlier records, showcasing a more mature musical and lyrical focus. With the style of this album reminding me of Todd's debut and the musical arrangements of songs like 'Grace Like Rain'; How To Be Loved is one of the best albums from Todd, with deep lyrics, well thought-out musical arrangements, as well as his trademark southern-style singing that sets his music apart from any other CCM band. Fans of Third Day, MercyMe or Shane and Shane will certainly enjoy this record of pop/rock, acoustic, southern style singing, with a hint of worship added to draw in the listeners with a praise focus. Well done Todd for such an eye-opening experience into the love of Christ!
RIYL: Third Day, MercyMe, Shane and Shane, The Afters
Buy the Album: iTunes/Amazon mp3