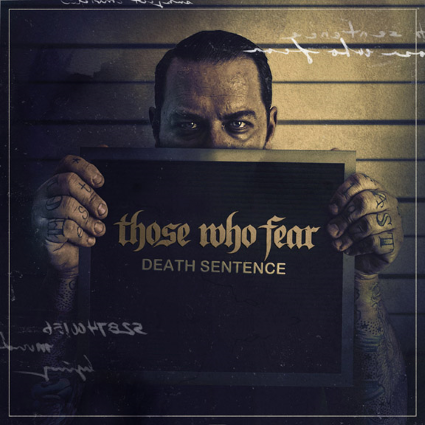 Artist: Those Who Fear
Album: Death Sentence
Label: Facedown Records
Release Date: 06.24.14
Reviewer: Lee Brown
Track Listing: 
Processed

Bruised
Bear These Scars
Ego Trip (Feat. Ryan Kirby of Fit For A King)
The Pain I Feel
The First Amendment
Saturday Night Special
Cop Out (Feat. Nick Arthur)
Eyes of Eternity
Death Sentence
86'd
We're Not the Victims
Indifferent
Let's make one thing clear from the beginning. By engaging heavy thematic content through even more brutally chugging guitars and the occasional conviction of capital punishment to their drum set, Those Who Fear are about as subtle as a sledgehammer blow to the skull. Don't misread that, if you are a fan of heavy music, you know that this is exactly what you're looking for. Following their previous album Unholy Anger, TWF lose no momentum as they return with an even angrier set, more bold thematic choices, and a continual barrage of heavily brutal tones.
I've mentioned this a lot lately, and will probably continue to do so ad naseum until the label makes a noticeable misstep, but in my year or more covering every Facedown Records release, the powerhouse heavy music label has yet to release a lesser album across any of their artists. Though some have shined more than others, such as Everything in Slow Motion's masterwork Phoenix, there has not been a distinctly poor album to be found in recent memory. With Death Sentence Those Who Fear (TWF) keep the winning streak alive as it moves towards 1990's Bill Goldberg-level dominance.
Everything that made 2013's Unholy Anger a winning formula with fans is present here, with certain additions and flourishes, such as an appearance by Fit For A King's Ryan Kirby and a brief foray into record scratching to give a light rapcore feel (minus the rapping) for the briefest of moments. This time around Jacob Wilder has been given the task of  executing the drums with Josh Schroeder at Random Awesome engineering this east coast hard core effort that "explore(s) the darker side of faith and ideology… giv(ing) voice to weighty personal and societal issues…"
As a whole Death Sentence is a welcome addition to any hard music-lover's collection. The album opens strong and has you hooked by Kirby's guest spot, dips for a bit, and then rivets you from "Eyes of Eternity" through "Indifferent." Allow me to explain the "dips a bit" comment. With this album I've had the more unique opportunity of spinning it over several times in a row as I've traversed the country from the land of Radio U (Columbus, OH) to Tornado Alley (Moore, OK). During this two day trip, I started to notice my attention waning after "Ego Trip" for a small stretch, but being shaken back each time by the amazing "Eyes of Eternity." This is not to insinuate that any/all of the in-between tracks are poor little orphans clamoring for gruel, but to acknowledge the reality that these tracks seemed, upon repeated listen, to be more likely to fall to the background, where the first few and latter tracks gripped me and would not let me go.
Album Breakdown:
Death Sentence begins with "Processed," which utilizes the "live" sound to make the listener feel as if they are about to experience TWF's reportedly brutal live show offering. The "wake up" lines come across similar to (and remind me each and every time) of Haste the Day's own "we're Haste the Day and it's time for you to wake up." From here the heavy drops hard and immediate to give the listener a perfect feel for what is yet to come before bleeding into the first full song on the album.
"Bruised" takes the lead in that "Processed" provides and continues with some slick guitar work that is engaging and consistent. "Bruised" admits the reality of past hurt that serves as a hindrance to open and loving relationships in the present. The dual cries of "Father forgive me" and "I will never forget" provide the spiritual dichotomy and backbone of the troubled tale.
"Bear These Scars" amps things up a half a notch, at least, and chants the battle cry "we bear these scares, to show the world who we are." The theme to this track could be taken on a guttural or spiritual level, and is likely meant to combine the two like vehicles mangled together on the side of the road. In this, the track speaks to being proud of the scars that life has left on you, knowing that perseverance is possible through trials and adversity. It also seems to allude to a more spiritual meaning as the crew asks "will you bear these scars?," which could likely implicate the scars that Christ bore and us taking them and bearing them as blessed war wounds to the world.
"Ego Trip" adds the fittingly brutal vocals of Fit For a King's vocalist Ryan Kirby. Immediately the blasting drumming hits the forefront with a brutal pace to still amp the energy and brutality up even over the strong tracks that precede. Thematically, "Ego Trip" takes a look at the old adage in Proverbs that "pride comes before a fall" and the bands' dual vow to tear down the false facade that "you" have set up. The two vocalists play nicely off each other's strengths for an all around solid experience that is, as many tracks follow, over all too quickly.
"The Pain I Feel" is a fittingly intimate look at personal failure and trial that repeatedly appeals to God to "save me from myself… I have built my own prison." Vocally, this track is slightly (by a margin of small degrees) more aggressive than the previous tracks, and feels more gutturally connected as it seems (as it should) to come from very real and present pain.
"The First Amendment" becomes controversial merely because of the subject matter and the day and age in which the song is set against. The First Amendment to the U. S. Constitution provides for freedom of religion, separation of Church and State, freedom of the press, and freedom of speech, which all face their own individual trials in today's world. In this, the band boldly promises "you" will never take these freedoms from me. "This is my revolution. This is my final plea. My God, my faith, my freedom… you'll never take from me."
I mentioned above that in cursory listens as I traversed the country the phase of the album from after "Ego Trip" until the beautiful "Eyes of Eternity" ended up getting blurred a bit during background listens. This changed the more I listened to "The First Amendment," however, which speaks to a timely topic in a way that all persons of faith should quicken their attention to. This track is an anthemic battle cry… and it is one that is all too real as the First Amendment is increasingly seen as an evil itself, rather than the prevention of heinous evils.
"Saturday Night Special" continues to bring an auditory onslaught and is the first song I really noticed the "capital punishment" of the higher ranged percussion pieces taking a prominent role, as well as the record scratching effect that was once prominently used in rap core's hey day. Though "Saturday Night Special" is no less passionate or personal than previous tracks, this is certainly the one I most tend to space out during. Speaking of that, as I sit during one play-thorugh in the car, I find that this track is very interesting when also being played over Of Monsters and Men's "My Head is an Animal" as my wife's music battles TWF for auditory dominance in our car simultaneously. I can't promise the effect is as powerful as some people hold to The Dark Side of the Moon played over The Wizard of Oz, but it is a unique affair, to be certain.
"Cop Out" brings the album's second and final guest appearance in Molotov Solution's Nick Arthur. In terms of unique elements, this brings in a little fry screaming towards the end of the track that plays nicely with the feel of the song. The lyrics express a seeming chat between God and fallen man as it proclaims, "no more excuses, you can always hide from grace… so go and give your excuse…" This thread continues through lines like, "You always walk away, why don't you turn around and look at Me?," which seems to employ the divine perspective, if I'm not terribly off base, to bring a more intense look at the God who pursues us like "The Hound of Heaven." It also blends a thread of needing to take personal responsibility, which will come up more in further tracks.
Speaking of heaven, "Eyes of Eternity" is far and away my favorite track on this album. Bar none. It starts with sheer brutality, but speaks heavenly truths about the fact that there is so much more to this life than what we see. I am always drawn to a great song that speaks of the hope of heaven (like Blindside's "Where the Sun Never Dies"), and this one is a mostly solid one. In this, the song is similar in effect to Demon Hunter's recent "Heart of a Graveyard" as it points to living life now in light of the eternal which is constant, yet unseen by natural eyes.
"Death Sentence" begins with a unique effect of a reel of film starting up mixed with some new metal effects played over it, but, as expected crescendos into utter brutality rather quickly. "Death Sentence" is a perfect song to follow "Eyes of Eternity" as it moves from the hope of heaven to the certainty of human mortality. In this, our "death sentence" is set for each and every one of us. "We're all going to die… I am dead to this life, I am dead to this world.. I am dead to this sin."
"86'd" continues the strong latter movement of the record by focusing on leaving no man behind in the pains and trials of this world. It is a challenging track that pointedly asks us to think "Who have you forgotten? Who have you forsaken? Who have you left behind to die?… This is a nightmare… you won't forget." As a call to action, "86'd" works as one of the best, heaviest, and more challenging tracks on the album.
"We're Not the Victims" keeps things in the realm of a direct challenge as it takes the listener to task to own up to personal responsibility for our own sins and actions rather than trying to shirk from our own role in our problems. Musically, this song is not as engaging as the one before it, but in terms of message this track continues to deliver in aces. The track confronts the entitlement nature of our current society and smacks it in the face… like I said, subtle as a sledgehammer. Just as it should be.
The album ends as brutally as it began with "Indifferent." Continuing the direct challenge motif conveyed in the directly previous tracks, TWF burst out "So say what you mean, and mean what you say." As the title implies, this track is a rage against indifference, apathy, and soft speech. Clocking in at just over six minutes, "Indifferent" is by far the longest track on the album, however much of the latter part of that run-time is merely a somber melody fading off into oblivion.
Overall: Those Who Fear improve upon the solid foundation they introduced in 2013's Unholy Anger. Though the album blends together a bit for a few tracks, the latter portion of the album is simply fantastic, as are the two guest appearances. Those who enjoy pure hardcore devoid of the more gimmicky or trendy phases often common today will want to devour this album.
RIYL: A Plea for Purging, Fit For a King,