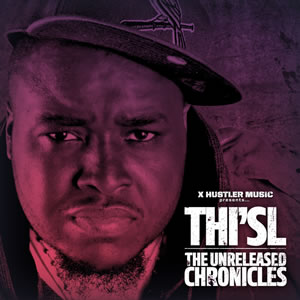 Artist: Thi'sl
Release: Unreleased Chronicles
Label: X-Hustler Music
Release Date: November 2010
Reviewer: BMer
Track List:
1. Yung Hayte – Intro
2. I'm a Rider (Feat. Soul)
3. Father Help Us
4. Rocked by Grace (Feat. Matt Vollmar of The Great Romance)
5. Get Low (Limbo)
6. Dopeman
7. Wake Up Soldiers (2002) (Feat. Flame)
8. He Gone (Tank)
9. Yung Hayte – Life's Hard
10. Parade
11. Lift Him High (Feat. Pastor AD3)
Unreleased Chronicles is Thi'sl's third release, his first since his very successful album Chronicles of an X-Hustler. Unreleased Chronicles is not new material, all of the tracks are previously unreleased songs except "Parade" and "Lift Him High"(which are new), and there are also three bonus tracks you can download from Thi'sl website to add to Unreleased Chronicles.
With only 11 tracks Thi'sl does not waste much time bringing the goods. Track 4 "Rocked By Grace" features a real rock feel thanks to a guest spot by Matt Vollmar of the worship band The Great Romance. The whole track feels somewhat like a Linkin' Park joint with verses that are rapped over a big rock band feel and a very catchy chorus. Track 7 is called "Wake Up Soldiers" and was the first track Thi'sl and Flame ever recorded together, which was back in 2001. The track features very cool music that sounds somewhat like some old-school nintendo soundtracks. "Get Low (Limbo)" is an energetic head-boppin' track where Thi'sl talks about staying grounded:
"can't get puffed up, like vice grips gotta stay tightened up, prisoner of the Christ so I stay cuff'd up…I gotta murder my pride, can't let the thing bubble-up inside, low like four flat tires, low like the tail-pipe on my ride… we lift Him high but you know we gotta stay Low. "
The best track on Unreleased Chronicles is the anthem "Parade", one of two new songs on the album. The horns bring the energy while the beat has that krunk-music feel that makes you wanna to the "big money dance". The song talks about how Thi'sl lived a rough life in the hood hustling everyday and how he celebrates every day he's alive:
"any day I live is enough to celebrate, could be sleeping in the pen could be layin' in the grave. Coulda hit me with a case, coulda hit me "k", that's why any day I live man it feel like a parade."
An album featuring works that did not make it the first time around is not without it's weak moments.  Maybe the most notable is the second track "I'm A Rider" featuring Soul. It is surprising to see this track so early on the album, the chorus is rather annoying. Soul's vocals just sound off, like either the notes are out of his range or the production failed to give him any help. Another weaker track is "Dopeman", a song with good intentions but failed to leave an impression.
Yung Hate fills in the gaps on the album, first on the intro leaving a voicemail in Thi'sl's machine and then later on "Life Is Hard" where gives us a glimpse of one his own songs. "He Gone" is a heartfelt tribute to a friend (Tank) who was apparently killed. The song paints some chilling images of life in the game;
"I wish my boy coulda seen me rep Christ / he went crazy when he seen me rock mics / I flipped out when I seen him that night / on the table laid up with no life / this the reason I'm giving my life / to see cats come in to the Light/"
OVERALL Unreleased Chronicles is a solid collection of tracks that didn't make the original cut. Some of the tracks are excellent like the news ones "Parade" and "Life Him" as well as "Get Low (Limbo)" and some of the tracks were probably cut for good reason, they just don't make an impact. If you like energetic rap with a gangster feel and honest, Glory to God lyrics you should check out Unreleased Chronicles.
buy here