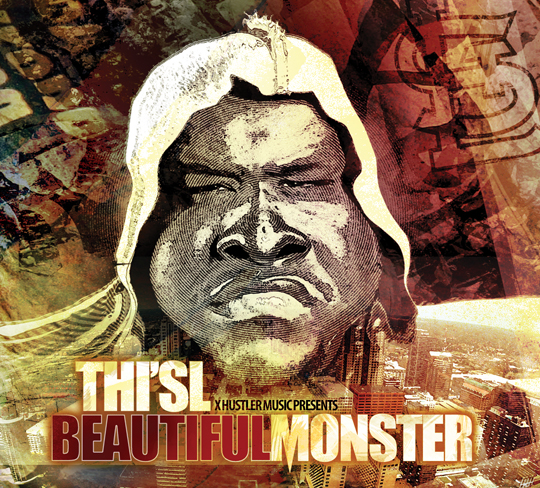 Artist: Thi'sl
Release: Beautiful Monster
Label: X-Hustler Music
Release Date: July 2011
Reviewed By: BMer
Track Listing:
1. Beautiful Music
2. Let it Knock feat. PRo
3. The First 48
4. Beautiful Monster feat. Skrip and Swoope
5. Beautiful Mind feat. Pastor Ad3
6. Hope Road feat. Jai
7. No Walls feat. Alcam
8. My Radio On Drugs
9. Money Produced by
10. Hey Momma feat. Fitzgerald
11. It's Not About Me feat. Pettidee
12. Signed Up To Die
13. I'm So Gone feat. Kenny Deshields
14. Hold On feat. Fitzgerald
15. I Need You feat. Michelle Bonilla
St. Louis rapper Thi'sl returns with another full-length titled Beautiful Monster released on his label X-Hustler Music. Thi'sl shows real progression with 15 new bangin' tracks featuring guests like PRO, Pastor AD3, Fitzgerald and more. Beautiful Monster is full of midwest-style beats, marching drums and high-energy raps. Having only been on the scene for a few seasons now Thi'sl shows that his production can still improve while still focused on the same mission; bring the Good News to the streets.
First, you have to recognize that Thi'sl cannot be all things to all people/listeners. Some "Christian rap" could be deemed gospel music, geared towards the Sunday morning audience. Other Christian rappers are trying to be trail-blazers, pushing the limits of hip-hop and combining other genres to create something fresh. Thi'sl has a testimony of growing up as a dope dealer, his mission is bringing the alternative to young kids caught up in the game. Some might say we've heard this all before already from Thi'sl, stories about dealing crack and how it ruins your life, but Thi'sl has heart for these young kids and he's rapping about what he knows.
That said, Beautiful Monster is absolutely his best work. These songs are full of creative, clean beats and Thi'sl's delivery just gets better and better. From the first track, "Beautiful Music" Thi'sl sets the tone:
"This is grown folks music / time to show you kids how grown folks do this.
Man you really ought to be ashamed / 35 years old and now you try to claim a game (that's lame)"
From there Thi'sl brings the midwestern energy with "Let It Knock" featuring PRO, who's verse is excellent. The best track on the album though is the title-track "Beautiful Monster" featuring Skrip's hypnotic hook and a verse by Swoope. The beat is driving, makes you want walk with a swapper taking big emphatic steps as you roll down the sidewalk. Thi'sl's gruff delivery is somewhat reminiscent of DMX back in the day, and really sounds gritty and
A few other tracks standout as well. "My Radio Is On Drugs" is a creative way of saying that there are so many artists out there today glorifying the dope game. Thi'sl asks some relative questions
"You think we care how much dope you got… kilos you move… 44's you got… girls you bed… lambo's you got? Every single song I hear that's all you seem to talk about."
"Money Money Money" talks about people who live to collect as many material possessions as possible to which Thi'sl responds "I hope he know that we he go he can't take that dough." Another powerful track is "Signed Up To Die", Thi'sl's storytelling is on-point as he talks about missionaries in the field and the persecution they face, being threatened with death when they ask "Are you going to convert (from Christianity) – no, I signed up to die!" Powerful stuff.
OVERALL Beautiful Monster is 15 tracks that jump back and forth from the beautiful love of Jesus and the dark side of life. Thi'sl speaks from experience, and his compassion for kids in streets is so evident through each track. Thi'sl music just gets better and more complex, while his rap delivery is getting refined as well. Beautiful Monster is Thi'sl's best work yet.
Buy it on iTunes or Amazon