Album Review :
They Will Fall - On the Depths of Depravity
By Scott Swan in Reviews | Comments closed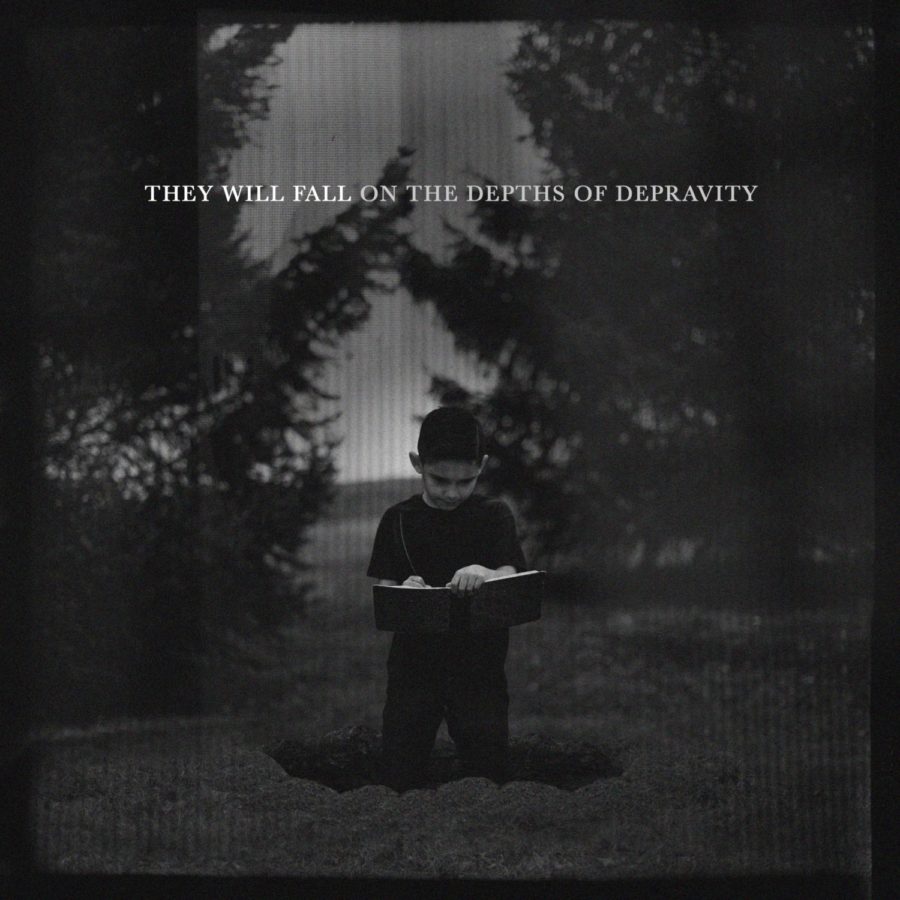 Artist: They Will Fall
Title: On the Depths of Depravity
Label: unsigned
Release Date: 5/10/15
Reviewer: Scott Swan
Tracklisting
Preface
Bloodguilt
Of Youth
In (Sin)cerity
Dark Grave
Facade
Intervention
Final Words
Detachment
Bind My Wandering Heart to Thee
Creating a unique metalcore album this day and age can't be an easy task. How can a band separate itself from the mass of bands out there that sound like each other? Well, that's the task set before the band They Will Fall with their newest full release, On the Depths of Depravity. With a few solid releases under their belt already (Disrupt the World, 2012 and Misconceptions EP 2013), it would seem on the surface that they would have the necessary tools to complete such a task. Having shared the stage with such acts as Mouth of the South, Becoming the Archetype, Colossus and Silent Planet, they have a sound that would fit a similar mold as those bands. 
In a video interview concerning this new record, drummer Chris Shifflett states that the band has really put forth the effort to write music that is reflective of the emotion found in the lyrics. They had no desire to simply "write riffs and songs then just throw some lyrics on top." To this point, I think it certainly rings true with this record. It is emotional and honest lyrically, but then those lyrics are assigned to the appropriate music which creates a united front conceptually. Anger and confusion ride atop waves of pounding drums and huge riffs. Themes of sadness and doubting meld with a more atmospheric, slower paced grooves, and those both could even be within the same song. I would agree that this is indeed a cohesive piece of art and not just simply music that's designed to start a mosh pit (although it could easily do that as well).
With the opening tune, "Preface" you might think you are just getting an instrumental that you'll have to wade through before the actual album starts, but not here. After a calming full minute of distant, light guitars, the band launches into full attack mode. The song takes on the attitude of being angry at the heavy expectations that have been placed on the writer and even blaming God for them. I did find the closing line interesting, "Christ, promise me I won't lose my faith." It would seem on the surface that if you are asking this, then perhaps your faith is not in that bad of shape, but nonetheless a question that I think is still relatable.
"Preface", "Bloodguilt" and "Of Youth" combine to form the angst ridden, self examination portion of the record. Musically it's fairly heavy in this section, chunky guitars fly in and out, drums pacing the rhythm section with technically precise pounding. The majority of the vocals here are screams with a few sections of cleans mixed in. "Of Youth" speaks of being sheltered as a child with their "small town religion, held intact because opposition did not exist to surprise us." Spelling out the disaster that could take place while having only a "weak theology." The next song "In (Sin)cerity," reins back the pounding and acts as sort of a buffer/interlude track. With almost entirely clean vocals, the tune focuses on trying to get an unsaved person to hear the Gospel. The screaming at the end of this one spells out the frustration the writer is surely feeling. 
Changing themes slightly, "Dark Grave," turns the spotlight to the church. To my ear, the guitars here act as more of a rhythm section than providing any kind of groove. With a similar concept, "Facade," continues the rebuke of certain Christians who display only a "counterfeit faith." Some moments of melodic guitars take over in selected sections, creating a nice bit of tension. Both of these songs really show off the bands technical prowess for sure. 
"Intervention" is a hard pounding tune that features an 'in the background' meandering guitar riff. I like how the band will occasionally drop the heaviness in favor of calmer moments, which sets up more of a reflective mood. Then, basically magnifying those brief moments, comes the introspective, "Final Words." Providing a break in the action, the entirely instrumental song then melds seamlessly into the final two acts of the record, starting with probably my favorite tune on the record, "Detachment." This song is a brutally honest look at the writer struggling with his faith. You really get an insight into the internal strife and the war that is raging in his mind. The music does a great job of mimicking the confusion and anger found within the lyrics.
The ending tune, "Bind My Wandering Heart to Thee" (sounds like a old hymn) thankfully begins the process of redemption with God answering the pleas which have been proclaimed throughout the record, but it's especially a direct answer to "Detachment." Again, the music sounds more hopeful here, to go along with lyrics such as: "You were bought with a price, My love, with precious blood." A great uplifting way to end the album, bringing a real balance to album's overall concept.
Overall: As far as the instrumentation goes, there are some very strong moments here, but also some periods where nothing particularly stands out. However, I will say the band does achieve their goal of matching themes to the actual music being played. In that sense it's quite cohesive and brings an honesty in which you really get a sense the writer is pouring his heart out. So, for fans of heavy music, I wouldn't come to this album expecting to hear anything musically groundbreaking, but it will send you to some dark, frustrating places, only then, thankfully to find redemption in our only true Hope once more.
RIYL: Mouth of the South, Silent Planet, Those Who Fear