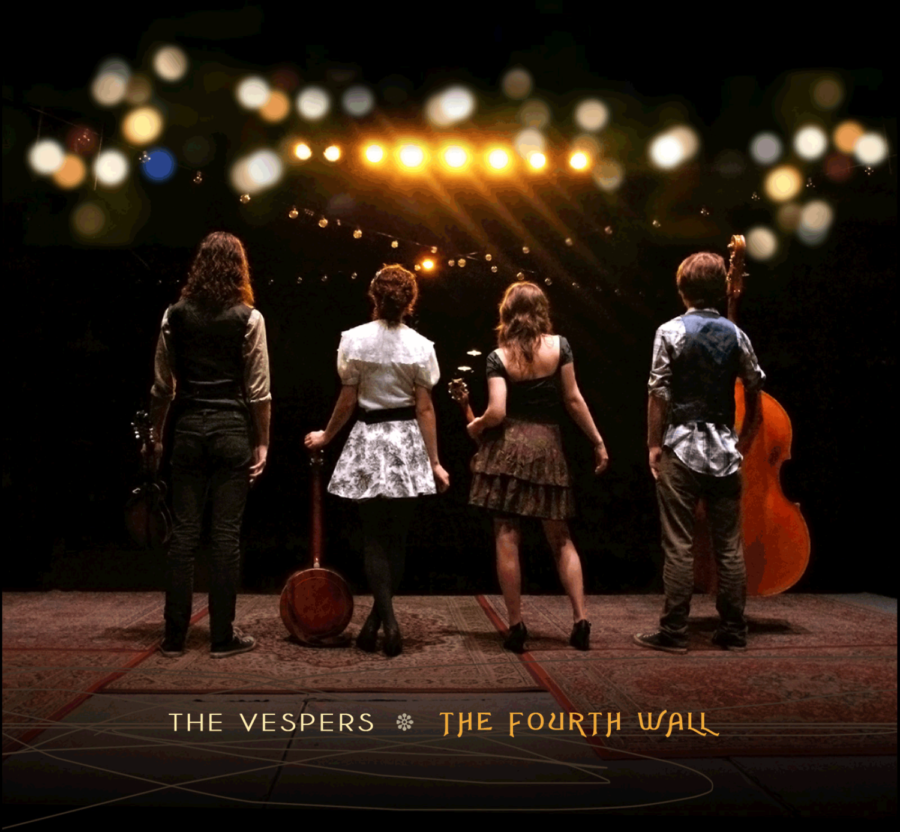 Artist: The Vespers
Album: The Fourth Wall
Label: Black Suit Records (Independent)
Release Date: April 3, 2012
Reviewed by: Cimarron Hatch
Buy The Album Here
Tracklisting:
1. Better Now
2. Flower Flower
3. Instrument For You
4. Close My Eyes
5. Got No Friends
6. Lawdy
7. Jolly Robber
8. Grinnin In Your Face
9. Footprints in the Snow
10. Daughter
11. Will You Love Me
12. Winter
When I initially heard about The Vespers, the first thing that came to mind because of their name was the VSEPR theory (pronounced vesper, stands for valence shell electron pair repulsion, and is used to predict the shape of molecules) from my high school chemistry class. But upon researching the band, I found that "vesper" means "evening prayer," and is a word that one of the band members came across in a book from their high school literature class.
The band is made up of sisters Callie (vocals, guitar, ukulele, banjo, and electric bass) and Phoebe Cryar (vocals, banjo, guitar, ukulele, mandolin and accordion,) and brothers Taylor (drums and mandolin) and Bruno Jones (guitar and other stringed instruments.) With their second full-length album, The Fourth Wall, The Vespers intend to show the music industry that independent bands can make it on their own.
The Fourth Wall begins with "Better Now," a bluegrass song about the Biblical story of the blind man who was healed by Jesus. "Flower Flower" follows, and is a song about a girl pining for attention from the person she is admiring from afar. Next comes "Instrument For You," which has a nice melody and is about wanting to play an instrument or sing to bring glory to God. The fourth track is "Close My Eyes." This song has a lot of cool drums and really made me notice what interesting vocal ranges both of the sisters have. Next, "Got No Friends" tells a story of going to the mailbox and finding it empty but knowing that you'll always have a friend in Jesus even if no one else is there for you. Then comes "Lawdy," which reminded me of The Civil Wars' chilling, soulful hit song, "Barton Hollow," in the way the instrumentation was arranged and the way the girls really took their time singing each word with emphasis.
Track seven, "Jolly Robber," brings a swing music feel to the album with its danceable beat and drum sound before continuing on to the albums' only song that was not penned by the band members, "Grinnin In Your Face." This song was originally performed by influential blues artist Son House as an a cappella tune. The original song has been covered by numerous artists including The White Stripes, but The Vespers have arranged it to become something entirely unique to them. Next comes "Footprints in the Snow," which is nice and upbeat, then "Daughter," which is a haunting song, followed by "Will You Love Me," the bands' first music video from this album which you can watch here. The final song, "Winter," is kind of a depressing song about loneliness, and I didn't find it to be a good way to end an otherwise upbeat album, but it works anyway.
Overall: The Vespers are incredibly talented musicians and I am impressed by the plethora of instruments each member can play. Callie and Phoebe Cryar are both fantastic singers with remarkable vocal ranges. The entire bands' songwriting skills are great as well, in the way they can put together such a complex instrumental arrangement on each song, with good lyrics, too. This album should really be listened to closely in order to hear all of the stories being told in each song. The Fourth Wall is well worth listening to if you appreciate some good old-fashioned bluegrass and folk music—or just plain good music.