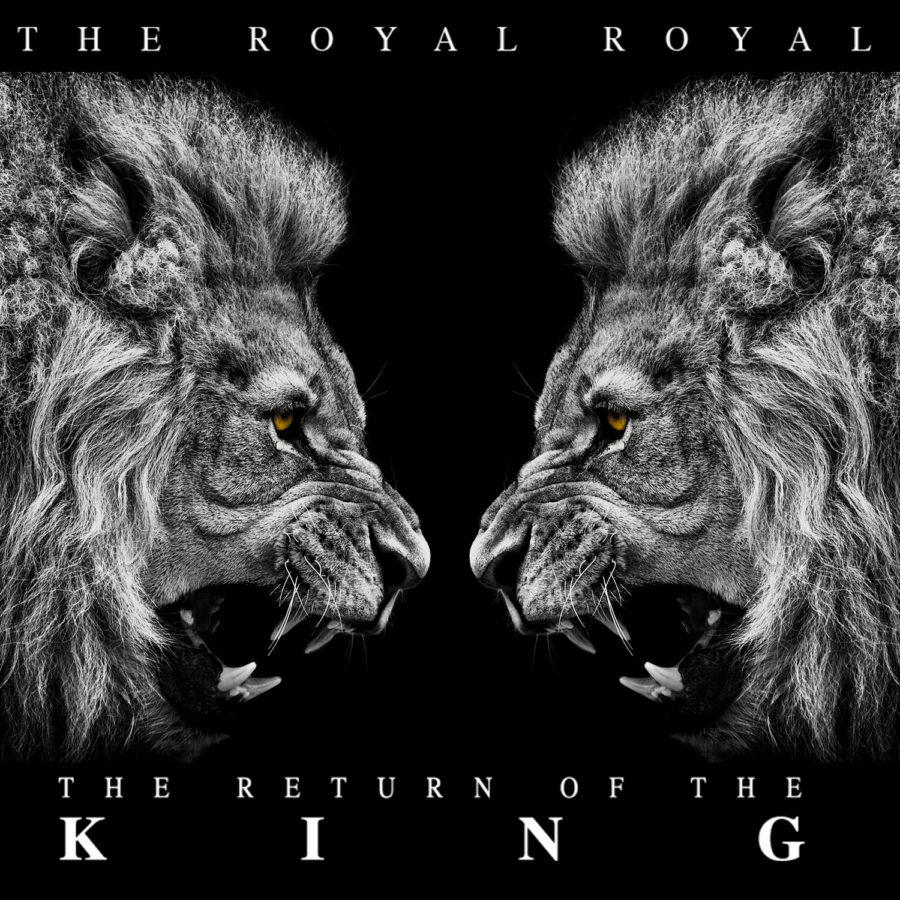 Artist: The Royal Royal
Title: Return of the King
Label: The Paradigm Collective
Release Date: 3/4/14
Reviewer: Jonathan Andre
Tracklisting:
The Lights
Every Little Bit of Praise
Holding On
You Make Me New
Find Me
Real Strength
Great
The Answer
Shine
Light a Fire
The Beautiful Name
'…sometimes we think that the music should be old and the theology new, or sometimes we think that the old themes are boring and not worth repeating–as if the blood of Jesus could run its course. Our prayer for everyone that plays this record is two-fold: that they re-discover Jesus Christ in the freshest way, and that the old things seem brand new, all over again…' Also a duo, The Royal Royal's presence in the contemporary Christian worship music's industry is nothing more than a blessing for all the artists involved in the ministry, as well as the listeners hearing their music, with the band giving a fresh and unique music and lyrics to make this Canadian brother band one of the most ingenious and infectiously enjoyable worship artists active currently. Formed in 2011, both Nathan and Gabe Finochio's music has a much loved acoustical/slightly electronic atmosphere, with myself first hearing about the band from their radio single 'Praise Him' from their 2012 album The Royalty, whom they co-wrote the song with Hillsong (and also on the Hillsong live album Cornerstone as well). And while I myself haven't really listened to much of their debut album, their second album has been nothing but a pleasure and an enjoyable experience, with the songs being some of the most upbeat, easy to learn, soothing and vulnerable worship melodies of all year, and since albums/EP's from Phil Wickham, The Sonflowerz and Warr Acres in 2013. With Canadians, just as much as Americans, showing listeners of their songwriting skills, this brother band continues to move from strength to strength, and from the powerful electronic first single 'Every Little Bit of Praise', to the first song on the album 'The Lights', a melody that reminds us that all we need to do is come to the light and we can rest in Him; both Gabe and Nathan manage to craft 11 songs full of heart, emotion and vulnerableness. With their skill being honed in on this album to create an acoustic/worship/electronic focus all at once; both Gabe and Nathan provide us with good harmonies, and are possibly my favourite siblings' duo band after Elissa and Becca from The Sonflowerz.
'Every Little Bit of Praise', the first promotional song on the album, is worship and praise at its rawest and finest, and while there can be some repetition, which probably has and will garner some criticism in terms of lyrical simplicity and lack of creativeness, the song nevertheless is a beacon of hope and praise, even with its simple lyrics. Profound in the way that the brothers declare out '…every little bit of praise belongs to You…', both Nate and Gabe find a platform to launch from as the song is used as a vessel of us understanding and knowing that every little thing we say, do and accomplish is an act of praise and worship, and whether it is for God or for ourselves is a matter up to us to ponder and reconcile with God about. And while the song can seemingly feel like a repetitious lyrically lacking melody from first listen, as we hear the brother's passion for the Lord in this continuously repetitious phrase, we are able to worship the Lord without the conscious knowledge of the need for a much more lyrically sound first radio single in the future from the brothers. Nevertheless, this song does serve a greater purpose in reminding us that everything that we give is an act of worship and praise. With powerful harmonies, The Royal Royal have given us a song that is catchy, and sometimes simplicity is what listeners need. Simplified lyrics, yet with music that is equally as powerful as it is unique and complex, is what The Royal Royal have done with Return of the King, and especially in this track. As much as one half of me is willing to discredit the song and say that it's not up to lyrical standards set by other worship artists (like Crowder, Phil Wickham, Chris Tomlin etc.); the song still inspires and encourages, which is possibly the main thing you want in a worship, or any CCM song. Well done to both Gabe and Nate for this melody, an anchor musically and lyrically for the album as a whole!
'The Lights', track one on the album, is a bundle of powerful energy and enthusiasm as synths, keyboards and drums bring us into a moment of exaltation and emotion as both Nate and Gabe call us to come to the light, love and hope in Christ Jesus. A calling for us to delve deeper in our relationship with Christ, this first track is just what is needed for us to be immersed and interested in the song, and subsequent ones on The Return of the King. A worship melody that could fit in a playlist between songs like 'I See Heaven', 'Never Once' or 'Holy Spirit'; this is by far one of my favourite songs on the album. Vocally sounding similar to artists like Josh Havens of The Afters or Brandon Heath; The Royal Royal use the techniques of light acoustics, gang vocals and a riveting electric guitar and synth undertone to bring us one of my favourite upbeat worship songs of the year so far (alongside others like 'Magnetic' by Satellites and Sirens, 'I Want to Need You' by Lex Anderson and 'My Lighthouse' by Rend Collective). Standing at 3:07 and boasting a synth introduction that makes the melody feel like a 1980's inspired song with homage to 80s music, the band give us one of the most lyrically profound songs they have ever written in 'Holding On', despite its lack in length. As the band express to us that '…I put my trust in You, no matter what I go through, You never forsake Your own, You'll never leave me alone, You're good and I believe it, even though I can't see it…', we (I myself at least) are able to reflect upon the poignant truths expressed, that even if we don't feel like God's presence is right here with us, God still shows us of His mercy and hand in our lives, even if we don't quite see it at this particular moment. With a riveting beat that echoes so much of the 1980s that you can even drop it in the middle of a playlist between artists like Michael Jackson, David Bowie and U2, and you probably wouldn't notice that The Royal Royal would be out of place; 'Holding On', though the shortest track on the album, is easily one of the best.
With a strong drum beat, and an 'oooohhh' vocal to begin 'You Make Me New', the brothers try to channel Dan Haseltine as the song invites us to reflect in the knowledge and fact that '…You make me new, You give me life, You show me love…You are the way, You are the truth, You are the life, the only God of all…', and in my book, succeed nicely. In fact, in some instances, I actually thought Dan was singing, that's how convincing these brothers were. While in some parts I felt the track was leaning a bit towards CCM than I probably would've wanted the track to, this doesn't deter from the fact that 'You Make Me New' is a sound theological and biblically based song that'll hopefully bring encouragement, comfort and peace to anyone who hears it. 'Find Me' is heavy synth at its best and again channels the 1980s as Nate and Gabe ask the Lord to find us on our knees, longing for His presence and wanting Him to show up in our lives and act as we lean on Him in various circumstances. And while I said that the song is synth at its best, what the song is great for in terms of music, is also its very downfall. With the music at times being so overpowering that I felt that the vocals were just drowning in a sea of noise, the song somewhat lost a bit of meaning for me, even though I know that they didn't intentionally set out to create the song that way. With 'Real Strength' bringing the tempo down and giving us an acoustically driven song, the longest song on the album, while indeed passionate and enthusiastic in vocal, seems to miss the mark, with the song dragging out for longer than usual, especially with a repetitious verse '…You are a strength, You are a real strength…' While the song is great thematically as we understand that as we call on the name of Christ, our strength is renewed, the sheer length of the song and the subdued instruments, and the song being placed between two synth driven melodies, again means for the song to be seemingly forgotten once someone listens to the track from start to finish. The electric guitar driven 80s inspired song where the Finochio brothers channel as much as Bono as they can, 'Great' is indeed something for us to feel great about- while not a synth driven song, the feelings of the 1980s come flooding back again as I listen to a song that could again be played on 1980s radio and would fit straight in. Singing about how we are to serve our great King in worship and service, it is the groovy nature of the track and the rock and roll roots that the brothers show that classify 'Great' as indeed being a great song, not just on The Return of the King but throughout the whole of their career as well.
'The Answer' is a song with electro-pop influences that you can't help but enjoy and fall in love with as the brothers declare out that '…I've found the answer and the answer is You, I'll share the answer and the answer is, the answer is You…', while 'Shine' evokes a piano-led melody that reminds me of something Beatles-esque (maybe the beginning of 'Hey Jude' or 'Let it Be'), as both Gabe and Nate once again use reverb and echo to present to us a vulnerable melody that declares that Christ is the light that shines on us. With 'Light a Fire' again using the reverb technique and a looping percussion to present a song that calls Christ to light a fire in us and show up in our lives whether we expect it or not, it is the last bonus track, 'Beautiful Name', that is quite a surprise for myself as the nearly three minute track uses acoustic guitars and synths to present a clashing of musical styles that seemingly work for the duo. As the song is a giant proclamation of how good God is and the beautiful name which is our Saviour and Lord, it is the uniqueness of the music that makes the song stand out as a whole. Well done to both Gabe and Nate for such a great album ender and a pleasant ending to an album full of surprises and a general uniqueness about the musicality of the album that is unlike much of what is released in 2014 so far.
Overall: Signed to The Paradigm Collective with other artists like Carlos Whitaker, KJ-52 and Jason Dunn; The Royal Royal's new album is something to be listening to, not just because of the lyrical richness (aside from simpler tracks like the first single) but for the unique music that is incorporated into the tracks. As the brothers want to give us a reminder that '…Jesus didn't stay home on Friday nights and play Scrabble. His words are on the lips of the church when they sing these songs. And, that they speak those ancient Biblical truths that seemed born form far away each time they raise their voices in praise to Him…' it is when we release that every act of our day is worship in some form, either to other things, ourselves or to God, our outlook on life and how we live it is shifted and altered depending on what we believe. Released in possibly one of the strongest months of the year in terms of Christian music, with albums from Jason Gray, John Mark McMillan, Peter Furler, Satellites and Sirens and Rend Collective also releasing; these Canadian brothers have given us an album to be proud of as March 2014 becomes the best month of albums releases since September 2013 (with Newsboys, Dara Maclean, The Sonflowerz, Martin Smith, Matt Redman, Press Play, Hillsong Y&F and Steven Curtis Chapman releasing albums to name a few). Well done to both Gabe and Nate for an album that's certainly one of the most musically unique albums I've heard since Press Play's #LITO!
RIYL: The Afters, Brandon Heath, Hillsong UNITED, for KING AND COUNTRY, Jars of Clay
Buy the Album: iTunes/Amazon mp3