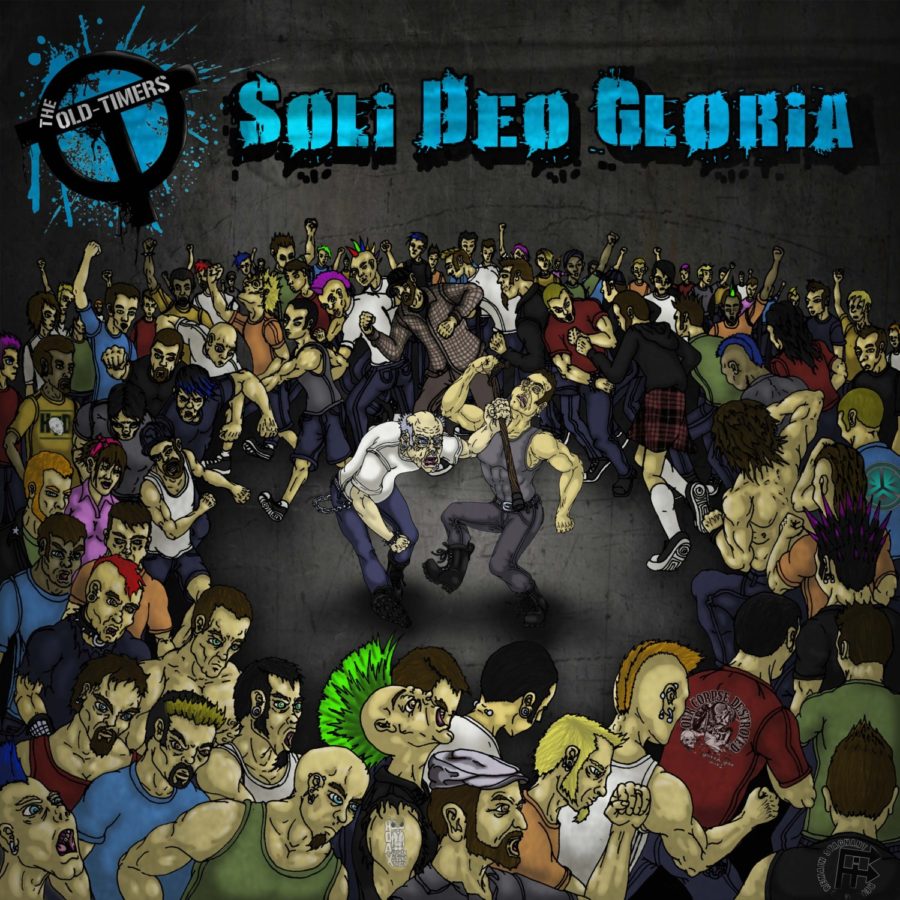 Band: The Old-Timers
Title: Soli Deo Gloria
Label: Thumper Punk Records
Release Date: 06/14/2012
Reviewer: Fallon Braddy
Tracklisting:
Intro/Old-Timers Anthem
Adonai's Agape
This City
Posi Isn't Enough
On Hope
This State
The Language Barrier
Soli Deo Gloria
Prescribed Rebellion
Annals of Klepsis
Run in a Circle
Turnbull Ac's
This Decay
Family (a Prayer)
In music, perspective is key. Communicating a view point is the duty of the musician, whilst the listener empathizes, deduces, and explores that perspective being communicated. In order for growth in community, be it local or global, we must be open to understanding the perspectives of others, from their beliefs to local dialect. When understanding flourishes, it brings people closer together and opens doors for change; be it aide to a situation, celebration of another, or a wholly unique creation. The Old-Timers have brought a certain freshness with Soli Deo Gloria, not just in the sense that they are from South Africa, for which anything outside of Idaho or the internet to me are alien, but they communicate a perspective with such sincerity that they are essentially pleading for your connection to understand what is on their hearts.
The entire album is seeded with roots hardcore and aggressive punk from which both genres were hardly separate from their conception. 14 tracks in 24 minutes signals for a true punk album before you even get a chance to listen to it, and when you do all presuppositions are present in terms of the energetic pace of the album. The guitars drive-forward the attack, the drums popping people to their feet with eagerness, the vocals barking out syllable after syllable, getting everything out in short time the songs stick around for. You don't hear anything purely generic, which is almost unavoidable in punk of any era; anything remotely familiar sounding is an homage to those who inspired the style of sound The Old-Timers have found. They may stumble on what a lot of the genre also deals with, the problem of repetition spoiling a solo or a couple simpler songs (as punk as the song "Run in a Circle" is, both in its concept and actuality, it may get old over time until you see these guys live), but there are plenty of hooks, musically and lyrically, that you'll find yourself coming back to.
The music will most likely be what grabs the initial attention of your ears, at which point the substance of the music is revealed in the lyrics. I really appreciated that while the words were readily deciphered without difficulty it did not sacrifice the aggression in the vocal delivery. The words in themselves were readily inspired and sang with sincerity, whilst maintaining the edge that is critical to the stylistic expression of the music. There's no curtain of poetic layering to hide what the songs are about; the meanings are clear as day, and within the style simplicity keeps things raw. Topics vary from prayers of praise and forgiveness to calling out people who live life by man-made, subjective lifestyles (check out the song "Posi Isn't Enough"). If you're not into preachy lyrics, you'll have a hard time with a good number of the songs, but it does show a faith and conviction that is bold, unafraid, and without secret agendas; they just want the gospel heard, nothing else.
Overall: A solid album with an unwavering sense of belonging to Jesus and a big heart for everyone in the world, The Old-Timers have taken worship to a style of punk that is not common in the present day. With relentless aggressive sound sincerely speaking out the joy and hope on their hearts, Soli Deo Gloria is a breakthrough album for The Old-Timers; a great start that many will return to despite the improvements made in future releases.
RIYL: FBS, True Liberty, False Idle, UniSEF