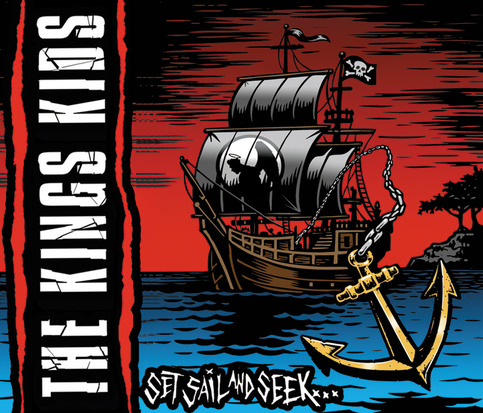 Band: The Kings Kids
Album: Set Sail and Seek…
Label: Thumper Punk Records
Release Date: December 2011
Track List:
Rise Up
So Much More
6 AM
Trust
Unfinished Road
Tomorrow Today
Clean Face in a Dirty Place
Skies Await
The Whole Picture
Jim Braddock
Heaven's Rejoice
See Dad Shine
Hoisted Anchors
The Lighthouse
Punk outfit The Kings Kids release their second full-length album, this one titled Set Sail and Seek… on Thumper Punk Records. The album features over 40 minutes of old-school punk rock in the vein of gutter-punk legends like Swingin' Utters, Rancid and Ramones. The Kings Kids clearly know what style they want to represent and have produced a solid punk album.
Set Sail and Seek… is full of thumping punk tracks with gang vocals, thrashy guitar solos, catchy melodies and a bold message about Christ. Right from the get-go The King's Kids make their message loud and clear "You need to feel something that's real. Regenerate yourself in Christ" ("So Much More"). Stand out tracks like "6 AM" are very catchy and offer plenty of chances for everyone to sing along. Set Sail and Seek… really reaches it's potential when the pace is stepped up like on "Trust". It is easy to see these guys sharing the stage with modern Oi Punk bands like Pressure Point and Street Dogs.
Part of the draw to Oi Punk is the uniting message. The Kings Kids keep that feel throughout Set Sail and Seek… with choruses that are catchy and feature a clean, clear message as opposed to other genres of punk that have rushed vocals or indecipherable vocal styles. Songs about keeping a positive outlook "Tomorrow Today", worship songs like the danceable"Heaven's Rejoice", or metaphorical stories with a positive message like "Jim Braddock" really help Set Sail and Seek… shine. Unfortunately the production quality isn't all that great, the gang vocals are a little too far out in front, they give you that feeling that they were recorded in a quiet house, no one wants to raise their voice. This changes from track to track, sometimes better, sometimes worse. Other than that the band sounds great, the drumming is solid and consistent and really features that driving foundation you need for punk rock.
OVERALL The Kings Kids have produced Thumper Punk Records best album for 2011. Set Sail and Seek… is a quality record with an old-school punk feel featuring a relevant message and modern audio quality. Someone recently told me that there are "bars full of people who prefer brash unpolished gritty rock n roll" and if that is true, The Kings Kids are a band that will answer the call.
Get the record here along with a sweet package deal