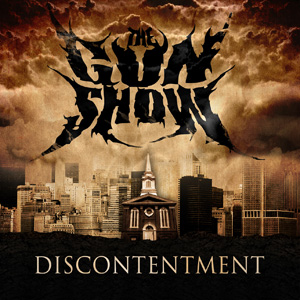 Band: The Gun Show
Title: Discontentment
Label: Static Age Records
Release Date: March, 22nd 2011
Reviewer: Joshua Clark
Tracklisting:
An Overview
Discontentment
Negligence
The Adegan System
The Girl
Apocryphal
Currents
The Honest Truth
Founded Upon The Seas
Authenticity
The Gun Show is a five-piece unit out of Mansfield, Ohio. They did release an EP titled Currents at the beginning of March last year. Now about a year later they have released their first full-length album Discontentment.
Musically, I have very little complaints with the style of metalcore these guys play. It is very progressive in comparison to the number of metalcore bands out there that play a very similar style. Nothing wrong with that but with these guys playing something slightly different, it's easy to notice. In addition to this there is some hardcore influence found in their music as well; that mixes together perfectly. These guys have punishing breakdowns, intricate guitar riffs, and pounding drums. I loved the amount of pleasant riffs and grooves provided by guitarists Eric Biddle and Cory Messer. As much as I don't mind some chugging guitar riffs every now and again it is nice to see a lot of different sounds out of these guitarists. The drumming is really solid, there is plenty of variety and numerous pleasing beats. The bass completes this heavy sound by The Gun Show and gives that extra boost that fuels their sound. Along with this ,there is a lot of different electronic effects spread throughout many of the tracks. It's something different that you don't always here in the metalcore field. It's nothing too special, since they are brief, but it does add in a little more variety and freshens up the sound. The production is very good; they have a tight and heavy sound. So the only minor complaint with the music is with how long some of the tracks are there is a little repetition throughout the album, but for the most part The Gun Show is able to keep things interesting.
Vocally, The Gun Show's lead vocalist Tom Hirst has a voice that will make any metalcore fan happy. He varies from deep growls, mid range screams, and piercing high-pitched screams. The clean vocals on this album vary in their enjoyment for me. Some tracks they sound great and work well, "The Adegan System" in particular. But others they were just ok and I felt it would have been better to just take those out and just leave those parts as screaming. There are also some spoken segments throughout the album that were powerful and were a nice addition to the vocals.
Lyrically, The Gun Show is impressive with the lyrical messages they share here. They don't hold back on what their music is about, they are brutally honest about what lies on their hearts. They give God all the honor and attention He deserves. Some topics that the songs touch upon are personal struggles, finding yourself in Christ, letting Him shape/guide your life, examining if you are really living your life for Christ or if your just going through the motions, and overall these lyrics show that Christ is the one and only thing that matters in this life of ours. When there aren't a ton of bands that are so bold about their faith within their songs it is always pleasant to see that boldness displayed. I really like how upfront The Gun Show is and just overall how deep these lyrics are; there is a ton of meat in each and everyone of these songs.
Favorites on the album for me where "Negligence"(featuring Andy Atkins from A Plea For Purging,) "The Adegan System," "Currents," and "Authenticity."But the rest of the tracks where solid, which made it pretty easy to enjoy the album start to finish.
Overall: I thoroughly enjoyed what The Gun Show presented with Discontentment. There sound is heavy and offers a ton of variety in sounds compared to the typical metalcore offerings. You can easily see the passion these guys have for the music they play and their deep love for Christ. This was a very successful full-length album and one I recommend for any fan of metalcore or hardcore. I thoroughly have enjoyed it and I think anyone else who likes any sort of heavy music will be satisfied as well. As only their second release and still being unsigned I can't get over the amount of skill displayed and the talent flowing out of these guys. I'm definitely glad I got introduced to their music from this album and look forward to what else The Gun Show will bring us next time.