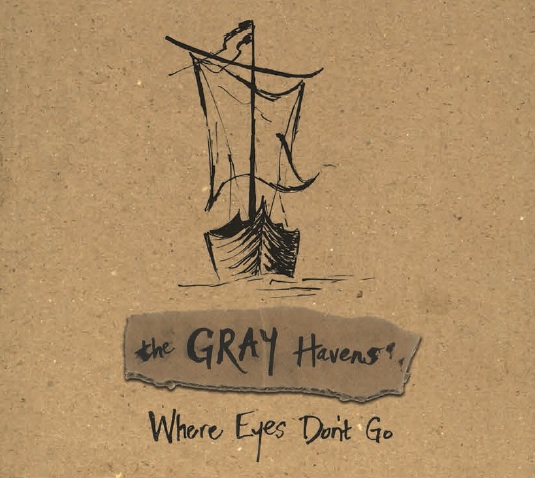 Artist: The Gray Havens
Title: Where Eyes Don't Go
Label: Zodlounge
Release Date: 01/25/13
Reviewer: Josh Hamm
Tracklisting:
Where it Goes
Silver
Gray Flowers
Train Station
Music From a Garden
Let's Get Married
Lately there've been a few Christian releases by American Idol alumni Colton Dixon and Jason Castro (as well as Chris Sligh a few months back). However, in their midst another Idol alum has released an album that has somehow managed to slip under the radar. Maybe it helps that the Gray Havens' frontman David Radford was on the show way back in its fifth season. But now we have some brand new songs from him and his wife, Licia Radford, in the form of the Gray Havens.
You Tolkien fans out there will recognize the name from the Lord of the Rings as the harbour where the Elves passed into the Undying Lands. So, check, they've already got some brownie points with me. The band is just David and Licia, but they've managed to create what I think is one of the best albums by a contestant of American Idol.
They describe their sound as "narrative pop-folk," and "a little bit of Andrew Bird meets Michael Buble meets…a little bit of Mumford and Sons." Those are all pretty accurate descriptions, it's poppy, but undeniably in folk tradition, with jazz influence seeping through every now and then. Piano is a welcome presence on every track, as well as well placed trumpets, great percussion, and subtle guitars. The songs are fairly simple, but insanely catchy with magnificent melodies, all buoyed by David's absolutely brilliant voice.
A catchy piano refrain begins "Where It Goes," joined by soft vocals and strings before a chorus that builds, but instead of the musical crescendo one would expect, it keeps building, adding layer upon layer. Like most of the songs, it's built upon piano and percussion, creating an atmosphere where the vocals and lyrics can shine. It's a loose narrative, based upon a particular Song, which "ran in the oceans of color,/surrounded by the stars inside the universe,/before it bursted into light." This Song seems to be God's Word, and the track gives an account of humanity: our life in Eden, our Fall, and our final redemption when Christ returns. The Song will continue to show up throughout the album as well.
Then we get "Silver." Lyrically it's based on a conversation between C.S. Lewis and J.R. Tolkien about myths. Lewis said they were "Lies breathed through silver," while Tolkien claimed that Christianity is a true myth, not gilded in silver. "Silver" takes place on a ship, where travellers who grew up with silver songs are searching for "echoes in the wind" of an unfamiliar Song. They sing out their own silver songs to test them, but as "the echoes were getting louder,/And a chorus filled the air,/When the voices fell they broke the spell,/That tied us to our silver chairs." God's Song melts the silver in their myths, and lets them see the truth. It's got another piano opener, reminiscent of To Tell, but it's not long before the song blows you away. Without a doubt the best on the album, the strength is in a driving chorus of drums and trumpet with layered vocals that forces you to sing along, or if you're in public, at least a nonchalant head bobbing. The last minute or so is a triumphant, large sound climax.
"Gray Flowers" departs from the Song conceit of the previous two tracks, and hands you a fun Gospel metaphor. Set in a small town where the colour gray is not allowed, a stranger(Jesus) comes who gives love to a woman(the Church) "few would say/ is worth thinking of," and gives her flowers every day. The flowers though, are gray, and so the townspeople (Pharisees) kill him for introducing gray to their town, because grays are not allowed. Get it, grace is not allowed. Sure, it sounds like a cheesy pun and a cheesy story to base a song on, but by golly it works. It's fun, serious, catchy: all at once.
The next track has a similar format. "Train Station" is about people trying to save their souls by buying tickets to various trains. Until one conductor "shouted You, come follow me,/I'll buy your tickets and I'll pay your fees,/Cuz I know what you cost,/Believe me without this train you will be lost." It's a much more serious track than "Gray Flowers," but just as good. The percussion gives a rhythm reminiscent of a train chugging forward, and there are some fantastic musical mini-climax moments which I can't get enough of.
Now the Song makes its final appearance, in "Music from a Garden." It's a beautiful blend of the Creation story in Genesis and Aslan's creation of Narnia in The Magician's Nephew. Again, seeing the Song as God's Word, this track is about how the Song "was so much more full and real at creation, but now can only be heard as an echo until Christ returns," according to Dave. There's some great imagery here, such as : "When the light hits the water, the colors shine,/Oh, but which one do you choose to paint the sky,/Blue was the one that won,/But he shares it with the others in the evening and dawn." It's simply the most beautiful song on the album.
It ends off with a little pop song, slightly cheesy, called "Let's Get Married." Great back and forth vocals similar to She and Him or Jason Mraz's "Lucky," it's a fun, cute song. Not much to it, but it's got great guitar, hand clapping, and a chorus featuring "Whoa!" You can't go wrong with that. It's got some great lines in the verses, but I'll let you discover those for yourself.
Overall: It's not often that I hear an album as creative, fun, and simultaneously Gospel-centric as Where Eyes Don't Go. The Gray Havens have a smooth pop-folk sensibility, augmented with odds and ends of indie and jazz influences which allow them to transcend the generic, unoriginal label so many attach to pop music. A couple songs in and your imagination will be fully immersed in the ideas of Dave and Licia Radford. There aren't any filler songs here either, every track would be considered a highlight on any other album. Do yourself a favour and pick this up.
RIYL: Jenny and Tyler, Jenn DePaula, Andrew Bird,  The Swell Season, The Oh Hellos, Sandra McCracken